| | |
| --- | --- |
| Stoudt ready to be the face of Clemson program | |
---
| | |
| --- | --- |
| Thursday, April 24, 2014 11:50 AM | |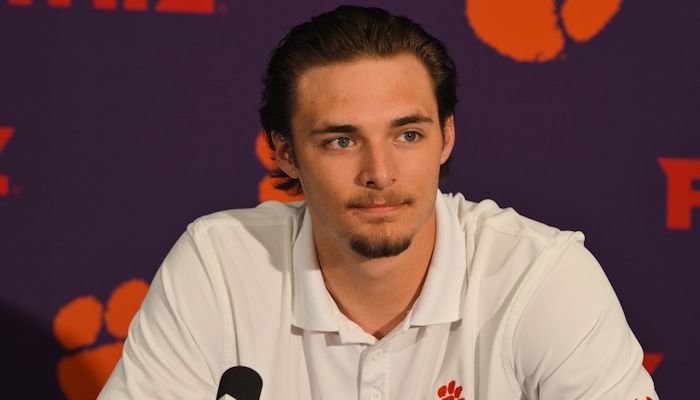 CLEMSON – Clemson head coach Dabo Swinney

Dabo Swinney
Head Coach
View Full Profile sat down with quarterback Cole Stoudt

Cole Stoudt
Sr. Quarterback
#18 6-4, 205
Dublin, OH
View Full Profile last week to let Stoudt know he was the starting quarterback heading into the summer and into fall camp. Swinney also told Stoudt that he was now the face of the program, and with that comes responsibility.
Stoudt feels like he is ready for the challenge.
Stoudt served as the backup to former starter Tajh Boyd

Tajh Boyd
Quarterback (2009 - 2013)
#10 6-1, 225
Hampton, VA
View Full Profile for three seasons, and he said that while the news brought a certain amount of joy, he knows the real work has just begun.
"I am going to keep on doing what I've been doing and that's being a leader of this team," Stoudt said during a press conference Wednesday in the WestZone. "I have to be a leader of other people on the team and the offense. Going into fall camp, I am the starter but like Coach Swinney and Coach (Chad) Morris told me, the quarterback position is not always a lifetime contract and you always have to go out there and you always have to perform. So, I am going to go out there and get better this summer and get this team better so we can go out during the fall and do our best."
Swinney said Stoudt has to continue to earn the job.
"The competition doesn't end," Swinney said. "He has to come out and perform every single day like a starter. It's not like if he has one bad day he's not the starter. But you have to warrant being that guy every day in practice and in games and so forth. It's no different than any other position in that regard."
Freshman quarterback Deshaun Watson

Deshaun Watson
Fr. Quarterback
#4 6-3, 190
Gainesville, GA
View Full Profile is waiting in the wings and Swinney said that Watson should push Stoudt to be a better player.
"He's special. It really is a blessing to have a guy like that in our program," Swinney said of Watson. "He'll certainly have an opportunity to play this year. Cole is our starter; I think he's earned that. But as I told him, he doesn't have a lifetime contract. It's about performance now. And I know Deshaun Watson is going to continue to compete to see if he can win that job. It's his to go try to win. He's not going to take a back seat. He's going to try to compete to win the job."
Stoudt was asked if serving as Boyd's primary backup for three seasons should have given him an edge over the competition heading into the spring, and he said no.
"My dad and I have talked about it. He told me that no matter what level you're at, they are always going to try and bring in the next best guy," Stoudt said. "It's always a competition. So going into spring, knowing it was going to be a competition, I said I am going to go out there and do the best that I can possibly do, lead the best that I can and perform the best way I can, and it will be the coaches' decision but I knew I would give it everything I could. I just have to be me, and show a positive attitude to everyone around me. I have to do the best I can to build relationships with everyone on the team and make people better. "
Stoudt said that while he felt a certain sense of satisfaction and excitement when he learned he was the starter, he also knew that he couldn't take too much time to reflect on the news.
"I was happy and I was excited. But when you say that now you're guy heading into the fall, you have to start stepping up and improving yourself every day and making the team better," he said. "At first I was really happy, and then I knew we had to get to work and develop the team and just try to be our best."
Stoudt has appeared in 23 games during his career, completing 86-of-119 passes for 742 yards and eight touchdowns in 287 snaps. He said that experience will be very helpful when he takes the field as a starter.
"It's actually very helpful, because the more experience you have the more comfortable you are in the game and everything starts to slow down a little more," he said. "You can make your reads a little faster, and you're more comfortable with the whole offense. You know how to keep a calm level at all times and you know how to control situations and get your team in the end zone. "
Stoudt then admitted that the best part of being named the starter is being able to do it for the school he loves.
"I never thought for one moment of leaving this place," he said. "Even in 2013, when Tajh said he was going to stay, I still didn't think about leaving. I said, 'Ok, this is going to be another great year.' Now I'm sad that Tajh is gone because we are brothers. But no, I never thought about leaving. I was born in Greenville and I was born with orange in my blood."