| | |
| --- | --- |
| Stoudt poised, confident as season approaches | |
---
| | |
| --- | --- |
| Saturday, July 26, 2014 10:03 AM | |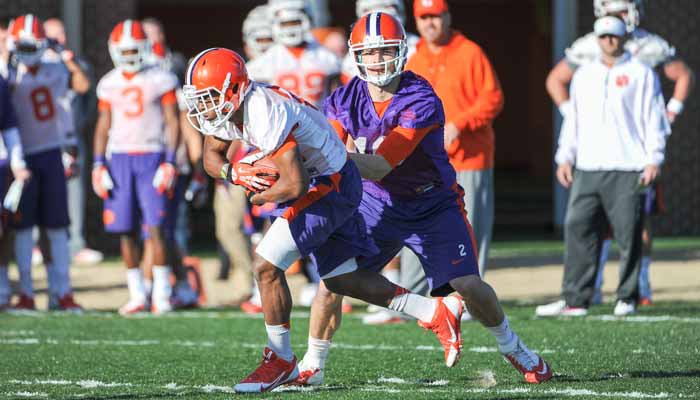 GREENSBORO, NC – Cole Stoudt

Cole Stoudt
Sr. Quarterback
#18 6-4, 205
Dublin, OH
View Full Profile hasn't started a football game since his senior year of high school in 2010, and last weekend's appearance at the ACC Kickoff in Greensboro was his first opportunity to talk to a large group of media as more than 40 writers and cameramen gathered around to ask him a large range of questions.
Did he get rattled? Not in the least.
Stoudt was poised and confident as the questions came from every direction, even when reporters questioned his ability to take over for Tajh Boyd

Tajh Boyd
Quarterback (2009 - 2013)
#10 6-1, 225
Hampton, VA
View Full Profile . Stoudt said that last year's group of seniors set a certain standard, and he wants to do even better.
"Yeah, you know, the seniors from last year, they've all set a standard for Clemson, and we're not going to stop there," Stoudt said. "One thing we started out for the year after last year was that we all talked about that the standard was set, so now it's set to go beyond that standard. They've set a goal; we want to go above it. Even though we've lost a few guys, we still have many veterans on the team that have been in this for four years, both on the offensive and defensive side of the ball. We're all very comfortable, and we're all just going to go out there and have some fun and enjoy the year."
Stoudt played in eight games last season, completing 47-of-59 passes for a completion percentage of 79.7. He also threw for 415 yards with five touchdowns and no interceptions, and he said those lofty numbers were a result of preparing like he was going to start each week.
"I've always prepared for every game, go in there, get in the film room, constantly study and prepare like I have for the past three years," he said. "I always used to prepare like I'm going to be the starter and now that I am the starter I'm going to prepare the same way constantly, put in even more work and just developing the team and constantly being a leader and keeping the guys going."
Stoudt has set a few accuracy records along the way, and over a two game span last season (S.C. State and Wake Forest) completed 29-of-31 passes for 233 yards and four touchdowns. For his career, he has tossed just one interception in 119 passes, and that came in garbage time late in a September win over Furman in 2012.
In other words, he knows how to operate Morris' system efficiently.
"I'm going to do the best that I possibly can. I'm very comfortable with the situation I'm in," he said. "I've always been a relaxed kind of guy that goes out there and operates the system and plays the best I possibly can. The past couple years, every time I went in, I always maximized my opportunities. Last year I think I did that the best. I set a couple records for accuracy and passing efficiency, and I'm very proud of that, but I also have to continue to keep getting better, myself better and the team. I kind of just go in there, have some fun with it, relax, and just go with my reads one at a time and just operate the system."
The opener against Georgia is now just a little over a month away, and Stoudt smiled brightly and said he was having the time of his life.
"It's exciting. It's a huge thrill ride constantly," he said. "There's always something new every single day, and I've had a blast. I've never been more excited in my entire life, and I'm constantly every single day working hard, making myself better along with the team, and it's been very fun and exciting. I just can't wait for the season to start."