| | |
| --- | --- |
| Steward: "I can't wait to show everybody what I can do" | |
---
| | |
| --- | --- |
| Saturday, August 30, 2014 8:34 AM | |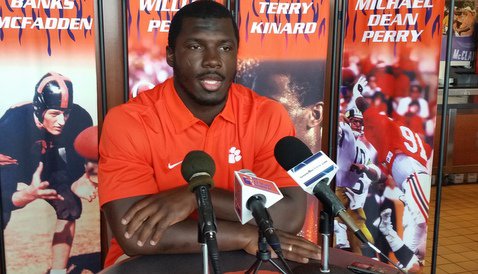 CLEMSON – Clemson linebacker Tony Steward

Tony Steward
Sr. Linebacker
#7 6-1, 236
Hastings, FL
View Full Profile sat in front of the television backdrop Monday, with pictures of legendary Clemson defenders Jeff Davis, Levon Kirkland

Levon Kirkland
Linebacker
# 0, 0
,
View Full Profile and Terry Kinard looking over his shoulder.
Injuries and the emergence of Spencer Shuey

Spencer Shuey
Linebacker (2009 - 2013)
#33 6-3, 230
Charlotte, NC
View Full Profile have kept Steward from having the type of career that might have placed him in that list of all-time greats, but he told TigerNet that he is just wanting his final season to be one worthy of remembrance.
"I am just excited to be back. It's football season, and it's awesome to be back out on the field. I just can't wait to get out there and show everybody what I can do," Steward said. "There is a sense of relief that I am able to still play football. The start is awesome and everything, but honestly the biggest thing is still being able to be on the field and do what I love to do."
Steward arrived on Clemson's campus in the fall of 2011 with high expectations – he was a 5-star prospect, was the No. 1-ranked player at his position and won the high school version of the Dick Butkus Award, given to the top linebacker in the country. He played in the U.S. Army All-America Game.
However, only a few games into his freshman season in 2011 he tore his ACL backpedaling during a special teams drill in practice. Considering he had torn the ACL in his other knee during his senior season, it took Steward a while to get back into the flow of the defense.
During the offseason prior to the 2012 season, Clemson changed defensive coordinators and Brent Venables

Brent Venables
Def. Coordinator / Linebackers
View Full Profile went with his best option at weakside linebacker in Shuey. Shuey did more than enough to hold onto the job and Steward has spent the past two seasons getting snaps behind Shuey and excelling on special teams.
"Coming in, I didn't play as much as everybody expected," Steward said. "But I made improvements and started getting on the field and being able to contribute. And then I tear my second ACL. Yeah, that was a low point, but everything happens for a reason and I honestly believe that. But I got through it."
Despite the passage of time, Steward says it seems like only yesterday that he stepped on campus for the first time.
"I wouldn't say it's been a blur. I would say it's been moving by pretty quick," he said. "One thing I've noticed and everybody else has noticed is that all of the work we've put in, we are just hoping to keep that going and just keep reaching new heights for the program."
Steward said that he doesn't feel like he has failed to live up to those high expectations – he's just reached his potential at the right time for the Clemson defense.
"Being a 5-star recruit coming out of high school, everybody expects you to be an instant contributor to the team. When that doesn't happen, most people look at it as a bust or something," he said. "But it's a process. Things happen and you have to deal with certain things. There is a lot that goes into it. A lot of people don't know everything that goes into it and they're looking at it from the outside in. They are just wondering what is going on and what happened. But for the people who know what goes on, they know what could happen and what has happened and what is continuing to happen."
Steward said he is comfortable with the fact that it is finally his time, and he hopes his showcase will lead to a job in the NFL.
"I realized it wasn't written for me to start early in my career at Clemson, but I kept preparing each week like I was going to be the starter," he said. "We have to be prepared for when our moment comes, and as long as you do that everything else will take care of itself. I've always thought I was good enough to play at the next level. It's awesome right now that I am getting an opportunity to show that. Honestly, though, the focus is doing what I can do to help this team."