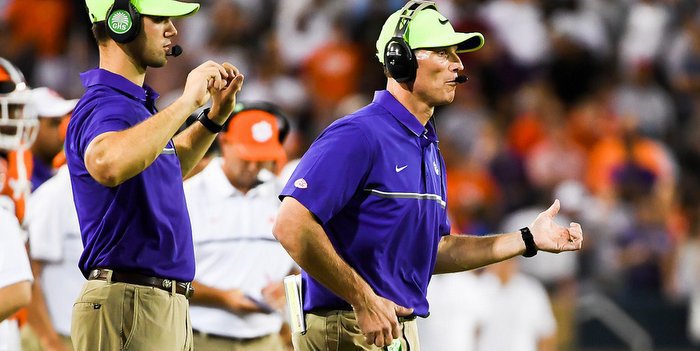 | | |
| --- | --- |
| Six Points: Loss to 'Bama drives Venables to perfection | |
---
| | | |
| --- | --- | --- |
| Thursday, December 15, 2016, 6:16 PM | | |
CLEMSON – Brent Venables chooses not to remember many of the details from last year's national championship, but he does remember the most important part of the game.
Clemson came up six points short in its bid for its second national title.
And, that alone has fueled his desire to put his defense in the best position possible to make a run in the College Football Playoff.
"I don't really choose to remember all of that," Venables told the media earlier this week after one of Clemson's bowl practices. "You always use that as fuel. It makes you mad. You don't get those opportunities and most coaches don't ever the opportunity to play in a playoff or play for a national championship, so to get beat hurts. When you've worked as hard as you do and when you dream as big as you dream and then you fall short and you don't put your best foot forward, it makes you mad and it drives you and it fuels you. We're fortunate that we're close to being back in that same position and controlling your own destiny. Hopefully, we'll put forth a little better effort this time and I think we will."
Not only will suffering the loss last year to Alabama help the team as they prepare for No. 3 Ohio State, but just the experience of having played in the College Football Playoff will benefit the Tigers as they head to Glendale, Arizona for the Fiesta Bowl.
"Obviously, having experience. This is just me but the playoff game is no different than any other game," Venables said. "You have a little bit more time. It's a big game but they're all big. It's no different than any other bowl game. The difference is if you win it then you get to play again. You have to keep things in perspective and not make the moment bigger than it needs to be. XYZ, this is how you play. This is how you execute. This is how you prepare. This week is no different than how we prepared for Virginia Tech and that's not coaching cliché. That's just how it is. Because we do I have a little bit more time, I think the management is important and psyche of our players and keeping them healthy and keeping them fresh and sharp is what we're doing."
The most important lesson Venables said they could learn is that their margin of error is very slim when playing against the best of the best.
"The margin for error is lessened the better people you play, so you have to be at the top of your game to advance, whether is Ohio State, Alabama or Washington," he said. "Those teams make very few mistakes and they force a lot of mistakes. Turnovers and explosive plays and winning the line of scrimmage are going to be critical in winning this game. Making people earn it and not giving up cheap ones is a big part of it. Momentum typically plays a big part of bowl games or playoff games. You can really shift the tide in a game like this with momentum plays, both for you and against you. It's important that our guys are as sharp as we've been all year."
In addition to preparing for the Buckeyes, Venables, and the staff will spend a good amount of time with the younger players and preparing for the future.
"It's critical for their development. You get seven, eight, nine opportunities plus the additional time we set aside at the end of practice to really give them a bunch of reps," he said. "Football is a developmental game and the more reps the better. The defense is trained reactions, so there's nothing like the experience and reps you're getting out there and playing."
However, for now, it's all about getting back to the basics for everyone involved.
"Everything has its time. Right now, the focus is getting back to toughness and being physical and the fundamentals and tweaking some things that may have caused us issues with different schemes," he said. "Really, the majority of the time we script our practices so we're not out here on the field a real long time. I think the balance is letting these players enjoy the opportunity to continue to play and get a chance to compete for a championship. We're having some fun but you've got to get your work done too. You can't cheat your way. There is no elevator to get an opportunity to play for a championship. You've got to take the stairs and it goes through hard work."