| | |
| --- | --- |
| Shawn Elliott says Gamecocks "thrilled" to have Tigers visit | |
---
| | |
| --- | --- |
| Wednesday, November 25, 2015 9:01 AM | |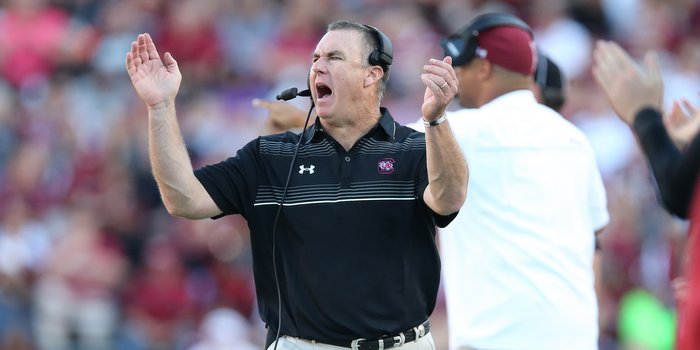 South Carolina interim head coach Shawn Elliott grew up in the Clemson-South Carolina rivalry, and he knows what's at stake this weekend when the top-ranked Tigers come calling.
No. 1 and 11-0 Clemson faces off against 3-8 South Carolina at 12:01 p.m. Saturday in Columbia, and Elliott said the Gamecocks were "thrilled" to have the nation's number one team in for a visit, even after his team lost 23-22 to FCS foe The Citadel last weekend.
"It's rivalry week. It's the Clemson Tigers," Elliott said during his Tuesday press conference. "I can tell you we are thrilled about that, having the best team in the country come into Williams-Brice Stadium. They (his players) understand what's at stake, I mean they really do. There was more of a focused look and energy into what we had to prepare for this week and the No. 1 team in the nation in Clemson. The mentality seemed to be right on point."
Elliott said that growing up in the rivalry and having friends that are Clemson's fans makes this week even more special. The social media aspect also adds to the luster.
"When you grow up a fan of one or the other, certainly you have a lot of stake," Elliott said. "I have a lot of great friends, my very best friend is a Clemson fan and he rags me all of the time. Ever since we have been small kids running around in the backyard, playing in the houses, Carolina vs. Clemson game listening on the radio we go back and forth. It's really a great competitive rivalry. I love it.
"Any rivalry, it doesn't matter what team you are involved in, just the spirit of it and what it brings out in people, I love it. The social media aspect, now that it has gotten fun, I've gotten some great messages. I wish I could share them with you. Y'all can write a lot of stories about those. I just think the spirit of people, some good and some bad. I've gotten more good than bad this week, but some people can be pretty bitter about this rivalry, which is good."
Clemson enters the contest with a nation's-best 14-game winning streak and hopes of appearing in the College Football Playoff. Elliott credited Clemson head coach Dabo Swinney with making the right moves to get Clemson to its current level.
"Coach Swinney has done an outstanding job," Elliott said. "To go from where they were when they were named interim, he was blessed with some pretty fine football players at that time and propelled that in to him getting the job and then he made the right moves, hiring a great staff, great quality coaches, great coordinators and the recruiting of course, to step up the recruiting and do what they've done in recruiting to get all those four and five star players, let me tell you, they've got them rolling in and out of there.
"You've got to admire what he's done. He exudes confidence and he sells the Clemson spirit and that's something as another coach you've got to appreciate and you've got to respect."
Elliott said he won't let his players focus on trying to "shock the world" with a win over the nation's number one team because he thinks it sends the wrong message.
"We just have to get better, we really have to worry about what we can control and try to do the very best we can against a good football team," he said. "To look at those and say, 'Let's go shock the world,' it's almost like saying you guys don't have a chance to go out and win this football game. You don't sell that message to your team."
He hopes his team has incentive enough without him having to create it.
"It always gives you a little bit more incentive as a football team to prepare because you're going up against the very best - the very best players, the very best coaches and the very best team overall at this point," Elliott said. "They understand what's at stake."
Elliott did admit that his team faces a tough challenge, especially in facing Deshaun Watson.
"Their quarterback is up for the Heisman. We've got a (former) walk-on quarterback playing for us," Elliott said. "When I say that, I'm not downing Perry (Orth), of course. But look at what they've got. They are a fine football team and we're going to have to play very, very well."