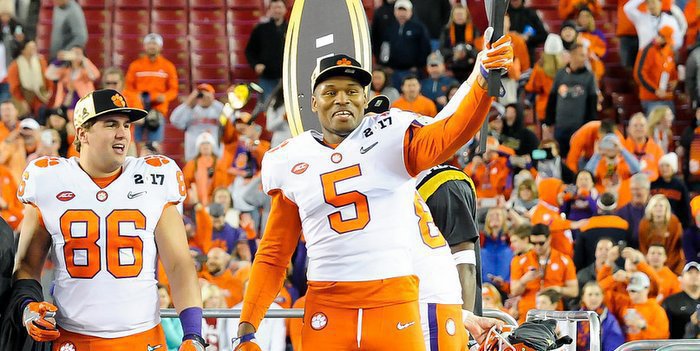 | | |
| --- | --- |
| Shaq Smith: Biding his time, paying his dues, but ready to make an impact | |
---
| | | |
| --- | --- | --- |
| Tuesday, March 27, 2018, 8:25 AM | | |
CLEMSON – As Shaq Smith bides his time and pays his dues, all he has to do is look at Clemson's recent history of players who have had to wait their turn and have gone on to have successful Clemson careers.
Vic Beasley waited two years to play defensive end and was the No. 8 pick in the NFL Draft. Marcus Edmond and Dorian O'Daniel had to wait their turns behind veteran players and now await their NFL careers.
The blueprint is there and Smith feels like 2018 is his time to become an impact player on Clemson's vaunted defense.
"Most definitely, I've waited my turn and been patient and been chopping away and when the time is right, it's going to be right," Smith said after Monday night's practice. "If it's this spring and this season, then it's this season. If it's next season, then it's next but I'm just in a position where if my number's called, I'm ready.
"Man spring has been great. I've been here for a few years now and learning from the guys. I learned from and am still learning from like guys like Kendall (Joseph), guys like Ben (Boulware), and going far back to Stephone Anthony. I remember coming on recruiting visits and seeing guys like that and the traits that them guys had and I've been taking on those same traits and I feel like that's one of the reasons I've had one of the springs I've been having."
Learning from older players was important, but Smith quickly realized that he had a lot to learn about playing defense for Brent Venables.
"I wouldn't say it surprised me, but I definitely knew that I was going to have to learn and how much I had to learn and how much I didn't know, that was what mostly surprised me," Smith said. "Coming from IMG and being one of the top guys out of high school, I felt like I knew a lot of ball but to get on this side and see how much I didn't know, that was more of the surprising thing and like 'Wow, I have this much to learn.'"
While redshirting and becoming a special teams player is never easy for anyone, Smith found an old friend he could lean on and learn from.
"Number one guy has been Dorian O'Daniel. Actually, my very first high school game I played against Dorian O'Daniel in his senior year so that's how far our relationship goes back," Smith said. "I've kept up with Dorian his entire career and to see him come into the same kind of role and being a big-time guy from back home and see things not go his way at first and then see him to pan out and the type of year he had this year is definitely motivation and he stayed in my ear. Still talk a lot to him to this day and right now and he's just been a guy that has kept me sane definitely. Kept me on the right track and kept me focused and working and that my time is coming."
O'Daniel was not only able to give Smith advice but also lead by example.
"To just look back on his journey," he said of the advice O'Daniel gave him. "Just think about him and at our banquet this year I won 'Future Impact Player' award and he was there and sent me a long text saying 'I remember when that was me winning the 'Future Impact Player' and then that next year I won the 12th man award and then I was defensive MVP' so every chance he gets, even after Pro Day he talked to me and told me 'You're time is coming. Stay the track and stay the course. One day you'll be where I'm at, if not better.'"
Despite not finding his stride on the field, Smith has found his place as a leader and as the face of the Clemson Football Vlog.
"I feel like it's natural and I'm natural in front of cameras. I can do this and I can do that when it comes to being in front of the camera," he said. "I've been a natural born leader all my life and I just want the guys around me, no matter what kind of situation or what predicament, I want the guys around me, I want to bring them with me as far as I go and that's one of the things I hop on to a lot."
On which position he's been playing
"Working both MIKE and WILL, splitting the reps at both. I'm comfortable with both, but preferably I like WILL but I can play both."
On how he can impact the defense and the linebacker corps
"I mean I can rush and definitely play in space. I can cover and bring all of those things but we already have all those things at the table but I feel like I can bring extra."
On playing for Brent Venables
"Playing with him is game day every day. Saying that, the games are much easier than the practices because of the stress he puts on us at practice. I wouldn't really say it's so much harder, but the type of learning it takes that most guys aren't used to. The things that we have to learn and the schemes and everything that you have to learn in the matter of one play, nobody coming into this program has ever had to learn that."

Upgrade Your Account
Unlock premium boards and exclusive features (e.g. ad-free) by upgrading your account today.
Upgrade Now