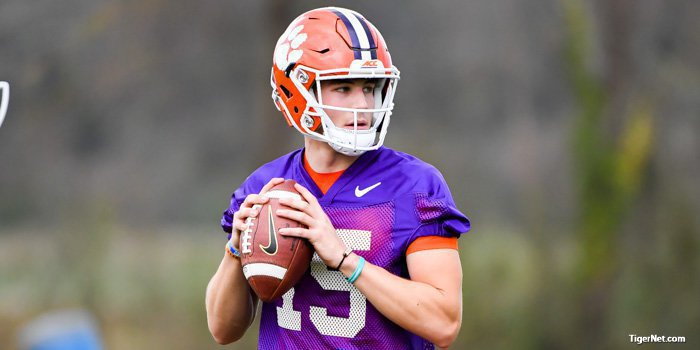 | | |
| --- | --- |
| Scott: Not a lot of separation in QB battle | |
---
| | | |
| --- | --- | --- |
| Saturday, March 11, 2017, 9:01 AM | | |
CLEMSON – The biggest battle in spring camp is at the most important position on the field, and through six practices and a scrimmage, there isn't much separation between the contenders.
Co-offensive coordinator Jeff Scott met with the media following Friday's practice, and he said that while Friday was the best day of the spring, there is still a long way to go in the battle to be the starting quarterback.
"Today was a really good day. I think we've had five installs and six practices. We're going pretty heavy and we've done that on purpose because we've wanted to force feed those guys a lot of information and see who can process it the quickest," Scott said outside the new football complex. "Different guys process at different levels. Today was really the first day that it really started catching on for the guys - making decisions, knowing where to go with the ball. It was by far our best day in six practices and still a long way to go.
"There's really not a lot of separation. We're seeing positives and negatives. There's a lot of stuff to coach and a lot of stuff to correct, but at the same time, there are a lot of positive signs. It's an exciting time for all of our coaches. It's fun going out there with Deshaun (Watson) because you know what you're going to get, but it's fun watching these guys improve every day. Today was our best day we've had so far."
The biggest difference between Kelly Bryant this year and the last two years is his confidence in himself and the system.
"I would say yes. Number one is the confidence - going out there and the way that he carries himself," Scott said of the junior signal caller. "Also, getting rid of the ball. A big part of our offense is timing - quick game, drop back, so many things have to be thrown on time. I think because he's confident in knowing what to do, where to go with the ball he's throwing the ball on rhythm and making some really nice throws. I think it ultimately comes from the confidence he has. He's worked extremely hard in the film room with Coach (Brandon) Streeter in the off-season. He's really been throwing the ball well and on time."
What's the gap between spring starter Bryant and the rest of the field?
"We're really pleased with Kelly. He's gotten off to a really good start. Not surprising because of the leadership we've seen," Scott said. "Deshaun was such a huge presence and sometimes it takes that kind of presence to leave for a guy to really step up and take some leadership responsibility and roles. We're pleased with where Kelly is but there isn't a huge gap. Those other guys are coming. Everybody has their moments where you go, 'Wow, that was a great throw,' and then a couple of plays later you're saying, 'Wow' for the other reason. It's a little bit of that. Coach (Brandon) Streeter is doing a good job of mixing it up, putting them on their toes and calling a guy out there to give them their opportunity on good on good at the end."
With Deshaun Watson heading to the NFL after three seasons, many wonder what the offense will look like next year. Scott said the majority of the offense will look similar, but there will be some difference base on who wins the job.
"I think with all four of guys we can be who we are. I think 80-percent of the offense is going to stay the same no matter who the quarterback is and maybe there is 20-percent of it that as you go that you can mix around," he said. "Some of it has to do with who you're playing, but some of it is we're going to play to the skill set of the guys that we have. There's no doubt that Hunter Johnson is one of the most athletic of the guys that we have. Zerrick Cooper has really good instincts. Deshaun was a really good runner but it wasn't because he was a 4.4. It was because he had great instincts - he knew how to follow blocks, he knew the timing of when to leave the pocket. That's one thing I've seen out of Zerrick."