---
| | |
| --- | --- |
| Monday, December 7, 2015 1:35 PM | |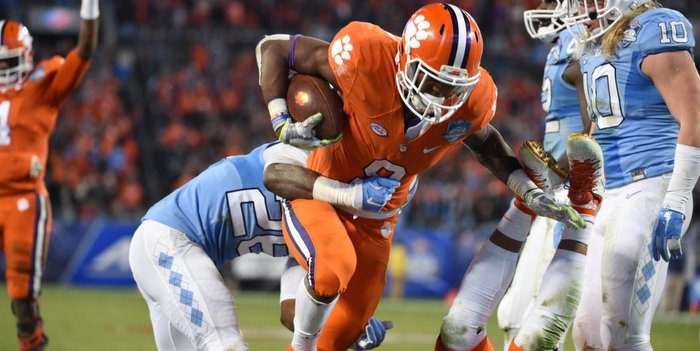 The past few seasons, the Clemson offense has been known for its high-flying, talented passing attack.
And that's understandable. There is plenty of evidence of that playing on Sundays in the NFL.
This season, however, has featured more of a balanced attack. Yes, there is plenty of talent in the passing game with quarterback Deshaun Watson and his dangerous wide receiver corps.
But there has been more emphasis placed on the running game, and that was on full display Saturday in the Tigers' 45-37 win in the ACC championship game.
Clemson ran 56 times for 319 yards to more than complement a passing game that finished with 289 yards.
"Our offensive line took the game over, 319 yards rushing," Clemson head coach Dabo Swinney said. "Wayne Gallman was amazing."
Gallman was strong, and he did most of his work after a slow first half, finishing with 187 and a rushing touchdown.
"I just needed to provide a spark for the offense in the second half," Gallman said. "You saw things were moving kind of slow in the first and all the stopped drives on third down, and it was just time to change that, so I just got my mind together."
Watson added 131 rushing yards to his passing total, and he finished with three touchdowns passing and two rushing.
The running game was showcased throughout the night and helped lead the Tigers on scoring drives of 96, 97 and 80 yards.
"No matter where we get the ball, we always have that mindset of, 'Get one first down,' and if we do that, we can score," Watson said. "One of them, where Wayne split the guys and got like 20, 30 yards, we just knew that we had them on their heels, so we just kind of tempoed them, and just the type of leadership and the type of mindset we have on this offense, that we can score anywhere on the field."
Gallman set a Clemson record with his eighth 100-yard rushing game this season, and he has 1,332 yards. Watson, who has thrown for 3,512 yards, has added 887 yards on the ground.
"I'm just happy to have the accolades," Gallman said. "Just winning means everything to me."
A key to the Tigers getting the win was their ability to shake off their turnover troubles from the past month. They didn't have a lost fumble against the Tar Heels.
"It's pretty much the main focal point of any offense to really have 100 percent ball security and not letting any balls get on the ground," said Gallman, who lost a fumble against South Carolina. "So that's pretty much the main focal point."
Watson agreed, although he had an interception on a pass that was tipped at the line of scrimmage.
"Just really whoever has the ball the most is going to have more opportunities to really control the game, and I think we protected the ball really well," Watson said. "Coach Swinney just told me we won the turnover margin. If we win the turnover margin, that's one of our goals that's going to tell us we're going to win the game. That's one of the biggest things that we worked on all week, and we came out on top."
Daniel Shirley is the sports editor of The Telegraph in Macon, Ga., and co-host of The Morning Show on FoxSports 1670 AM. Follow him on Twitter at @DM_Shirley and read his blog at macon.com/peachsports.