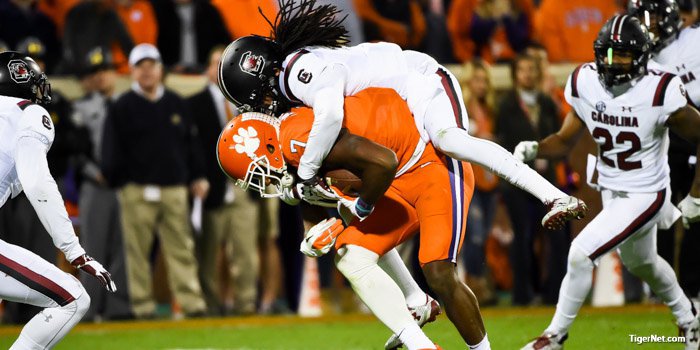 | | |
| --- | --- |
| Repeat: Tigers looking ahead at chance to win another ACC title | |
---
| | | |
| --- | --- | --- |
| Sunday, November 27, 2016, 5:46 PM | | |
The next stop for the Clemson football team is Orlando, where the Tigers will try to win their second consecutive ACC Championship when they take on Virginia Tech in the ACC Championship in Camping World Stadium Saturday night.
The Hokies won the ACC's Coastal Division title for the first time since 2011 this season and finished the regular season on a roll. Tech running back Sam Rogers rushed for a career-high 105 yards and scored two touchdowns as the Hokies rolled to a 52-10 victory over rival Virginia on Saturday afternoon.
The Hokies closed the regular season with wins in five of their final six games, moving to 9-3 overall, 6-2 in the ACC. Tech beat Virginia for the 13th straight time and for the 17th time in the past 18 meetings. The Cavaliers closed the season with seven straight losses.
Clemson finished the season 11-1 overall and 7-1 in the ACC after dismantling arch-rival South Carolina 56-7 Saturday night in Death Valley, a finish that Dabo Swinney says was incredible.
"Really proud of our team for the type of season that we've had, and certainly the finish that we had last night, just an incredible performance in all phases," Swinney said on an ACC teleconference to preview the tile game. "But for us, it's all about trying to win our conference, and that's what we work toward all year long, and to finally have that opportunity and to have a chance to be a part of this game is special, especially for our second year in a row to have a chance to go compete for the outright championship is, again, a great opportunity and something our players have worked very, very hard for."
The game, originally scheduled to be played in Charlotte's Bank of America Stadium, was moved to Orlando in October.
"We're appreciative of that and looking forward to going down to Orlando," Swinney said. "I know that's going to be a great venue, and I'm glad all that got worked out to where we could have a great place like that to play this game, and look forward to competing against Virginia Tech.
"I've always had great respect for Virginia Tech and the type of program they have, their fan base. I'm certainly really happy for Justin and the job that he's done in the first year. For them to be back in the championship game I think is just an incredible accomplishment, and I knew when they hired him that it wouldn't take long for him to get them back to this point. Look forward to a great matchup and competing in it."
Tech head coach Justin Fuente is in his first season in Blacksburg, and he said he thinks the Hokie fans will travel to see their team compete for a title.
"Coming off a great atmosphere in our rivalry game here at Virginia Tech," Fuente said. "Can't say enough about our senior class and the leadership that they've shown throughout the entire year. Our fans have traveled great with us through cold games and hurricane games, and now we're looking forward to seeing them down there in maroon in Orlando."
Fuente then said that Clemson quarterback Deshaun Watson is worthy of the praise thrown his way.
"Well, he's a guy that's a polished passer of the football. He's not just a thrower," Fuente said. "He can make his way through progressions. He's obviously athletic, can get on the edge and hurt you with his feet. My perception of him is he's a very good leader. He definitely has the hearts and minds of his fellow teammates. And also my perception of him is he's a very focused young man. My understanding is he's graduating in three years and has played ever since he was a freshman, and just been a fine player."
Swinney said the chance to win a second consecutive title chance is "rare air."
"This is the first time that I've had that we've been able to do this, to be in back to back ACC Championship games, and we haven't won back to back ACC titles in 28 years, so it's not easy to do," he said. "It's really difficult. So I'm just proud of our guys. It is, it's very hard to win, especially to win consistently when you get everybody's best, and for the past several years that's exactly what we've done and what we've gotten from our opponents.
"You know, it takes a great commitment on the players' behalf from a preparation standpoint. It takes great habits and great culture, and we have all those things in place here, and that's why we've been able to be so consistent, and obviously we've got good players, but it can't just be good players. You've got to have teamwork and intelligence, and you've got to have great commitment."
A win against Virginia Tech would mean a 12th win for his team and a likely spot in the College Football Playoff.
"I'm just proud of our guys and the leadership that we've had, so it's a special time. It's our sixth 10-plus win season in a row, and we want nothing more than to get our 16th ACC title," Swinney said. "That's what it's all about for us. You work all year, and it comes down to these four quarters. We talk about the playoffs; every game is a playoff. Every game of the season is a playoff. You're trying to win your division. Every game matters. You're trying to win this conference. Every game matters.
"And now it comes down to these final four quarters, and you're either going to be the champion or you're not."