| | |
| --- | --- |
| Radakovich talks CFB Playoff, Coach Raises and Facility Upgrades | |
---
| | |
| --- | --- |
| Saturday, December 27, 2014 2:43 PM | |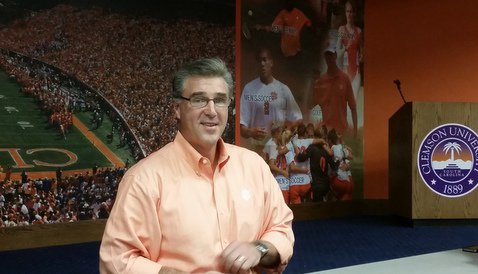 ORLANDO, FL – Clemson Athletic Director Dan Radakovich

Dan Radakovich
Director of Athletics
View Full Profile met with the media outside of the Citrus Bowl facility following Saturday's bowl practice, and he covered the topics of raises for defensive coordinator Brent Venables

Brent Venables
Def. Coordinator / Linebackers
View Full Profile and the staff and the work of the College Football Playoff Committee.
The following is an edited transcript of our conversation with Radakovich.
Venables extension?
"We've talked about that. We'll probably finalize all that once we get back from the game."
The Committee
"Our work's still in front, so you've got to play the games. It was a great experience and all of the work that went into putting all of that together and the work that the College Football Playoff Committee staff did gave the 12 of us the opportunity to really get all of the information that we needed and come at it from 12 different directions and really create a consensus around those our teams that wound up playing in the playoff. "
Have you heard from TCU or Baylor fans
"We were all leaving from DFW, I'm sitting on the airplane, and in the seat in front of us were two, I think they were Baylor fans. For about the 30 minutes of the flight, they're just screaming about how the College Football Playoff didn't do them right. Of course, I sat there with my hat down, reading my book. Luckily, they got off in Atlanta before I did, and that was all I heard. Really, I think people looked at it and said, you know, it's kind of hard to argue with these four. We're just moving on from there."
What did you learn from it?
"One of the major tenets of being on this committee, whether it was Oliver Luck, Barry Alvarez, Jeff Long, Pat Haden or myself, it's been a huge tenet from the time we all got on the committee: you leave your conference hat at the door, you leave your school hat at the door. You're here for college football. I don't know from a conference perspective if we learned anything. It was a really good exercise in consensus building, and people coming forward with different views. Sometimes one was able to convince the other. There were a few a-ha moments along the way. It was a good experience. Looking forward to having the opportunity again next year."
Individual votes won't be revealed
"We're all tasked, by the middle of January, to put together a paragraph or two on what we think might help the committee in future years. We'll pull that all together. We'll have a conference call as a group in January. Then we'll take those ideas, the ones we agree make sense, and move that to the management group, the collegiate commissioners and the athletic director at Notre Dame. They'll talk about those and see if any of them are feasible."
Michigan State out of the Orange Bowl?
"I don't know that it was said enough: the rankings are a clean sheet of paper each week. While those teams didn't play one another, there were other teams around them that played. When you looked at that for the last and final ranking, committee members put up the teams, looked at their full resumes as they compare to other teams, and that's how it ended up. That last ranking is probably going to be on the minds of a lot of committee members when they write that paragraph come January. Is that the right timing to do one of those before we do the last one? We certainly understand how important it is for our television partner, ESPN, to have those rankings each week. We could argue about whether we started one week too early, one week too late, and those kinds of things. But during the year, it created a great amount of excitement, and that was important for college football. But it's that last week that people might have an opportunity to talk about."
When will you meet again?
"We'll have a conference call at the end of January, then we'll have one in-person meeting at the beginning of April around the Final Four. Then we'll convene again in August."
Facilities update
"Facilities are going great. If you were transported up to the south end of the stadium right now, you'd see a lot of rubble and demolition going on in the club seating area, both in the north and south side. Those are going to be really great areas. In fact, the contractor who's doing that work and doing the work on Littlejohn, did the work right behind us with the Citrus Bowl. So this morning, we took a tour with him and looked at some of the things they did there, how they did them. Hopefully, we'll be able to take an idea or two to help push our progress forward even more quickly."
Baseball
"The lower area where the seats will be, those will be complete. The rest of the building probably in early April."
Student-athletic fee
"I think right now we've had a lot of discussions with our student leaders, and we continue to have those discussions. We have not made a proposal to anyone. It's only been dialogue back and forth. I think there's some folks that took discussions and created their proposal and ran with it. We're not there yet. We're not anywhere close to it. At this time, we'll leave it where it is and continue to have those discussions."
Working with President Clements and Dabo Swinney

Dabo Swinney
Head Coach
View Full Profile
Well, first of all, Dabo's one of the easiest people in the world to be around, get to know, his values and what he's trying to pull together with this team. They're as good as they find. So it's real easy for Jim and myself to get on the same page, because we share those values. It is rare. But we're lucky."
Does he the flexibility to finalize raises right after the bowl game?
"We have some. But we don't need to use all of that. We'll make sure it's right for what we do today."
Is Brent a priority?
"Oh, absolutely, he's a priority, no question at all. Dabo's talked about that. Once we get everything pulled together, after the real business at hand here, we'll get that done here, and hopefully we'll get it done quickly."