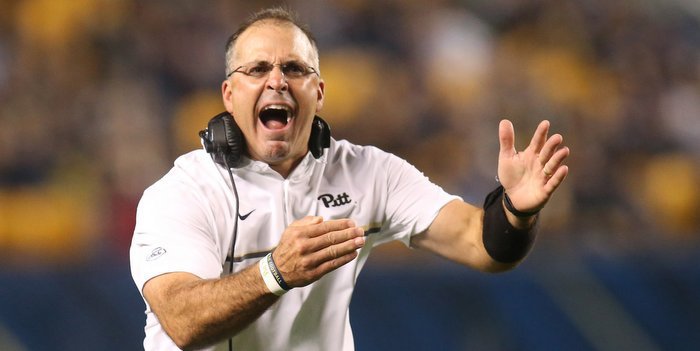 | | |
| --- | --- |
| Pitt's Narduzzi looking for monsters to be unleashed Saturday | |
---
Halloween was last week, but Pitt head coach Pat Narduzzi expects to see some monsters unleashed in Death Valley this Saturday.
Narduzzi's Panthers sit at 5-4 heading into this weekend's showdown at Clemson, but the Panthers have lost two straight including last weekend's 51-28 loss at Miami. Hurricane quarterback Brad Kaaya had a big day in the win, and the Panthers have to take on Clemson quarterback Deshaun Watson and Clemson's monsters this week.
"He's (Watson) special obviously. I don't know if he's still up for the Heisman or how politics go there, but he's a great football player," Narduzzi said Monday. "They are undefeated. He leads their offense. Deshaun is not only an excellent thrower, but he's got a strong arm and throws darts. But he's got the run threat, too. Kaaya really didn't, even though he scrambled on some third down passes to gain yards last week, this guy is a threat on every down to beat you with his arm and beat with you his feet. That's going to change some things for you on defense. We have got 11 monsters out there and we've got to line up with our best 11 monsters and go after them."
Pitt's schedule hasn't been easy - after this week, Pitt will have played 5 teams in the CCFP Top 25: Clemson (2), Penn St. (12), Oklahoma State (18), Virginia Tech (19) and UNC (21).
"With that, you've got another great football team, and I know you guys talked a lot about it preseason, about the schedule we had, and we've lost some close games and a year ago we were able to win some of those close games and this year, we're not winning some of those close games," Narduzzi said. "But with Clemson, you know, next on the schedule here, our kids get an opportunity to go on the road, play in a hostile environment against a really, really good football team that's ranked two or three in the country, wherever you guys have them, maybe No. 1 in the country in some rankings.
"A great football team that's won a lot of games; that knows how to win close games. They have been in some battles. They haven't blown everybody out. They have blown out half the teams and there have been battles with the other games. But Dabo does a great job coaching. They have got a great coaching staff on both sides of the ball. They have got athletes like we faced the last couple weekends, and it's obviously a challenge for us."
Narduzzi said Clemson's second-team defensive line has a reputation as being as good as the starters on other teams.
"Look, they are very talented. You look at Christian Wilkins, one of the defensive ends. Great football player," he said. "Got a true freshman D-tackle, and Dexter Lawrence, true freshman, might be the best player they have on defense. They have got some guys -- I talked to a D-line coach in the conference that said, guys, their second line looks better than our first D-Line in the ACC. So they have got some guys up front. But so did the guys last week and so did the guys the week before that. So it will be a challenge to block them, but I think our guys like challenges."
He then said the Panthers will embrace the challenge of taking on a talented team on the road.
"No doubt about it. I think any time you get to play one of the top teams in the country, play the spoiler and go make something happen on national TV, I think that's what players play for and I think that's what coaches coach for. That's what you want," he said. "If we were going to play the 128th team in the country, and you guys see the same thing. Like how do you go against Villanova in the opener and compare it to Clemson, they are just complete opposites. They have to be ready regardless and hope they play the same against Villanova as they play against Clemson but I would hope we're going to get the best ball out of our guys."
He was asked how Pitt can begin to compete with a team that recruits like Clemson, and he laughed when he answered.
"Little by little. I could maybe see if we can go to your bank account (smiles), see if we could get some extra money and start buying players, but if we did that, it would probably be the wrong way," he said. "But you slowly -- you're not going to get there overnight and we know that. You know, they have got some good players. They have recruited some of the top players in the country.
"But you know what, right there in the chest cavity, guys that go out and play with heart and get after it and give you everything they've got, have a chance -- you slowly peck at that and try to become the best football team you can."

Upgrade Your Account
Unlock premium boards and exclusive features (e.g. ad-free) by upgrading your account today.
Upgrade Now