| | |
| --- | --- |
| Pigskin Prophet: Week Two | |
---
| | |
| --- | --- |
| Thursday, September 10, 2015 12:01 PM | |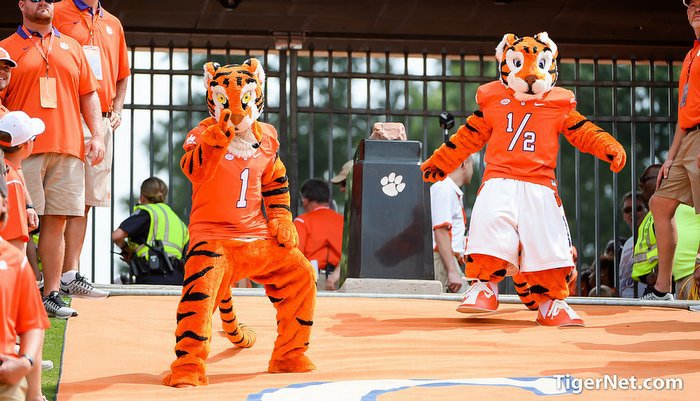 How was that for an opening weekend? Upsets littered the landscape, the entire SEC West has been moved (by ESECPN) to the ranks of the NFL's greatest teams, and we saw the continued blight called Michigan and Texas football.
In case you haven't heard, I quit my job as the recruiting coordinator for the women's equestrian program down at South Carolina so I could give all of my attention to becoming North Carolina's new offensive coordinator.
I watched the Tar Heels play South Carolina last Thursday, and I laughed because it was obvious Larry Fedora sees the same doctor as Southern Cal head coach Steve Sarkisian and had a …..ummm……liquid meltdown. "Hey! My running back is averaging 10 yards per carry!! Let's make the quarterback throw ANOTHER interception!"
I packed my bags and headed to Chapel Hill, went into the coaches offices and stated my experience and why I should get the job: I will give the ball to Elijah Hood on 1st-and-goal from the three. To me, that was enough.
Turns out, they weren't looking for an offensive coordinator and now I'm registering for AMFAM classes and have moved up to second-team linebacker because of my sterling academic record. Go figure.
Now on to the picks. And remember blah blah blah Crump blah blah blah and I apologize for this being so bad, but there just aren't many good games this week.
FRIDAY
MIAMI (FL) AT FLORIDA ATLANTIC
The only reason Miami agreed to this game? So more than 250 people would be in attendance to watch. MIAMI 40, OWLS 20.
SATURDAY
OREGON ST. AT MICHIGAN
The Fighting Khaki Pants are not going to be very good this year. Their quarterback is like a young – or old – Logan Thomas and loves to throw the football to the people in the other jerseys. The good news is that Michigan – even with Logan Thomas, Jr., at quarterback – is better than the Beavers, who will get eaten up by the Wolverines. MICHIGAN 27, OREGON ST. 17
KANSAS ST. AT UTSA
The Band at K-State might be the most entertaining thing about this game………….WHO???????????????
HOUSTON AT LOUISVILLE
The Astros (or Cougars) make the trek to take on the Fighting Volleyball Motorcyle Riders in a tune-up for the FVMR Petrino's hosting Clemson next Thursday. Louisville might have found a quarterback last weekend in a loss in Atlanta to Auburn, and it should be enough to beat the Cougars. The Ville wins 31-20.
WAKE FOREST AT SYRACUSE
The best part about this game? Wake's punter, who is from Australia and goes to school in Winston-Salem, complained about the heat. No, not in those two normally hot places. In the Carrier Dome, which is otherwise known as the hottest place on earth. If not earth, then central Syracuse. The Demon Deacons need all the wins they can get before they play the real teams on their schedule and the Orange will be without quarterback Terrell Hunt. Won't matter. HOT DOME PEOPLE 24, WAKE 17
FURMAN AT VIRGINIA TECH
The Purple People Eaters haven't had things go their way in a while, and it won't get any easier this weekend when the Paladins travel to Lane Stadium to take on a bruised and battered Hokie team that got steamrolled by Ohio St. last Monday. The Hokies will be without their starting quarterback, but not having a quarterback hasn't stopped Virginia Tech in years. HOKIES 44, FURMAN 13
NOTRE DAME AT VIRGINIA
The Fighting Irish took the Texas Longhorns to the proverbial woodshed last Saturday, and they shouldn't have any problems with the Mike London Farewell Tour. This is just another tune-up for the Irish, who have Georgia Tech, UMass and Clemson over the next few weeks. The biggest difference we've seen between Malik Zaire and Everett Golson is that Zaire takes care of the football. And goes to class. He helps the Irish roll. NOTRE DAME 31, VIRGINIA 20
OKLAHOMA AT TENNESSEE
Tennessee and Oklahoma could be a shoot-out. Tennessee's high-powered defense (snicker, snicker) could have their hands full with the Sooner offense even though Oklahoma was held to a field goal on its first six possessions Saturday. Oklahoma also rushed for just 100 yards. But that was against Akron, which has to have a better defense than Tennessee. Oklahoma is favored, but I will take the home team. TENNESSEE 30, OKLAHOMA 28
APP ST. AT CLEMSON
The Mountaineers played Clemson tough the last time they played in Death Valley, but that was a different Clemson program (not very good) and App St. was in the FCS. Things are different these days. The Hillbillies – who apparently play in a cabin – have talent and an eight-game winning streak against the likes of Uncle Howard and Sister Sadie Dinkins Sunday School Class. Apparently, those lustrous wins mean they will give Clemson a tussle. Poor hill folk. They just don't get it, and Uncle Jeb and Granny will sadly ride their jalopy back to Daniel Boone without finding any oil. CLEMSON 42, APP ST. 17
KENTUCKY AT SOUTH CAROLINA
If you think about it, these two programs are a lot alike. They have a COMBINED two SEC football titles between them in 106 years. Both of those belong to Kentucky, and they haven't won one since 1976. In fact, both schools are known for other sports. Kentucky is a men's basketball powerhouse, and South Carolina is known for equestrian and fishing. Here is a guarantee – the winless streak will continue this season, and for some reason the SEC continues to make them (and Vanderbilt) continue to play football even though their fans would rather watch other sports. I get it, no one cares about this game because it doesn't have Ashley Judd, a horse or a fish hook. I get it. I think the basketball school will keep it close with the horse riders, but the horses using their leaping ability to block a last second shot by the hoops guys and squeak out a close one. Yay, or neigh? HORSES 23, ASHLEY JUDD 22