| | |
| --- | --- |
| Pigskin Prophet: Cheating Edition | |
---
| | |
| --- | --- |
| Thursday, November 13, 2014 2:09 PM | |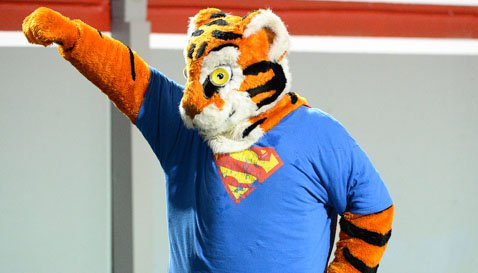 I still have my job as a secret member of the College Football SEC Payoff Selection Committee, a very lucrative position, but decided to take on some extra work this week. In another life, I actually worked as a private investigator, and I am currently working for ACC Commissioner John Swofford.
My office received this letter from the commish late last week:
Dear Mr. Prophet,
It has come to my attention that some false and unfounded accusations have been lodged against my beloved North Carolina Tar Heels. Mean people have been saying that my beautiful baby blues have cheated, and that the scandal spans across all of the different sports.
This is not true!!! We at North Carolina are held to a higher standard, and if anyone cheated it's those mean people pointing fingers!!! I have no doubt that N.C. State and Duke fans are behind this, and my first act of business for you is to follow that Rat, Mike Shushefski or Krazyzewski or Kawasaki or whoever the Blue Devils coach is. Follow him and get the goods!!! Get the pics of him stealing nose spray, or being mean to an elderly woman!!! Get a pic of him being rude to someone less fortunate, like a South Carolina fan!! I want blood!!!!
Now, seeing as how I have hired you to look into this matter, you might be wondering at what point you need to see the UNC records or look into the claims of academic fraud. The simple answer is this – there is nothing to look into!! Nothing to see here!! Move along!! Everything is great and fine and wonderful and dandy in Chapel Hill!!!
Just go get those meanies.
Sincerely,
John Swofford, head of the ACC (All Carolina Conference)
Looks like I have my hands full.
Now onto some picks. And remember, it's all in fun.
THURSDAY
SOUTHERN MISS AT UTSA
Woohooo!!! UTSA makes a Thursday night appearance. Except….who da heck is UTSA????
SATURDAY
CLEMSON AT GEORGIA TECH
This one is always so much fun to watch!!! Just go to YouTube and type in "people falling down" and it will prepare you for Pawwwwl Johnson and his offensive line. His edict to his players – before each snap – is to try and tear every ligament in the linemen across the way. And when the ball is snapped, they just fall down. Over and over and over. I've actually heard it's a recruiting pitch he uses – come to Georgia Tech and fall down your entire career!!! Ruin your opponent's knees!! They fall down more than the girl on the South Carolina tailgating video. The good news is that Clemson's defense is pretty stout, and the Bees won't have an easy time of it this weekend. The Tigers are making a late-season push for a big bowl game, and it all starts with Pawwwwl and his band of people who fall down. Tigers win a close one……..CLEMSON 33, TECH 24
VIRGINIA TECH AT DUKE
Ok, I will be the first to admit it I was wrong. The Hokies really miss that really tall kid who couldn't play quarterback. Now they have a really short kid who can't play quarterback. At least the tall kid looked better when they lost. And lose they will. Again. Duke has taken advantage of a very soft schedule – almost SEC East like – and are making a push to be FSU's whipping post in the ACC Championship Game. Tech has shown they will put up a fight..for a bit…then turn it over and implode. DOOKIES 27, TECH 20
SOUTH CAROLINA AT FLORIDA
South Carolina has trouble stopping teams with a good offense. Ok, I misled you. They have trouble stopping teams with an offense. Ok, I misled you. They have trouble stopping anybody. Ok, I misled you. They couldn't stop Sister Sadie Mae Dinkins Sunday Bible School Class. This week they get a Florida team which has found a quarterback who can actually do something besides look silly turning it over, and the chickens will have their hands full. Florida's defense is pretty good, so this one should be a class SEC East slugfest, right? Which means it will turn into every other SEC game this year….FLORIDA 68, SOUTH CAROLINA 55
PITT AT UNC
UNC has a special offer for all students for this game!! Bring a copy of your grades, and if you've passed a class that doesn't exist you get in free!!!! And a basketball scholarship!!!! And a signed picture of John Swofford dressed in a baby blue sweater!!! Go Heels!!! UNC 38, PITT 35
MISS. ST. AT ALABAMA
It's a battle for supremacy in the SEC West, which means teams that are actually good. Miss St. has some impressive wins this season – Southern Miss, UAB, South Alabama and UT-Martin – but get a chance to take on a team with a pulse in Bama this weekend. In Tuscaloosa. Bama looked good on defense against LSU last week (well, so does everybody else, but hey) and they will be ready to slow down the Bulldog hype machine and turn the College Football Playoff Selection Committee meetings into chaos. And they will do just that. BAMA 31, MISS ST 24
AUBURN AT GEORGIA
Anybody with half a brain knew Auburn was overrated because of just how bad their defense is. This week, they get to take on Georgia Penal Squad in a game that has an interesting byline – will the teams score more points than they've had arrests in the last five years? Georgia throttled Kentucky last week, and the offense is finally on a roll. Can they outscore Auburn? The Tigers had an interesting week last week – everybody knows that Nick Marshall is going to keep it every time Auburn is inside the 10 - but he forgot to tell his running back about his selfish ways and it caused a fumble. Later, their center hiked the ball against his own leg. That won't work against Georgia. Or maybe it will. GEORGIA 44, AUBURN 43
FSU AT MIAMI
I can't keep it straight. Is Jameis stealing crab legs this week? Stealing drinks? Using profanity to joke about women? Point shaving? Doesn't matter – Jimbo keeps him in the lineup and they keep on winning, adopting John Swofford's "nothing to see here" mantra. Miami fans are hopeful they can pull off the upset, but FSU is playing pretty well despite what the committee thinks, and they keep on rolling. Heck, they might beat Miami so bad the Canes bring back that short dude who threw parties with strippers and limos. NOTHING TO SEE HERE FOLKS!!!! FSU 34, MIAMI 24