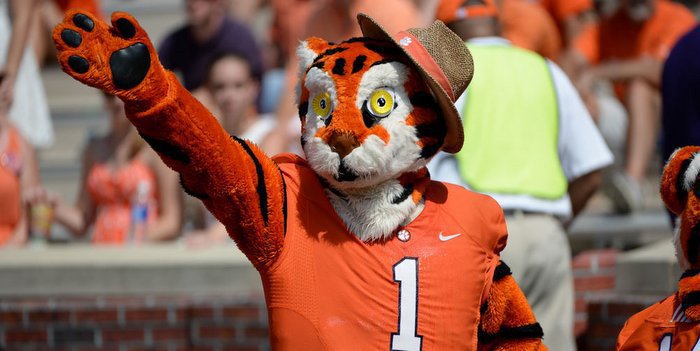 | | |
| --- | --- |
| Pigskin Prophet: Better Late Than Never | |
---
| | | |
| --- | --- | --- |
| Saturday, September 24, 2016, 7:01 AM | | |
Better late than never for the Pigskin Prophet.
Because Clemson played on Thursday this week, Crump told the Prophet his services wouldn't be needed until the weekend. Despite the fact it made me feel like a waiter with a degree from South Carolina, I agreed to the weekend work.
Clemson took care of business in Atlanta, winning 26-7 over Paul Johnson and his Falling Down Linemen. Actually, several not only fell down, they were tossed down and curb-stomped by Dexter Lawrence and Carlos Watkins and the big Samoan weightlifter and medicine man Scott Pagano.
Pagano used his special brand of island magic to make Tech quarterback Justin Thomas look like a deer caught in the headlights every time Lawrence came barreling in, and Clemson's defensive tackles group is having filet of quarterback this weekend with a little poi and a lot of pineapple. As for the pig, well old Paul got away.
Better luck next time.
Now onto this week's picks, and if you get your feelings hurt, just email Crump. He will send you his leftover Burger King coupons.
GEORGIA AT OLE MISS
Machine Gun Kelly has proven to be pretty good when the game is in the opening stages, but when it gets to be crunch time he turns it over more than a Kardashian at a rap concert. With no beauty queens to run over, he gets frustrated and fumbles and bumbles his way to another frustrating loss. If games only lasted one quarter, he would indeed be the best quarterback in the nation. As it stands, he isn't. Georgia has been more lucky than good, and they'll need a little good luck down on the Rebels' plantation. Won't happen. REBS 37, DAWGS 28
FLORIDA ST. AT SOUTH FLORIDA
The Seminoles were seen trudging back down to Tallahassee with quite the cargo last weekend – they were carrying their butts after the Cards of Louisville handed them to the Noles on a silver platter carried by a volleyball coach on a motorcycle. They have to get better this week, but South Florida won't go away quietly. The Bulls have what it takes to keep Dalvin Cook contained for part of the afternoon, but Deondre Louis Roux Bertrand Girard Andre Lefevre DuPont Francois will lead a late charge, and the 'Noles will escape another hurtful loss. FSU 34, SOUTH FLORIDA 26
WISCONSIN AT MICHIGAN ST.
This one will be fun to watch. The quarterback will take the first snap of the game and hand it off to the running back. Repeat 172 times and that's how this one will play out, leaving fans everywhere wondering what happened to a thing called the forward pass. State wins after Wisky gets bored with all the handoffs and finally lets the Spartans hit a big play. SPARTY 24, WISKY 20
FLORIDA AT TENNESSEE
What you're going to see is two bad offenses flail around for four quarters, and what you'll be told by ESPN is that it's all about that great SEC defense. Sure, it's College GameDay, and it's Neyland Stadium, but this has the makings of a yawnfest unless someone finds a way to get some offense. The Vols are undefeated despite inconsistent play, but they'll find enough cracks and have the backing of the home crowd and take control of the SEC East. Which isn't saying much, but it's saying something for the worst division in the Power Five. ROCKY TOP 24, SPURRIER'S REGRET 14
PITTSBURGH AT NORTH CAROLINA
One team can't stop the run, and the other can't stop the forward pass. One team runs the ball really well, and the other team can throw it all over the yard. This one has all the makings of a shootout in Chapel Hill provided UNC can get all of their stellar student-athletes out of class and actually onto the football field. John Swofford will be there in his baby blue tie (the others were at the dry cleaners) telling everyone about the mean old NCAA and how they sent a letter reprimand to his beloved goats. He'll do this over wine and cheese at Muffy's Mercedes, and they'll all gasp and watch Pitt lose a close one. UNC 37, PITT 30
UTSA AT OLD DOMINION
WHOOOOOO?
LSU AT AUBURN
This is a battle of two coaches who might be somewhere else next season. They're both weird and unorthodox and far from normal, but sometimes that works in college football. Right now, it's not working for either one. Despite playing in the vaunted SEC West, neither program has been able to develop a quarterback, and bad quarterback play has cost each team a win this season. The LSU group is relying on a Purdue castoff, while Auburn might start the second-stringer from East Mississippi Junior College. Yeah, buddy. Last time I checked, Purdue is better than a JUCO in Mississippi. Barely. LSU 22, AUBURN 20
SOUTH CAROLINA AT KENTUCKY
Unless you're a fan of these two schools, you probably don't care about this one. South Carolina gave up 922 passing yards last week, and one receiver caught 49 passes in a losing effort. The problem with East Carolina last week? Chad Kelly disease – they couldn't perform when it counted. This week, the Gamecocks have to try and contain a vaunted Kentucky offense (bwahaha) in what should be the game of the week in the SEC East. The problem for the Poultry is that they've finally learned Spurs Up means the Gamecock has gone flaccid and given up the fight, and there will be lots of flaccid from the Poultry offense most of the night. KENTUCKY 23, FLACCID 16