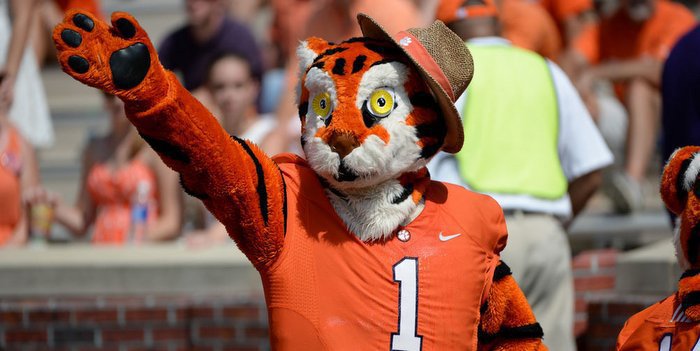 | | |
| --- | --- |
| Pigskin Prophet: Bad Banners edition | |
---
| | | |
| --- | --- | --- |
| Thursday, October 3, 2019, 2:46 PM | | |
Just because the Tigers have an open date doesn't mean the Prophet gets the week off. The weekly supply of Burger King coupons arrived in the mail on time and I guess that means I will take a little time away from my civic duty to perform my football duty.
What civic duty, you ask? Oh, I am so glad you asked.
Look, it's easy to make fun of Gamecock fans. Grown men use the four letters of their mascots name and give themselves those names on message boards – Iron**** and Raging**** and ****inSpace and ****onTop and all kinds of silly names. Then they have those disgusting tailgate habits that always find their way to YouTube and Twitter. Add in the outdated movie theme song and the cross-dressing chicken mascot and it's just too easy.
It just got easier. I wish I could say this was made up, but it isn't. This is real life.
An email went out from some folks in Columbia detailing that there were some obscene banners hung on game day down there in houses occupied by their students. Most of those obscene banners involved that word we decline to use. And the director wanted to know how they could handle the banners. Yes, they need to know how to keep their students from using that obscene word outside their homes.
Here is my take….change your mascot. Quit giving people a reason to make fun of you. Become a Pelican or a Groundhog or a Cabinet or something, just not that….thing.
However, I know they won't do that. So my civic duty? At the next home game I will be part of a community task force that drives around the student housing areas looking for offending banners. If we find one, we are duly authorized to tear it down. For those students who put up tasteful banners, we are authorized to offer them ice cream. You know, because they're winners?
Now, on to some picks. Gotta earn those coupons.
AUBURN AT FLORIDA
Auburn has been better than expected so far this season, and a lot of that is because Kevin Steele might have the best front four in college football. The Auburn offense hasn't been very good, and Florida's offense hasn't been very good, and both defenses are pretty stout. That means we are in for an old fashioned SEC East shootout, circa 1971. The first one to score a touchdown wins? AUBURN 5, FLORIDA 4
VIRGINIA TECH AT MIAMI
Hey, didn't you used to be the Big East? Both of these teams have struggled this season, but the Hokies are outdoing the Canes when it comes to taking a seat on the struggle bus. The Hokies were walloped by Duke – DUKE!!!!!!!!!!!!! – last week at home as Justin Fuente stood on the sideline looking like he needed to get over a bout of bad gas. I am not saying the Hokies are bad, but they can't play offense, can't play defense, and their special teams are missing in action. That's not good, right? MIAMI 23, TECH 13
UNC AT GEORGIA TECH
Just when you think the departure of Paul Johnson means you can't make fun of the Bees, along comes Geoff "Waffle House" Collins and his Above the Line Chart. He doesn't have a depth chart, plays 41 quarterbacks a game, doesn't seem to have a game plan, and scored just two points (on a safety) at Temple last week. I get it – Collins is in for a big rebuild, and it's going to take time. But you can't get the fans on board with some of his coaching antics, which appears to be more shtick than stick. UNC 28, TECH 2
GEORGIA AT TENNESSEE
That guy that writes for DawgNation did some interviews in the week leading up to the Notre Dame game, and he made the Bulldogs sound like a Super Bowl contender. There were Hall of Famers at every spot and three-deep across the roster. The Dogs said the Irish shouldn't have made the playoff a year ago – too weak – and they figured they were in for another ho-hum afternoon. MEMO – Notre Dame isn't an SEC team, so they have an actual pulse. Then the Irish played them close and things have changed. The Irish are worthy!!! Funny how that works. As for Tennessee – Pruitt is a disaster, his team is a disaster, the program is a dumpster fire and even has Gamecock fans making fun of it. That's as low as it can get. GEORGIA 45, TENNESSEE 2
VANDERBILT AT OLE MISS
Be honest. If I told you I would rent you a car and give you four free tickets to this game, would you go? Would you???? I don't think so. VANDERBILT 23, OLE MESS 13