| | |
| --- | --- |
| Pigskin Prophet - Week One | |
---
| | |
| --- | --- |
| Thursday, August 28, 2014 2:19 PM | |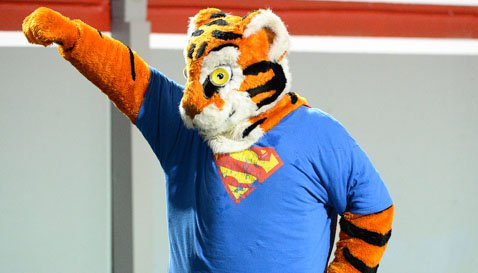 The good news for the Pigskin Prophet is that Crump no longer has to pay me in Burger King or AOL coupons, even though that helped during the job search.
Yep, I got a job driving work release convicts back and forth to the jail at Richland County each day, which in turn has enabled me to meet several former South Carolina football players and cheerleaders. And students. And alumni. And teachers.
But I digress……
On my last trip, we drove down in front of Wilma-Brice Stadium. I looked up and saw a brand new building-sized banner of South Carolina head coach Steve Spurrier hanging outside the edifice. Heck, that's a lot of ball coach. Eighty five feet high and almost as big as his ego. The convicts all cheered and I noticed that they were trumpeting the fact that he is the winningest coach in the program's history.
I roared with laughter. Heck, the program didn't start until 2009 by my recollection. I never saw a car flag or car sticker or a t-shirt until that year, so I know for a fact they didn't exist. Kinda neat that he has won all of those games, but if you're the only guy there, then it's kinda easy, right? One guy tried to tell me that South Carolina played football before 2009, but I'm not buying it. After driving around town for a month, I am pretty sure that college football history started in 2009……
Besides, they don't exactly have a bunch of SEC banners to hang up.....well, they do, but they all say Alabama.
Now on to the picks, and remember, it's all in fun.
THURSDAY
NO. 21 TEXAS A&MANZIEL at THE OTHER USC
Aggie head coach Kevin Sumlin brings his team into Williams-Brice, and the Aggies will have their work cut out for them. The fightin' yard birds own the nation's longest home winning streak, and the Aggie offense will play its first game without Johnny Football, who like Jadeveon Clowney took a paycut to play in the NFL. The Aggies also lost a lot on defense, but will keep this one closer than people think. In the end, the pregame doodoo ice proves too much for the boys from Texas, who leave with a close loss. CAPONS 28, TEXAS A&MANZIEL 24.
WAKE FOREST AT UL-MONROE
I am guessing that not even the boys from Duck Dynasty care who wins this one. WAKE 24, DUCK DYNASTY 21.
BOISE ST. AT NO. 18 OLE MISS
Boise usually plays pretty well in these openers, and they've never backed down from SEC "speed." Of course, SEC speed usually refers to the amphetamines sold in the fine neighborhoods outside of Williams-Brice, but Ole Miss has a secret weapon for the horses from Idaho: Mama Nkemdiche. At some point during the contest, one of her sons will get arrested or thrown out for a cheap hit, and Mama Nkemdiche will descend on the field like a plague from the Bible. The resulting commotion will so unsettle the poor kids from Idaho that they will never recover and Hugh Freeze and Ole Miss escape with a win. MAMA NKEMDICHE 37, BOISE ST. 28
SATURDAY
NO. 16 CLEMSON AT NO. 12 GEORGIA
The Tigers and the pound puppies from Athens renew acquaintances Saturday, a year after the two programs thrilled a national television audience in a 38-35 Clemson win. This season the game is in Athens in Sanford & Son Junkyard Stadium, not exactly known to be a hospitable place for guests. But I have some easy tips for you Clemson fans making the trip who hope to avoid trouble with the Georgia fans: Don't ask them what year they graduated; Speak REALLY slow; Don't use big words; Compliment the curtains on their pickup truck; don't ever say "wrestling is fake" in their presence; don't ask them if they've read any interesting books recently, it just confuses them. In other words, just lay low until the end of the game. Speaking of the game – the Bulldogs have the nation's best running back in Todd Girlie, and Penny Marshall is a pretty good backup. But Clemson's defense will rise to the occasion and the Tigers will escape Athens with a hard-fought win over the leghumpers. CLEMSON 23, PUPPIES 16
WOFFORD AT GEORGIA TECH
Don't look now, but Georgia Tech has to face their FCS football doppelganger in Wofford. For all of you South Carolina and Georgia fans – ask a Clemson fan to explain that to you when you take their order. Tech has a new quarterback, and rebuilt defense and still has coach Paul Johnson, which should be good for at least six or seven wins this season. This will be one of them. BEES 49, WOFFORD 35
BILL AND MARY AT VIRGINIA TECH
I have heard through several sources that Virginia Tech's wide receivers have had to undergo some growing pains this off-season – they aren't used to a quarterback who isn't tall and throws passes on target. I am not sure at what point the Hokie coaches will bench Texas Tech transfer Michael Brewer. If Brewer comes out and tosses three or four touchdowns against the Tribe and fails to throw an interception, he's just asking to be benched in favor of a big defensive end. At what point will Brewer be benched for being too short and too accurate? Only time will tell…VIRGINIA TECH 37, MARY OR BILL 21
LIBERTY AT NO. 23 NORTH CAROLINA
The word out of Chapel Hill is that this game might not go off as scheduled – North Carolina athletes simply have WAY too many classes (snort) and work WAY too hard at academics (snort snort) for them to actually play in a game. Meanwhile, Commissioner John Swofford enforces his own brand of punishment on the football program for all of the violations and cheating – NO MORE WHITE WINE AT TAILGATES!!!! That'll show 'em John. Keep up the good work buddy. UNCHEAT 48, LIBERTY 21
IDAHO AT FLORIDA
In case you haven't heard, Florida didn't sell out its student section for this game, which shows just how far the program has fallen under Will Muschamp. The program continues to get good recruits despite not being able to complete a forward pass – heck their offensive linemen block each other – but old Will just can't seem to turn the corner. There is talent on defense, and the offense has to be better because it can't get worse. Can it??? FLORIDA 3, IDAHO 2
NO. 1 FLORIDA ST. VS. OKLAHOMA ST.
Famous Jameis takes his act into Jerry's World, where the two biggest egos in the sport of football will vie for attention. The hope is that ole Crab Legs won't "flounder" under the intense pressure of being the defending champ, or for stealing crab just for the "halibut." He probably feels like a "sardine" in a tin can in the "fish bowl" that is Tallahassee, but he is also a predatory "shark" on the field as long as his "snapper" gets him the ball. We will have to "tuna" in to the game to see how he does. He will either show out or go into a "shell." The guess here is that he shows out, you know, cause he skrong. FSU 43, OKLAHOMA ST. 24
MONDAY
MIAMI (FL) AT LOUISVILLE
The Bobby Petrino era – the redux – gets underway in Little Caesars Papa Pizza Hut Johns Stadium in Louisville on Labor Day, and thousands of fans will make their way into the stadium to see which blonde volleyball coach Petrino has named as his starter – I mean who is going to play on defense. The Cards are talented, and Petrino is a good coach when he isn't joyriding with young girls, so it will be interesting to see if Al Golden's Hurricanes can throw a scare into the Cards. Miami plays it close, but the home pizza advantage is too much as Petrino starts out 1-0. CARDS 30, MIAMI 27