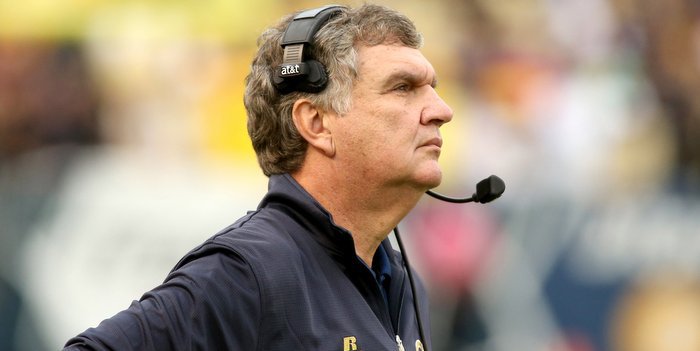 | | |
| --- | --- |
| Paul Johnson on Clemson: We can play with them | |
---
| | | |
| --- | --- | --- |
| Wednesday, September 21, 2016, 8:34 AM | | |
Paul Johnson and his Georgia Tech Yellow Jackets welcome fifth-ranked Clemson to Atlanta for a Thursday night ESPN matchup, and the Jackets are off to a 3-0 start this season after winning only three games year ago.
The quick start means Johnson is back to being his usual confident self, and he told the media earlier this week that he isn't building up Clemson as a ranked team or playing the revenge card. Instead, he's telling his players that they can knock off the Tigers because history says it can be done.
"That's not the way I work. We just have to get ready to play. I look at this as a great opportunity, and I never try to make it a one-game season, no matter who we're playing, or build it up to where the hype is too big," Johnson said. "We just have to go play, go out there and play as hard as you can and execute. If we can do that, we'll be in the game. We can play with them; we've played with them before. The bottom line is that we've played them nine times, we've beaten them five, they've beaten us four. The last few years, they've won at home, we've won at home. We just happened to play them at their place two years in a row. They've won three of the last four, the three of which have been at Clemson."
Johnson said the 2016 version of Clemson is similar to the team that beat Georgia Tech 43-23 last season, but he also said the Tigers aren't playing as well offensively.
"It's a lot of the same guys, but they've got some new offensive linemen. Defensively, they've had to replace some guys, but they're still big and physical," he said. "The stat that sticks out to me is that defensively they're giving up 18-percent third down conversions. They haven't been as prolific as they were last year on offense, but they started to play better last Saturday. They dropped some balls and were their own worst enemy, but I'm sure we'll get their best on Thursday. They're still very talented, and [Mike Williams] is as good as a player I've seen in a long time; he's a top-notch receiver, and they've got other good receivers as well."
While the Jackets have played two good defenses in Boston College and Vanderbilt, Johnson said Clemson brings a different athleticism to the table this week.
"We've played two teams that supposedly have good defenses, but they don't have the cast like Clemson does," he said. "This is the most talented team we'll have played, by a mile, and that's not a knock on the other teams. I think Boston College has some really talented, hard-nosed players on defense, but they're not the same type of physical guys that we'll see against Clemson."
Georgia Tech battled a bevy of injuries last season, and as a result Johnson isn't dwelling on last season's game.
"We don't talk about last year, other than the fact that [Clemson] beat the fool out of us; they beat the fool out of a lot of teams last year," he said. "If you watch the tape, we were not a very good football team last year, and they were. We were especially bad in that game, at least offensively, but we weren't much better on defense in that game either, if you really want to know the truth. We just have to play better. I think we're a little better than we were a year ago, we'll see if they're better or the same."
Johnson said the Jackets are preparing not only for Clemson quarterback Deshaun Watson, but all of Clemson's talented players.
"We'll start that today with the scout team players, but it's hard to have anybody be Deshaun Watson. We'll have quarterbacks who run their things and probably run a couple huddles on the scout team before the week's over to get accustomed to their pace and tempo, so as soon as one play finishes, the other group is on the line with the next play off the cards" Johnson said. "But we do that against everyone that runs tempo. And they'll assign jerseys on defense so we'll know who's who. If you're running two groups, there will be two quarterbacks, and two completely different scout teams.
"I think it's difficult planning for their team. He's a great individual player, but they've got a lot of other great individual players. Like I said, if you look, their skill levels are very high. All their receivers are good, their RBs are good, they have big physical offensive linemen. And Watson is the guy that makes it all go, and he's very talented as well. So they've got plenty of talent."
Clemson hasn't won at Tech since 2003, and Johnson said he's hoping for another great atmosphere on Thursday.
"We've always had a really good atmosphere for night games, but I think Thursday night games, in particular, have been really good. Hopefully we'll have a big crowd on Thursday night, and it'll be fun for the guys to go out and play," he said.

Upgrade Your Account
Unlock premium boards and exclusive features (e.g. ad-free) by upgrading your account today.
Upgrade Now