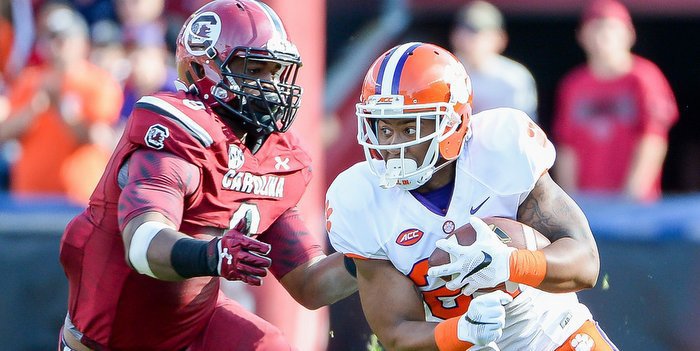 | | |
| --- | --- |
| Palmetto State game special among rivalries in the Southeast | |
---
| | | |
| --- | --- | --- |
| Thursday, November 24, 2016, 2:01 PM | | |
For most of its existence, the Clemson-South Carolina rivalry has been overlooked on a national scale.
In state, we all know what the rivalry means to the players, coaches and fans on both sides.
But outside of the borders of the Palmetto State, it typically has just been another game during rivalry week.
That changed quite a bit as the South Carolina program's profile was raised during Steve Spurrier's time as the Gamecocks' head coach. As painful as the five-game losing streak was for Clemson fans, it was probably the best thing that could have happened for the rivalry as far how it is seen around the nation.
It didn't hurt that Dabo Swinney has taken Clemson's program to another level since becoming the Tigers' head coach, and his team has won two straight games in the series as it tries to regain control of the series. The Tigers' run to the national title game last year and a 10-1 record this year have focused the national spotlight on this game Saturday night.
But for those of us who grew up in the state or have ties to either program, that outside perception really doesn't mean much. That's for other folks to discuss. We all know what this game means even though Clemson owns a substantial lead in the all-time record.
Just look at the other rivalry games this week around the Southeast.Palmetto State game special among rivalries in the Southeast
KENTUCKY-LOUISVILLE: Come on. It's not basketball season. When those two basketball teams meet Dec. 21 in Louisville, that will mean something (that rivalry is probably behind only Duke-North Carolina in college basketball).
N.C. STATE-NORTH CAROLINA: See above about basketball season, and I'm not even sure this is a real rivalry for football anyway.
GEORGIA TECH-GEORGIA: Living in Georgia for 22 of the past 23 years has given me a strong appreciation for this game, and it's easy to see what it means for Georgia Tech fans when their team is able to win it. That said, there's a debate among Georgia fans if this game is even the team's biggest rival with games against Tennessee, Auburn and Florida on the schedule every year (most would admit Florida is the game). Throw in the state's pro teams -- Atlanta's Falcons, Braves and, to some extent, Hawks -- and there is plenty of competition for sports fans' attention in the Peach State.
FLORIDA-FLORIDA STATE: These teams really don't like each other, but they both dislike Miami even more than that. Plus, there are pro teams all over the state that, again, distract fans from their feelings about each other.
MISSISSIPPI STATE-MISSISSIPPI: The Egg Bowl is similar to the Clemson-South Carolina games in a lot of ways: The state focuses its fandom on football, and there are no pro teams, so it's really the only game in the state. But this game gets even less attention nationally than the Clemson-South Carolina game, mainly because it has been awhile since both teams have been nationally relevant for a long stretch.
AUBURN-ALABAMA: Say what you want about college rivalries. Duke-North Carolina in basketball is great. Ohio State-Michigan in football is wonderful. But the Iron Bowl is the gold standard. For many of the same reasons that Clemson-South Carolina means so much, the Iron Bowl is just a must-see. But the added importance of at least one team (mostly Alabama) seemingly always being in the national hunt, pushes this game over the top. There is real hate in this game by the fans on both sides. They live and die (not literally) with this game every year. And there are no pro teams to speak of; I'm not sure those fans would even want a pro team taking away attention from this game.
There is also another factor that makes this rivalry so special: It's really, really competitive. Alabama leads the all-time series 44-35- 1, and for one of these true rivalry games, that's pretty close. It's a lot closer than you would think it should be given Alabama's standing as one of the top five programs in the nation (USC, Michigan, Ohio State and Notre Dame as the others four).
From 2002 to 2007, Auburn won six straight games. Alabama has responded to that by winning six of the past eight. That competitiveness adds to the ferocity with which the two teams face off each November, and it certainly adds to the fans' competitiveness the rest of the year.
So, no, Clemson-South Carolina isn't on the same level with the Iron Bowl, but nothing else is either, and really only Ohio State-Michigan comes close. But in the Southeast, the Palmetto State rivalry is right there below the Iron Bowl, and that will be on display once again Saturday at Memorial Stadium.
Daniel Shirley is the sports editor of The Telegraph in Macon, Ga., and co-host of The Midday Sports Zone on Middle Georgia's ESPN, 93.1 FM and 99.5 FM. Follow him on Twitter at @DM_Shirley and read his blog at macon.com/peachsports.