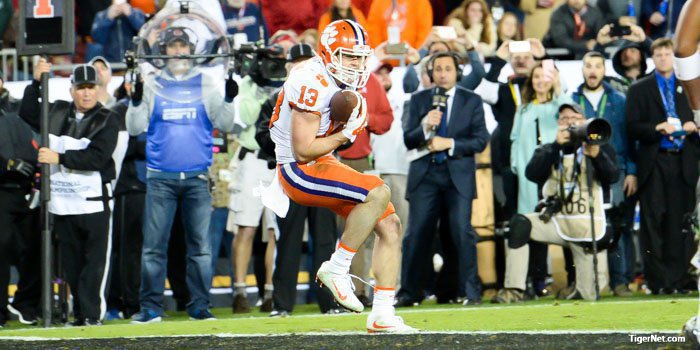 ---
Crush. The name will forever be etched in Clemson lore, and Hunter Renfrow's name will always be remembered at Clemson.
That's the name of the play that Clemson ran to perfection early Tuesday morning, with wide receiver Hunter Renfrow rolling out into the flat and catching the game-winning pass from quarterback Deshaun Watson. It came with one second on the clock and propelled Clemson to its second National Championship.
Offensive coordinator Jeff Scott says the play might need to be called Orange Crush.
Clemson trailed Alabama 31-28 late in the fourth quarter of Monday's College Football Playoff National Championship. With just six seconds left on the clock, the Tigers had a chance to run one play and go for the win. If the play didn't work, Clemson would have to settle for a chip-shot field goal that would have tied the game and sent it into overtime.
Overtime wasn't needed.
Co-offensive coordinator Jeff Scott chimed into the coaches' headsets and called the play that changed Clemson history.
"The last play is a play that's called Crush," Scott said. "It's worked well for us throughout the year. It was a play designed to get the ball out quickly out there in the flat. It's a safe throw, and if it was incomplete, we were going to kick the field goal. But we were there to win it. We could have played conservative and kicked the field goal, but Coach (Dabo) Swinney wanted to go for the win."
Renfrow, a former walk-on who earned a scholarship, said the catch was the culmination of an unbelievable journey.
"Yeah, never in a million years would I have thought this. It's been such a journey for me," Renfrow said. "It's like I got knocked out in the third quarter and this was all a dream. Credit to – I think my faith in God really got me through, just passing up the money to go to App State and come and playing for a guy like Coach Swinney, and a quarterback like Deshaun is pretty special."
Renfrow did more than just catch the game-winning touchdown – he played every single one of Clemson's 97 offensive snaps.
"And here is what I am most proud of tonight. Hunter Renfrow didn't have a backup out there tonight. He played every single snap on offense," Scott said. "That reminds me of DeAndre Hopkins in his senior year against LSU. He had that great catch on 4th-and-16 and that was play 95 for him. Renfrow played over 90 snaps because his backup was out of the game (Trevion Thompson). All of those other receivers rotated. He was getting tired, and was getting fluids on the sideline. But what better way to finish."
Scott said the pitch-and-catch between Watson and Renfrow epitomizes what the Clemson program is all about.
"You have two ends of the spectrum. You have a 5-star quarterback coming in, and then you have a guy that was a walk-on. And I think that kind of epitomizes our program," Scott said. "No matter how highly recruited you are not, you are appreciated, and there is an appreciation for you in this program. And that starts with Coach Swinney."
Renfrow said he embraces coming through on the big stage.
"lt definitely nationally last year I kind of got some recognition in the Alabama game. But it really started at two points I feel like over the last two years," he said. "This crazy thing about a year-and-a-half ago, I was a walk-on still, nobody really knew about me. But like Deshaun said earlier, practice, it all started in practice. I went against, two years ago, Mackensie Alexander, Stephone Anthony. Those guys were the No. 1 defense in the nation, and that's something I've carried over, that if I can get open against those guys and the guys we have now in practice, then I can get open against anyone.
"And then last year, the Notre Dame game. Such a big game in the rain in a hurricane, and I made a catch on the sideline and felt like I kind of belonged. As far as the whole game, I played every snap except one. When they punted it down at the 1-yard line, we had to go heavy formation. I just knew I was going to have to give everything I had. I've dreamed about it since I was a kid, all of us, and I couldn't let these seniors go down like we did last year. Just love them, and just appreciative for the opportunity."
Orange Crush. A National Championship. A 5-star and a walk-on.
And Clemson history.

Upgrade Your Account
Unlock premium boards and exclusive features (e.g. ad-free) by upgrading your account today.
Upgrade Now