| | |
| --- | --- |
| Option week: Tigers prepare for dreaded cut blocks | |
---
| | |
| --- | --- |
| Tuesday, September 1, 2015 4:12 PM | |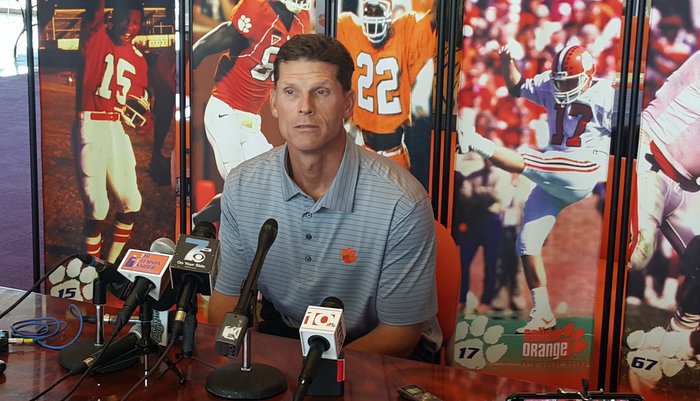 CLEMSON – Clemson opens the 2015 season Saturday against in-state and FCS foe Wofford, and it was the Terriers' offense that had Tiger defensive coordinator Brent Venables

Brent Venables
Def. Coordinator / Linebackers
View Full Profile excited on Tuesday.
The Southern Conference Terriers and head coach Mike Ayers run the triple-option offense – never fun to prepare for – and Venables talked at length about defending the option and cut blocks during his Tuesday afternoon press conference in the WestZone.
The Terriers ranked third nationally in the Football Championship Series in rushing last season, averaging 296.7 yards per game. Wofford returns ten starters to that offense, including back Lorenzo Long, who was first in rushing with 930 yards on 163 carries and 15 touchdowns.
"It presents a different set of challenges than the normal spread offense. Some of the principals are the same," Venables said. "You want your guys to play disciplined and physical, sound in everything that they do regardless of the scheme. But this one requires stricter demands that way. I think playing Georgia Tech down the road, this will give us some carryover. They have answers to big fast guys and they will challenge all of our guys, particularly our young guys to not try and do too much. It's exciting because of that challenge."
How similar are the Terriers and Georgia Tech?
"You will see some similarities and some differences but the end result is the same," he said. "Dive quarterback, alley and pitch and they probably throw the ball a little bit more and in some ways are a little more conventional than Georgia Tech."
The Terriers last played Clemson in 2011, a 35-27 Tiger victory that was back-and-forth throughout much of the day. Venables was at Oklahoma that season, but he said he heard about the Terriers early in his Clemson career.
"I heard about it as soon as I got here, and then I asked why we play them," he said with a laugh. "If you don't have to, then why do we play them? I have about three or four other ideas of teams to play but nobody has asked me. I've been warned and I understand why after watching them. They create a whole other set of problems. They take advantage of the mistakes you make and make you play with precision and discipline for 60 minutes. I think the Coastal Division champ was Georgia Tech last year and it was 24-19 late into the third quarter. The same Georgia Tech team that kicked our butt. That's what I saw from Wofford from just last year's video. It's exciting for the challenge and we will have to play really well to give ourselves a chance to win."
Option teams are known for their cut blocks – a technique that consists of an offensive player knocking a defensive player down by hitting his knees – and Venables was asked if the Tigers have spent any additional time working on Wofford's cut blocks.
"We work on cut blocks every single day. Not just this week," he said. "Whether it's screens or the spread game people try to mow you down and get you off your feet. If you're not on your feet you can't make a play. It's something we do a lot of, and when you play an option team they put themselves into an advantageous position to cut block you. It's not like they are announcing, 'Hey, I am the guy coming to cut block you.' They have different ways with their crack scheme and their receivers and their backs do a good job of running full speed at you. The tempo is different than what a lot of traditional teams do. It's a critical part of our success defensively. If we aren't on our feet we can't defend them very well, and it starts inside out."
Venables said the Tigers will have to ttack the offense and attack the cut blocks in order to be successful.
"Every down is a run down and you have to stay on your feet with all 11 of us pursuing the football," he said. "We have to have good pursuit and if you aren't on your feet you can't have good pursuit. You have to be fearless and you have be physical. You can't play on your heels in this game and be successful. You have to attack cut blocks - you have to attack them back in the same manner with technique and stay aggressive. They are hopeful that by the third or fourth quarter guys are getting tired of getting cut and are getting a little bit slower. On our side we are hopeful that they are tired of not making the cut and are tired of us being physical as well and going after them."
Other notes
LB Kendall Joseph

Kendall Joseph
RS Fr. Linebacker
#34 5-11, 230
Belton, SC
View Full Profile
"I am not concerned with putting him out there. Just concerned with where he's at. He's looked good the past couple of days that he's practiced. He's an instinctual player that finds the ball. He's not what you call a rep guy that has to see it eight times over. Our training staff did a good job of keeping him in shape and I think he'll be fine."
Christian Wilkins

Christian Wilkins
Fr. Defensive Tackle
#42 6-5, 299
Longmeadow, CT
View Full Profile
"Christian is ready to play and play winning football. He is going to have some growing pains. Whoever the bell cow 3-technique is, that's not him yet. And it's not fair to put him there. Christian is ahead of the curve in his transition and his development. He has a ton to learn and he will make mistakes along the way. A year from now he will have experience and more functional strength. We are awfully excited about his continued progress and where he is game one will be a lot different than where he is in game nine or ten."
Jalen Williams

Jalen Williams
Fr. Linebacker
#30 6-0, 224
Columbia, SC
View Full Profile
"Jalen has good instincts and a good tackler. He's relentless chasing the football. He has football intelligence and is ahead of the curve that way. He gets off blocks really well and he cares about his performance. Jalen values the detail and preparation that goes into playing at a high level. With a lot of young players the details aren't important but Jalen has proven he is the exception."