| | |
| --- | --- |
| Once a Tiger always a Tiger - beloved mascot turns 60 | |
---
| | |
| --- | --- |
| Tuesday, November 4, 2014 8:01 AM | |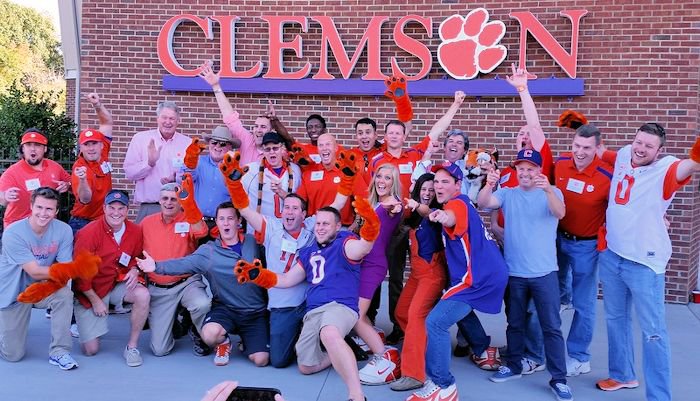 CLEMSON – Once a Tiger, always a Tiger.
That statement runs true for everyone who has ever cheered on a Clemson athletic team and every person who has had the honor of slipping on the Clemson ring or walking across the stage to shake the president's hand at graduation. But, for those who have had the honor and privilege of putting on the Tiger or Tiger Cub suit, that phrase has an even deeper meaning.
Since the Tiger mascot was introduced in 1954, 42 different people have worn the Tiger suit, while 12 different people have been the Tiger Cub since its introduction in 1993.
Before Clemson's homecoming game against Syracuse, most of the Tiger and Tiger Cub mascots gathered outside of the indoor practice facility for their 60 year anniversary to recount stories and all come together for the first time out of costume.
Michael Bays – the Tiger from 1994 until 1997 – organized the event and told TigerNet that the reunion was something that needed to be done in order to connect the older mascots with the younger generation.
"It had to be done. When I got a list of the prior mascots, I wanted to get in touch with them and stay in touch with them," Bays said. "That's how much being the mascot meant to me. I started going through the list and I remembered when I was the mascot in 1994 our 40th anniversary and I got to meet five or six of the guys. I did the math and realized that it was our 60th anniversary. There's a bond where I've gotten to know some of the younger mascots and I'd also gotten to know some of the older guys from when I was the Tiger. It was just something that happened to be done. I hope when I'm 80 years old that someone steps up and has our 100th anniversary so I can go out there with a walker."
Many fans walked by this unique tailgate and probably had no idea who this group was, but if you spent five minutes in the little corner at the entrance of the indoor practice facility, you would've realized just who was there. The big personalities, the extra bounce in their step and the enthusiasm for everything Clemson made it easy to realize that all of these people had the swag needed to pump up any crowd at any sporting event.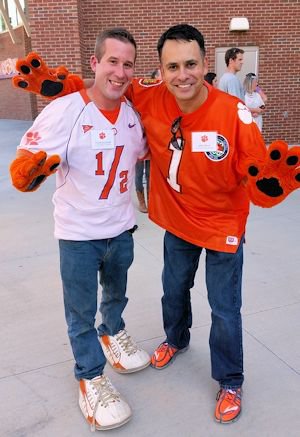 Bays said that once you earn the right to become Clemson's mascot, you're always a Clemson Tiger whether you're in the suit or not.
"Once a Tiger, always a Tiger. It's very special and it's really the first time we've all been together," Bays said. "The one thing you have to realize is that we've all entertained as someone else. We've never had the chance for people to see us outside of costume. It's very unique that we're all going to be on the field together at the same time and all as one Tiger. It's incredible having us all together. All of us can relate to each other with the stories that we have."
Tyler Alewine – the Tiger Cub from 2007-2009 - said that he can't put into words what it means to be a part of something that so few people ever get to do.
"It's something that you really can't describe. When you think about it and do the math two - the Tiger and the Tiger Cub - two people out of 18,000 students each year get to be the mascot," Alewine said. "That's a million people in sixty years. A million people and only one person gets to be the mascot and represent the school as the goodwill ambassador."
Alewine had dreams of joining the unique fraternity of mascots since the age of six and he said that his – and every Tiger's - main goal is provide that unique memory for ever Clemson fan.
"We want to make sure everyone who goes to their first Clemson game has a memory, whether it's a picture, a high five, the pushups but however the mascots can get in there and help make that memory of the Clemson experience," Alewine said. "That's what we look for. It's a common bond that not many people understand but when you get to see that you made somebody's day, it's something you can't put into words."
The fraternity of Clemson mascots isn't limited to just males as Sarah Newburn became the first female to don the Tiger Cub suit in 2009, something she called a life-changing event.
"The boys are going to say this and it doesn't matter who you are, it's just an honor," Newburn said. "It's something that you can't describe in words and it changes your life. It makes you a part of a small family. It's an honor. It's the coolest thing I've ever done and it changed my life forever."