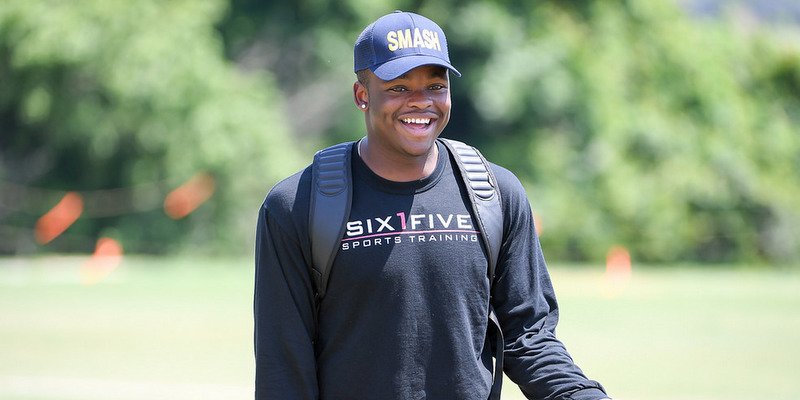 | | |
| --- | --- |
| On the road with Mike Jones and IMG, flying commercial, chasing seats | |
---
| | | |
| --- | --- | --- |
| Sunday, October 22, 2017, 3:01 PM | | |
Imagine that you're getting ready to board a commercial flight, where the seats are already small and crowded, and you see a crowd of large and energetic football players lining up for the same flight. At that point, it's every man for himself.
That's what happens when Clemson linebacker commit Mike Jones and his Bradenton (FL) IMG Academy teammates take to the road.
No. 2 IMG made the long trip to Utah for Friday night's matchup at East (Salt Lake City, Utah). The Ascenders had to shake off some early jet lag, and found themselves trailing 19-15 with 3:25 to play in the first half.
Once they found their groove, however, they were unstoppable in a 43-19 romp. The Ascenders outscored the Leopards (8-2) by a 21-0 margin after the break to come away with the convincing victory.
Next up for IMG is another interstate trip when it visits Hoover (AL) Nov. 3.
It's all part of the process for Jones.
"We go to Utah, then an off week and we go to Alabama and then we come home for senior night," Jones told TigerNet this week. "We've already been to Calfornia and Arizona and now Utah this year and last year I went to California twice."
Learning how to adjust to the travel was one of the reasons Jones picked IMG.
"I feel like that was one of the things that was good about coming to a place like IMG. Just learning how to prepare and lock in, even when you are traveling," he said. "Just get used to the regimen of going to a different time zone. In California, you might be starting at 7 p.m., which is 10 p.m. where you're from. Just getting used to that and your body going through that kind of change that quick. That gets you prepared for the next level.
"I look back at where I was two years ago before I came here, going down the street to play against regular high school guys. That was what I looked at as a great game. Just being around guys I've been around my whole life. Now I get to travel the country and go up against some of the best Division I athletes in the country, and just constantly competing every week. There are no easy games because you get everybody's best every week. It's their Super Bowl."
The team doesn't take a charter, preferring to fly commercial. Once it's time to board, it's a race to the premium seats (especially if you fly Southwest).
"We fly commercial. God bless. It's crazy," Jones said. "You see 300-pound linemen in the middle seat. It's crazy, honestly. You try to find the little running backs and defensive backs to sit by before you get stuck by an offensive lineman."
Jones has had another stellar season for the Ascenders, and he's learning to play different linebacker positions.
"I've been playing a lot of SAM, so I'm not in the box often," he said. "Sometimes I'm in the nickel and the WILL. I have a good bit of tackles and an interception. I take pride in being a complete linebacker. How many linebackers can you put on a slot receiver or put on a tight end and lock him down all day? That's the part of my game I have worked on."