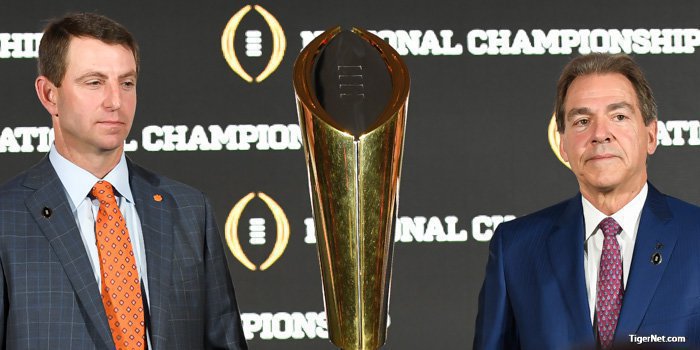 | | |
| --- | --- |
| Nick Saban uses his influence to get Alabama in the playoff | |
---
| | | |
| --- | --- | --- |
| Monday, December 4, 2017, 6:58 AM | | |
Nick Saban doesn't sit on the College Football Playoff committee, but Alabama's head coach did everything he could to make sure the Crimson Tide are a part of the four-team playoff.
Alabama finished the regular season with an 11-1 record, but a loss to Auburn in the Iron Bowl denied the Tide the SEC West crown and a chance to play in the SEC Championship Game. Auburn lost to Georgia in Atlanta Saturday, opening the door for Alabama to sneak back into the playoff conversation, and the committee rewarded Saban's team with the number four seed.
Alabama will face No. 1 seed Clemson in the Allstate Sugar Bowl on New Year's Day, the third year in a row the two programs will meet in the playoff.
"Well, we're very pleased, excited and proud to be a part of the Allstate Sugar Bowl playoff this year. Our team is very excited," Saban said Sunday. "They certainly worked hard all year long to create this opportunity. And even though we didn't finish in the last game like we would have liked, we feel like the committee did a great job of, you know, selecting the four best teams. We certainly feel like we're one of those teams and have the opportunity to play a fantastic Clemson team who has had a wonderful year.
"The Sugar Bowl has always been something that's been special to Alabama. It's always been something that's special to the SEC, to play the Number 1 team in the country. Coach (Dabo) Swinney does a fantastic job with his program and his team. And we meet these guys two years in a row in the finals. So this is something that we're certainly looking forward to."
Saban admitted he didn't know if the Tide would make it into the playoff, so he spent a lot of his time influencing the right people to make sure it happened.
"I think there's a lesson to be learned here. And I shared this with the team today in our team meeting, that because we didn't finish the season the way we wanted to finish the season and didn't play the way we'd like to play or to the standard that we'd like to play to, we put our fate in someone else's hands. And you like to control the things you can control. You can always control your behavior. You can always control your performance. But we didn't do that, and we put our faith in somebody else's hands.
"And there were a lot of people who I tried to influence that we wanted to look at the whole body of work for the whole season and get the best four teams in the playoffs. And I felt we were one of those teams. And we were certainly pleased and happy the way things worked out the way they did."
OTHER NOTES
On what can be taken away from previous two meetings
"Well, I think you can always take things from, you know, someone that you played in previous seasons, try to develop help a little history on things that they do. You get to know them a little bit better. And even though they have different players now, systematically they have a lot of the same coaches.
"So I think you can take some things, you know, technically from those games and maybe even a little strategically. You always do sort of what we did well and what we did poorly when you play a game. And you get those things out and kind of look at them and see how you can try to improve this time
around."
On if he watched Clemson vs. Miami
"We haven't had a lot of opportunity -- and I didn't stay around to watch the game last night, to answer your question. And we had a recruiting weekend, so we were busy with recruits. And we were flipping back and forth between Ohio State, Wisconsin, and saw a little bit of Clemson. But we've seen them on occasion throughout the year. Look, Dabo does a great job with his team.
"And I think Kelly Bryant is a different kind of player in some ways than Deshaun Watson who was, I thought, the best player in college football and certainly proved that this year when he got an opportunity in the NFL. We are sorry that he got injured. We have a lot of respect for the team that they have now, the players they have now. They have got a lot of explosive skill players. They are very good on defense, great front seven, very athletic, good pass rushers. This will be by far the best team we played all year. And we'll certainly need to play our best to have any kind of chance to be successful in the game."
On Clemson's defensive front
"We haven't had a whole lot of opportunity to watch them, other than what we have seen on and off throughout the season. But I don't like to make comparisons. But this is a very, very good defensive front, probably one of the best in the country. They're very athletic. They're strong. They're physical. Their linebackers are very active. They got good team speed in the backend. So this is a really, really good, you know, defensive unit. And, I mean, they're probably as good as anybody in the country.