| | |
| --- | --- |
| National Champ Davis a mentor to Cole Stoudt | |
---
| | |
| --- | --- |
| Sunday, August 24, 2014 11:26 AM | |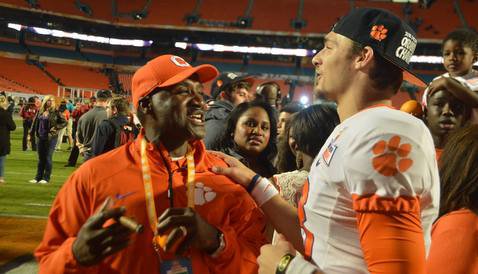 CLEMSON – The final seconds in Clemson's thrilling 40-35 win over Ohio St. in the Orange Bowl last January had finally ticked off the clock, and Clemson legend Jeff Davis was on the field in the middle of the celebration looking for somebody, anybody, to give him some help.
Firmly grasped in his hands was a victory cigar, and he was looking for a smoker to give him a light. It was then that his gaze settled on Cole Stoudt

Cole Stoudt
Sr. Quarterback
#18 6-4, 231
Dublin, OH
View Full Profile , and all thoughts of finding a light for his stogie left the field with the Buckeye football team.
Davis grabbed the junior signal caller, embraced him in a bear hug, and said, "It's your time, now. It's your time."
A big grin broke out on Stoudt's face, and the two shared a few more private moments before Stoudt and Davis moved off to celebrate with teammates, coaches and families.
The moment left a lasting impression on Stoudt.
"He was kind of saying, 'One more year man. Let's make the most of it and we will be right back here.' He was just excited you know," Stoudt told TigerNet earlier this week. "I had never been so happy in my life, and it was good just celebrating with him out there on that field."
The only snaps Stoudt took in the Orange Bowl were in pregame warm-ups, but he said he felt like he was an important piece to the puzzle nonetheless.
"I am a team player. I have always been a team player," he said. "I have always listened to the coaches, and if the coaches think this guy is going to be the guy to do it – and Tajh (Boyd) was the guy at that time – then I am good with that. I have never been more excited because that was a total team effort. I was right there with Tajh the whole time, and talking back and forth with him and helping him see things that maybe he didn't see on a previous play. it was a whole team effort, and I feel like I participated a ton in helping Tajh and the team get better and improve themselves and get ready for that game."
Being that kind of team player was just one of the lessons that he was learning, not only from his father – former NFL quarterback Cliff Stoudt – but from Davis.
"It was a great feeling. It was sad that he was saying I only had one more year," Stoudt said. "It was great talking to him, because I always go in and talk to him when I have some free time. He is a great motivator and inspiration to people. It brought me joy, and he always finds a way to make someone happy."
Davis, captain of Clemson's 1981 National Championship team, was inducted into the Ring of Honor in 1995. He was a first-team All-American in 1981 when he led the Tigers in tackles. Davis was also named MVP of the ACC and was the defensive MVP of the Orange Bowl victory over Nebraska, the game that clinched the national title for the Tigers. He later went on to play in the NFL for the Tampa Bay Buccaneers.
Davis is currently in his sixth year as the Assistant Athletic Director for football player relations within the football program, and his visibility with the players enables him to be the kind of sounding board that goes beyond the coaches.
He found a willing pupil in Stoudt, who said that Davis made the first move.
"He started pulling me aside a while back," Stoudt said. "I would be walking down the hall, and he would ask what I was doing. I would say, 'I am going to play some pool for a little bit.' He would say, 'No, you are going to come in here and talk to me a little bit.' So I would go into his office, and he would tell me we would talk for about five minutes, but five minutes would turn into thirty minutes and thirty minutes would turn into an hour. It's a good feeling. A great situation, and a great family situation with what he provides. He is like another dad to me when my dad isn't there. It's a great feeling, and I love talking to him."
Stoudt said that Davis – having won a national championship – is worth listening to.
"He knows how to get it done. He knows how a team is supposed to be, and how you are supposed to act and get things done" he said. "I've always wanted to win a National Championship, and talking to him is the best advice I will get because he has done it. He always talks about how much of a family that team was, and how they were always together and how the leadership on both sides of the ball was incredible. He has given me tips on how to bring a team together, get everybody on the same page and shoot for one goal."