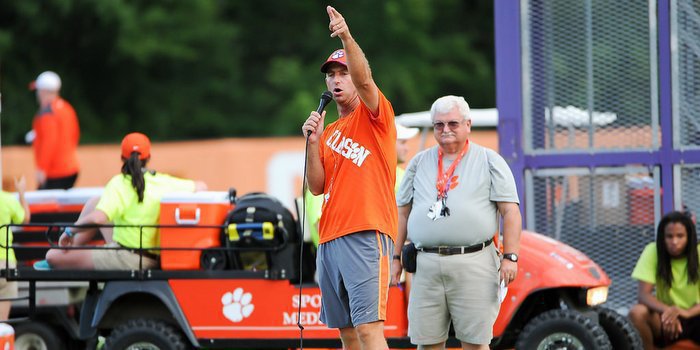 | | |
| --- | --- |
| NCAA legislation forces Swinney to change high school camp process | |
---
| | | |
| --- | --- | --- |
| Tuesday, May 9, 2017, 1:21 PM | | |
The first few weeks of June are usually a busy time around the Clemson campus as thousands of high school players from across the country make their way to Clemson head coach Dabo Swinney's high school camp. All of them want to be seen, and many of them make the trip hoping to do enough to receive an offer.
That will be even more important this year given the evolution of Clemson's recruiting. The Tigers are being stingy with offers considering the small size of the 2018 recruiting class, and several players will use the camp as one last chance to impress the coaches.
Thanks to recent NCAA legislation, however, that, in essence, forbids Swinney from hiring high school coaches to come and work the camps. For most high school coaches, who are underpaid and overworked as it is, the compensation received for working the camps is a welcome addition.
At Swinney's camp, the sheer number of players in attendance mandated that he hire a large number of high school coaches to work the camp. The new legislation passed by the NCAA makes that all go away.
The rules reads like this:
"In football, an institution or staff member shall not employ (either on a volunteer or paid basis) an individual associated with a recruited prospective student-athlete at the institution's camp or clinic (including a coaches clinic or a camp or clinic involving nonprospects), unless at least two years (24 months) have elapsed since the prospective student athlete's initial full-time enrollment at the institution."
Swinney is not happy about the rules change, and he said he is under the impression that high school coaches can't accept even an unpaid position.
"I don't even think they can do that, to be honest with you. I think they can come watch," Swinney told TigerNet. "But I don't think they can come and work it voluntarily. But we're going to hire as many college coaches as we can find and college staffs as we can find."
As a result, Swinney's staff is reaching out to college coaches, and he will rely on his current and former players who want to work.
"We've been in touch with a lot of lower-level college staff. We have an enormous amount of prospect that's come through our camps," Swinney said. "You've seen that. They're not going to all come to Clemson, but our big thing is we want it get guys better, help them be better prepared to go have a great season for their team, special teams, but then I'm also, I want to help these guys be the best they can be, but also create opportunities for them.
"We've always had a lot of college coaches there just to give them a chance to scout a lot of these guys. But it will just be a lot more of that, and we'll use as many players of our current players as possible. The problem with that is most of them are in school, so you've got class conflicts, and it's just a lot to manage with the amount of numbers we get for camp."
Due to the sheer number of prospects that rotate through Clemson in that two-week period, Swinney's camp is affected more than most.
"For some schools, it's probably not that big a deal, but for us, it's a huge deal," he said. "Because, again, we've run a football camp. We've not done a combine. We don't do Senior Days and run 40s and jump verticals. We coach football. I think that's why our camp has grown so much. I really do."
However, Swinney doesn't want to change the focus of his camp. He doesn't want it to be a combine; he just wants it to be a place where players can come and receive top-flight instruction.
"I think guys come and they don't have the pressure on them and they can really improve in their craft," he said. "We've had an enormous amount of coaches, so guys have gotten a lot of work. We've tried to minimize O-lines and things like that. We want guys getting a ton of reps. So we've got to find guys in the college ranks to come and work our camp and use as many of our players and all of our staff can make it work. It's going to be a new experience for us."