---
| | |
| --- | --- |
| Monday, November 3, 2014 11:18 AM | |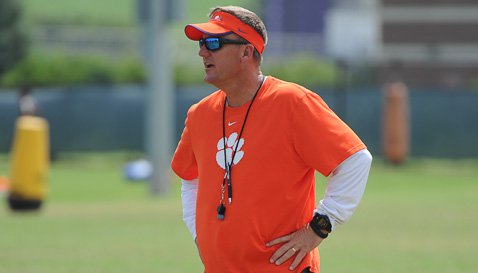 CLEMSON – The late Barry Goldwater was a politician known in many circles as "Mr. Conservative." The way that Clemson's defense and offense have each been playing as of late, offensive coordinator Chad Morris

Chad Morris
Offensive Coordinator / QBs
View Full Profile is making a run at Goldwater's nickname.
Morris doesn't like the fact that he has had to go ultra-conservative, but with Clemson's defense playing stingy and with the offense struggling to score it's own points Morris admitted this week that his play-calling hasn't been as aggressive as in the past.
The offense has scored just three touchdowns in the last three games, and the numbers are down across the board. The Tigers are 82nd nationally in plays of 10 yards or more (117), 42nd in plays of 20 yards or more after finishing in the top ten in most of those categories last season.
Losing standouts like Roderick McDowell

Roderick McDowell
Running Back (2009 - 2013)
#25 5-9, 195
Sumter, SC
View Full Profile , Tajh Boyd

Tajh Boyd
Quarterback (2009 - 2013)
#10 6-1, 225
Hampton, VA
View Full Profile and Sammy Watkins

Sammy Watkins
Wide Receiver (2011 - 2013)
#2 6-1, 205
Fort Myers, FL
View Full Profile hurt the bottom line to be sure. But the inconsistent play of the offensive line, the loss of the franchise in Deshaun Watson

Deshaun Watson
Fr. Quarterback
#4 6-3, 204
Gainesville, GA
View Full Profile and a struggling running game have caused Clemson's offense to be stuck in neutral for large portions of games. The quick strike the Tigers have been known for? Almost non-existent as the Tigers have just six pass plays of 20 yards or more over the last three games.
On the flip side, Clemson's defense is in the top five of most of the national categories and I asked Morris if the struggles at quarterback and with the offensive line – coupled with how well the defense has been playing – have led to a more conservative gameplan.
The answer was a definitive yes.
"I definitely have not been as aggressive, not even close, to what we've been in the past," Morris said late last week in the WestZone.
When Morris arrived in Clemson, he promised he would take three deep shots a quarter and he delivered as the Tigers took shot after shot down the field with the likes of Martavis Bryant

Martavis Bryant
Wide Receiver (2011 - 2013)
#1 6-5, 200
Calhoun Falls, SC
View Full Profile , Sammy Watkins and Nuk Hopkins.
That aggressiveness continued early in the season as the Tigers managed five plays of 20 yards or more under the leadership of Watson at Florida St. Watson got hurt against Louisville, senior Cole Stoudt

Cole Stoudt
Sr. Quarterback
#18 6-4, 231
Dublin, OH
View Full Profile 's shoulder was injured and the aggressive offense came to a grinding halt.
"Back when it was early in the year, we were extremely aggressive," Morris said. "We were letting it loose. It was what we usually do. That's how we call plays. That's how I call plays. I'm aggressive by nature. I believe in taking chances. I believe in being aggressive. I believe in pushing the limits."
Stoudt isn't as mobile – or elusive – in the pocket as Watson and Morris admitted he hasn't liked Stoudt's chances of standing in the pocket long enough to deliver a deep ball. At one point against Syracuse, 19 of 21 passes were at or behind the line of scrimmage as Morris tried to deal with the limitations of the offense.
"When you begin to struggle and have some adverse times, you've got to look back and say: OK, the worst thing I want to do is put our guys in a bad situation right now," Morris said. Does it change some of the thought process? Depending on the game and the time in the game over the last three weeks, yes it has."
He then admitted that completing a deep pass calls for the Tigers to be perfect.
"We're having to be perfect in some areas," he said. "It's a new group in there just about every week in some areas. We knew this was going to be a year in which it was going to take some time to rebuild and get going, and it was going to be a work in progress. We talked about that early in the year. With everything remaining constant, it was going to be a work in progress."