| | |
| --- | --- |
| Morris says Watson brings back memories of Vince Young | |
---
| | |
| --- | --- |
| Sunday, September 28, 2014 1:19 AM | |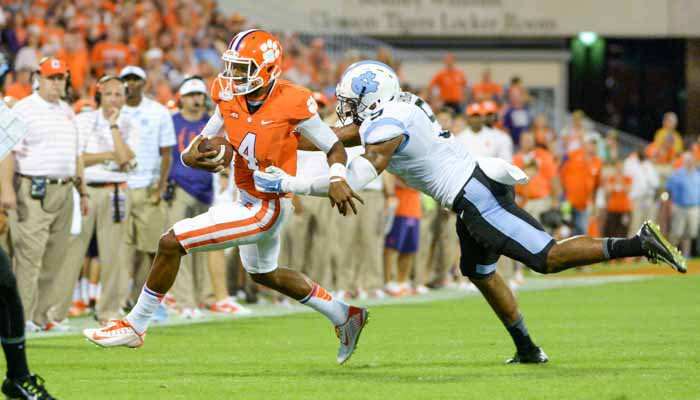 CLEMSON – Deshaun Watson

Deshaun Watson
Fr. Quarterback
#4 6-3, 204
Gainesville, GA
View Full Profile is just four games into his collegiate career, but is already drawing comparisons to former Texas great Vince Young from offensive coordinator Chad Morris

Chad Morris
Offensive Coordinator / QBs
View Full Profile .
Watson dazzled for much of Saturday's 50-35 win over North Carolina – there were a few mistakes including an interception – but the Gainesville (GA) native threw for 435 yards and six touchdowns, setting records along the way.
Watson set a Clemson program record with his six scoring tosses, and set an ACC record for a freshman with the touchdowns. The six touchdowns also ties the all-time ACC record held by several, including former FSU signal caller Chris Weinke.
For one night, however, Watson stood alone and Morris was almost effusive in his praise of Watson's performance.
"Obviously, everybody wants to talk about Deshaun Watson and what he provided tonight and what he provided last week," Morris said. "We are very excited about him as everybody else is, knowing what the future holds for this young man and the program. I don't know his exact stats, but I know he had a good game. To come out and put on the performance he did and the patience he showed and the ability to run is what you like to see. I am not going to steal his thunder, but I am extremely proud of him and I think he provides a spark for this entire football team."
Morris said that Watson did make mistakes.
"He probably should have had a few more touchdowns," Morris said. "He made some mistakes we have to clear up – he got us in a couple of wrong protections and a couple of busts down on the goal line. But you expect that out of a young kid. But we had a lot of young guys out there making plays."
It was then that Morris broke out the Vince Young reference.
"I had a chance to watch Vince Young in high school, and coach against Vince," Morris said. "Coach (Mack) Brown said that after Vince had been at Texas for a few years, Vince wasn't quite the player he had been in high school. So they had Vince go and watch tapes of his high school film, and they said they wanted that guy back. They decided to take the leash off of him and let him go play, and that's what I tried to do with Deshaun tonight, just take the leash off of him and let him go make plays."
Morris was asked if he was comparing the two, and he smiled.
"I watched Vince win a lot of games, and I've watched Deshaun win a lot of games in high school," Morris said. "We know he is special and he has a lot of talent, and he still has a lot of work to do. But the thing I am going to take from all of this is that we aren't going to put a lid on him, we are going to cut him loose."
Watson told the media that he was just out on the field having fun and didn't let the pressure affect his game.
"I just went out there and tried to have fun," he said. "This was something I couldn't really imagine. I just went out there and tried to execute, and the offensive line blocked for me and the receivers made plays. I am always relaxed out there, and I was just out there having fun."
Watson said he was in the "zone" and didn't realize he was close to so many records.
"Coach Swinney always tells me to go out there and get in the zone, and focus and go play lights out," he said. "I didn't know I was getting close to any records. But my coaches have prepared me for this opportunity, and they threw everything at me at once and I am just out there taking advantage of it."