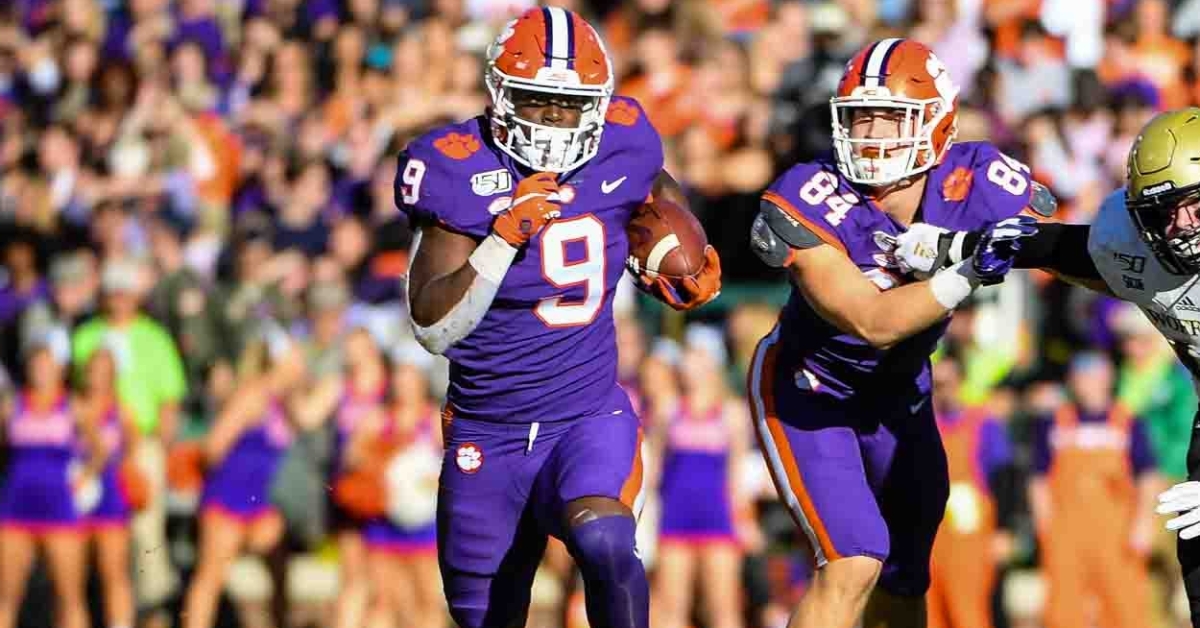 | | |
| --- | --- |
| Legend in the Making: The legend of Travis Etienne grows with each passing week | |
---
CLEMSON – Running back Travis Etienne walked out of the locker room and into the postgame interview area wearing a shirt that said "Legend in the Making."
Etienne's legend grows every time he touches the football. Etienne ran for a career-high 212 yards and scored two touchdowns as part of a record-breaking day in Clemson's 59-14 victory over Wofford Saturday.
Co-offensive coordinator Tony Elliott said Etienne deserves all of the accolades he receives.
"Just really proud of him. Happy for him. Such a humble guy," Elliott said. "I'm not a big guy on deserving but if there's anybody deserving of it, it's Travis because he always deflects the attention, makes it about his offensive line, makes it about his teammates. He's got the ability to do it and it's refreshing to see a young man that has the ability, that puts the work in and is able to achieve it.
"A lot of times we feel like we deserve more than we work to earn and so my word is more earn. Go out and earn it because life isn't fair and you're not always going to get what you feel like you deserve but at the end of the day you're going to get what you earn. Whatever work you put in, you're going to get the reward and it may not be as much as you want but at the end of the day you can feel good about it when you put your best effort forward and you're not counting on anybody else to give you what you deserve."
Etienne gave credit to his offensive line.
"I thought it was great. Give the offensive line some credit for opening up some holes," Etienne said. "There were a couple of plays at the beginning where I felt like I could have gotten a little bit more. I feel like I can definitely get better from today. Again, credit the offensive line and the receivers. They did a great job blocking down the field. Tee (Higgins), Joe (Ngata), and all the receivers were great blocking down the field."
When it comes to records, Etienne once again gave credit to his teammates.
"It is really great, but it is not just because of me. It is because of the team, the guys I have around me, the receivers that I have," he said. "The great receivers are willing to do it all, and Trevor too. I am thankful for all those guys to be out there. I would not be in this position to have all these records and accomplishments. I would like to think that."
The coaches didn't start to recruit Etienne until late in his senior year. The coaching staff had a commitment from Cordarrian Richardson, but that commitment fell through late and the coaches turned to the kid from Louisiana.
"Truthfully, we didn't know a whole lot about Travis. It was a situation that year were going in there were two guys that I was recruiting and Travis out in Louisiana and he was already down the road in his recruiting and was headed to Texas A&M," Elliott said. "We had a young man committed that fell apart in December and that's really when we first met. I think it was one of those deals it was meant to be. The first time I went into the school and met with his coach and had a chance to meet his family and meet Travis, I knew that there was something special about him. He just had such a quiet and humble spirit. When I had a chance to see him play basketball, that's the first time I had a chance to see him do anything live because weren't recruiting him as a sophomore and junior and I didn't recruit him during his senior season because we were down the road with someone else.
"The first chance I got to see him play basketball, I saw how explosive he was and how fluid he was. He could shoot, he could dribble, he could dunk. He could all these things. I said, 'Man, this guy's got a lot of skillset,' but there were still some questions because he was coming out of an option-based offense so I didn't know how he ran the inside zone, how he ran the power, how he ran the outside zone. Because of who he is as a person, how humble he is, how he wants to be special and how he'll work to do it, it's all transpired into what we see now."
The coaches knew right away they had something special on their hands.
"We were out on Jervey Meadows and it was quick little counter scheme to the boundary and then he took off and he was gone," Elliott said. "Going against our defense, you don't hit big runs. That fall camp as a freshman, he hit more big runs in that one fall camp than probably all of the guys that I've had - Wayne Gallman, Andre Ellington. Big, long runs like you saw tonight. That's when I knew, man this young man is special. Then, he still was green and even on that one he was out running his blockers but he runs so violent and so fast he was able to hit a big play."
When it comes to his celebrity, Etienne prefers to stay in the background and Elliott said that is what helps him continue to have success.
"He doesn't like the recognition and I think that's what allows him to continue to play at a high level because it makes him feel uncomfortable. I think it kind of drives him to continue to improve because he's one of the few that gets it," Elliott said. "What you really like as a coach is when you have a special talent and they know they're special but they don't just rely on their talent. They want to put the humility and the work ethic with it and that allows them to set records and be considered among the best.
"He's just a kid from a small town from a good family - hardworking folks. He's really, really under the radar. He just doesn't like the celebrity. He doesn't like for people to pat him on the back and tell him how good he is. He doesn't like to be the face. That's something that I challenged him to. I think going forward where his career is projected to go, he's going to be in some situations where people are going to look to him as a leader, so he has to be able to be okay being uncomfortable from a leadership standpoint but not become comfortable with being a celebrity."
Etienne's big day, by the numbers
*Etienne reached 200 rushing yards in a game for the third time in his career to break the school record for career 200-yard rushing games (two each by Ray Yauger, 1967-69; Terrence Flagler, 1982-86; Raymond Priester, 1994-97; Andre Ellington, 2009-12). He joined Flagler (1986) as the only player in school history to post two 200-yard games in a single season.
*Etienne's nine carries were the fewest needed by a Clemson player in a 200-yard rushing day in school history. His 12-carry, 205-yard performance in the 2019 season opener against Georgia Tech had previously represented the fewest carries by a Clemson player in a 200-yard rushing day.
*With two rushing touchdowns, Etienne pushed his career total to 48, breaking James Davis' school record (47 from 2005-08) for career rushing touchdowns.
*Including his 212 yards in the contest, Etienne (1,102) reached 1,000 rushing yards on the year to give him 1,000 yards in back-to-back seasons. He became the sixth player in school history to reach 1,000 rushing yards in multiple seasons, joining Raymond Priester (1995-96), Woodrow Dantzler (2000-01), James Davis (2006-07), Andre Ellington (2011-12) and Wayne Gallman (2015-16).
*Etienne reached the 1,000-yard mark in his ninth game of the season to tie Terrence Flagler's school record for fewest games needed to reach 1,000 rushing yards (nine in 1986). The 1,000-yard campaign by Etienne in 2019 is the 22nd 1,000-yard rushing season in school history.
*During the game, Etienne (3,526) passed Wayne Gallman (3,429) and Andre Ellington (3,436) for fourth on the school's all-time career rushing yardage leaderboard.
*Etienne scored on a 47-yard touchdown run in the first quarter, the 50th total touchdown of his career, as he joined C.J. Spiller and Travis Zachery as the only players in school history to record 50 career total touchdowns.
*With 12 points on the day, Etienne (306) passed Travis Zachery (300) and Nelson Welch (301) for fifth on Clemson's all-time scoring list.
*Etienne added an 86-yard touchdown run in the second quarter to break Davis' record for career rushing touchdowns.
*Including a 90-yard touchdown run in the season opener against Georgia Tech, Etienne now has two touchdown runs of 85-plus yards this season. Since 1950, he is the first Clemson player to record two touchdown runs of 85-plus yards. The run was Etienne's third of 80 or more yards in his career, surpassing the school record held by Derrick Witherspoon and C.J. Spiller (two each) On the run, Etienne also tied C.J. Spiller's school record for career total touchdowns (51).
*Etienne rushed for 100 yards in a fourth consecutive game to match his career-long streak set in games 3-6 of the 2018 season.
*Etienne recorded his 14th career 100-yard rushing game to tie James Davis for third on Clemson's all-time leaderboard for career 100-yard rushing games. Etienne is now three 100-yard games shy of Wayne Gallman's school career record of 17 from 2014-16.
*Etienne averaged a career-high 23.6 yards per rush. He became the seventh FBS player this season to rush for at least 23.0 yards per carry on at least five attempts in a game this season.
*Etienne averaged 10.0 yards per carry in a game on at least five attempts for the 12th time in his career to pass Colin Kaepernick for sole possession of the most such games by any FBS player since 2000.
*With 235 all-purpose yards during the game, Etienne (4,234) overtook Jacoby Ford (4,083) for eighth on the school leaderboard for career all-purpose yards. Etienne became the ninth player in Clemson history to record 4,000 career all-purpose yards.

Upgrade Your Account
Unlock premium boards and exclusive features (e.g. ad-free) by upgrading your account today.
Upgrade Now