| | |
| --- | --- |
| Lakip improving. not ready to call himself clutch | |
---
| | |
| --- | --- |
| Tuesday, October 28, 2014 7:01 AM | |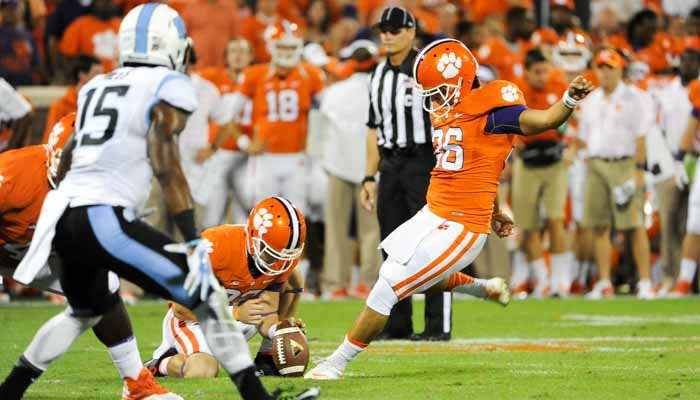 CLEMSON – Ammon Lakip

Ammon Lakip
RS Jr. Kicker
#36 5-10, 200
Alpharetta, GA
View Full Profile 's season didn't exactly start out how he envisioned but since this is his first season as a starter, the redshirt junior chalked the first three games up to a learning experience.
The John's Creek (GA) native was 4-for-7 through the first three games of the season. After a missed field goal to end the first half at Georgia and two critical misses at Florida St., Lakip realized that he wasn't living up to his potential and set out to fix the problem.
After his difficulties at Florida St., Lakip turned to his teammates and family but was thankful that the Clemson faithful was willing to give him another chance.
"You can't take your highs too high and your low too low," Lakip said after Clemson's 16-6 win over Syracuse. "Walking around campus, nobody stopped me and said, 'You suck!' or anything. That was nice. I appreciate that. I have my team and my family. I have so many people - even fans who reached out to me and said, 'Hey, Catman [ Chandler Catanzaro

Chandler Catanzaro
Punter / Kicker (2009 - 2013)
#39 6-2, 195
Greenville, SC
View Full Profile ] had just as much struggle with his early kicks.' I just thought there is nowhere but up from here."
He has made the most of his second chance, improving his kicking routine and trying to fulfill the potential that he's capable of.
"I guess you would consider the first three games my freshman season, in my eyes," Lakip said. "After those three games, I just made a decision to fulfill my potential and I couldn't have done it without my awesome specialists - my holder, my snapper, all of the protection - and my team in general. They're there for me through thick and thin. That's what team is about."
Lakip made all three field goal attempts Saturday night in Clemson's 16-6 win over Syracuse and is now 15-of-19 on the season. He said that the turnaround is a result of focusing more on the process and less on the outcome.
"Ever since I started playing football my junior year of high school, I always felt like a miss would be terrible, the worst thing ever," he said. "You're out there for one job - to score. As far as more pressure or anything like that because the game is close, the result is irrelevant. The only thing I can focus on is what I control. I just have to control what I can control when I go out there - my process before the kick and not be concerned with the result. If my process is sound, I'll make every kick. That's what I've been talking to the kicking coach about - the process and the result is irrelevant. That's the mindset that I'm taking out there now."
The fact that the offense isn't scoring touchdowns doesn't add any pressure, because Lakip said no matter what the offense does, he still has to make the kicks to put points on the board.
"Every time out there it's to make kicks," he said. "When I'm out there, it doesn't matter if the offense is struggling or if they're doing great. My job is to score points. The offense being out there and not moving the ball like we usually do kind of does put pressure on you but I kind of like the pressure. The past three games have been like that. It's not even a cause for concern to me because every time I'm out there my job is to score points. Either way, I'm going to go out there mentality-wise every kick I've got to make it."
Despite his recent success, however, Lakip said he's still waiting on the opportunity to redeem himself from the misses at Georgia and Florida St.
"I'm not going to jinx myself. Calmer? Yes, I guess you could say that. More experienced - I don't think I'll play in any other place like FSU and Sanford Stadium this season," he said. "It's nice to go out there and think that it's just a kick. I want to redeem myself. I wouldn't even consider these games redeeming myself. I need to hit a game winner, personally to get over the hump."