| | |
| --- | --- |
| Kearse comes up big for Clemson defense with interception and forced fumble | |
---
| | |
| --- | --- |
| Saturday, November 2, 2013 9:20 PM | |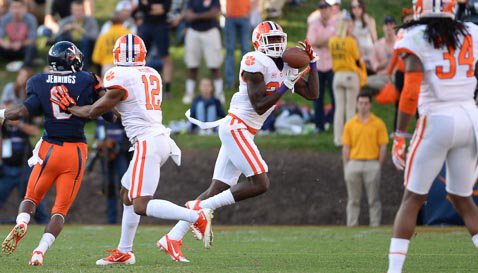 CHARLOTTESVILLE, VA – Freshman safety Jayron Kearse

Jayron Kearse
Fr. Safety
#20 6-4, 205
Fort Myers, FL
View Full Profile bounded off the field following his second quarter interception Saturday, saw the excitement in his teammates' eyes, and knew one thing was certain – he wanted to go out and make another play.
Kearse followed up his interception and 37-yard return by forcing Virginia running back Khalek Shepherd to fumble the ball at midfield, giving the Tigers a 14-point swing in two possessions during a crucial stretch in Clemson's 59-10 win over the Cavs at Scott Field Saturday night.
Kearse picked off a David Watford pass late in the first half – his third interception of the season – and as he exited the field, he realized that he liked the feeling of coming up big for his team.
"After I got the interception, everybody got riled up and I thought, 'I like this feeling. Let me see if I can go out there and make another play,'" Kearse told the media following the game. "I went out there trying to get another interception and wound up getting a forced fumble. I was out there doing what I was supposed to do, in my gap, taking care of my responsibilities and the play just came right to me."
The Clemson defense gave up two late touchdowns last week against Maryland, and as a result they were determined to keep Virginia out of the endzone – making Kearse's two turnovers all the more important.
"We just felt like we let ourselves down even letting them get on the scoreboard," Kearse said. "We went out there thinking shutout and we gave them a touchdown. We settled down and got it together and decided that they weren't getting in the endzone anymore."
Making game-changing plays is something that Kearse said in his DNA and has been passed down from his uncle Jevon Kearse, who retired in 2010 after an 11-year NFL career.
"It was just me getting in there and doing my job and the coaches putting me in the right position to make plays," Kearse said. "I think it all goes together. It's just something that I've been doing since I was young. Making plays is just something that is in me. It's the same thing with my uncle. I've been talking to him. I think it's just in our bloodline."
Kearse has steadily improved and seen increased playing time since his Clemson debut against South Carolina State, and he said that he is understanding the game at a higher level than he was at week two of the season.
"It really is. My first game against S.C. State, I wasn't doing the things that I'm doing now," Kearse said. "I'm understanding things more and they are putting me in the right spot to make plays. I'm just understanding the game more and getting past that learning curve."