---
| | |
| --- | --- |
| Monday, February 8, 2016 7:01 AM | |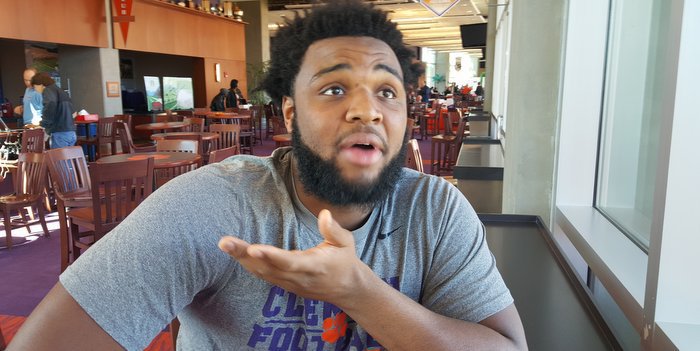 CLEMSON – Just call him Slash.
Freshman defensive tackle Christian Wilkins interrupted head coach Dabo Swinney's National Signing Day press conference Wednesday, waltzing into the team room like he owned the place (he might as well). Wilkins sauntered up to the podium and stood beside Swinney for a couple of minutes, proving that he's as comfortable in front of a throng of media as he facing an offensive line. He's as comfortable doing interviews as he is catching crucial fourth down passes on a fake punt in the College Football Playoff semifinal.
Christian Wilkins can do it all. Next year, he won't be listed as a defensive tackle. His position – or his name – will be Slash.
Swinney was a few minutes into his press conference when Wilkins burst through the door – probably using the team room as a short cut to a coach's office – when he noticed the cameras and gathered media. What followed was a modern day sports equivalent of some off-kilter Abbott and Costello routine.
"Christian, there you are," Swinney said. "This is our moderator right here. You want to handle this?"
"Yeah, what are we doing? I have a minute on my hands," Wilkins answered."
"This is Christian Wilkins if you didn't know him," Swinney said. "Speaking of places I've never really been - I had never been to Suffield Academy in Connecticut before. I think I was one of the only ones that went to see his momma. This is Christian, and he had a great year. He is our defensive tackle slash receiver slash running back slash goal line specialist slash what else."
Wilkins interrupted Swinney at that point to say, "Just call me Slash. They have made up a new position called Slash. That's all you gotta do. I can do it."
Swinney then went on to add, "Slash talk show host. He did a great job moderating today with all the mid-years. He has done a great job leading that group."
Wilkins then dismissed himself.
"I'm about to head out. That's all I got," he said with his trademark smile. "That's all my time. You guys have a great day."
Earlier in the day Wilkins was behind the microphone with Clemson play-by-play man Don Munson, talking about Clemson's mid-year enrollees, showing his versatility to the world. But it was on the field that Slash made a splash this past season, registering 33 total tackles, 4.5 tackles for loss, two sacks and a forced fumble.
He also caught a 31-yard pass during the Orange Bowl win over Oklahoma. Facing a fourth down and needing positive momentum, Swinney called for a pass on a fake punt. Punter Andy Teasdall lofted a pass to Wilkins on the sideline, and Wilkins showed remarkable grace and agility for a big man with the catch. He later told TigerNet he wouldn't mind showing up on offense.
"Hey, that would be nice. A little goal-line package or something - short yardage - yes, that would be nice," Wilkins told TigerNet. "I keep joking with Coach Swinney, Coach (Tony) Elliott and Coach (Jeff) Scott saying, 'Hey, let me get a play or two in on offense.' I'm trying to put it into their minds and let them know that I can do it. Hopefully, that will open up some opportunities. I feel like I could do that. I'm 100% confident that I could do that for sure."
Whether Slash is playing offense, defense, starring on special teams or standing in front of a microphone it is obvious he is now one of the more recognizable faces at Clemson. And he's okay with that.
"I'm 100% comfortable that I'm going to be able to keep my head down and still focus on football and other things like school and academics," he said. "I'm up for it and have great role models around me that are going to help me be ready for that role."