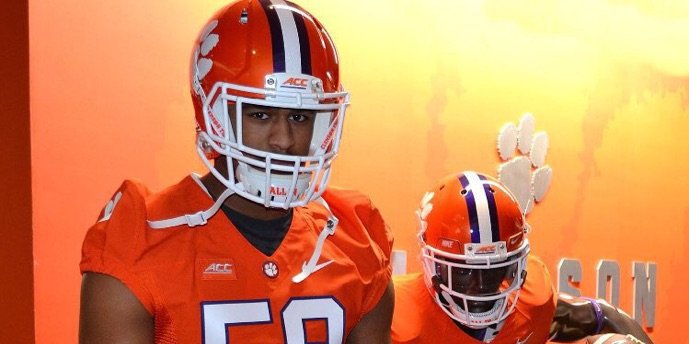 | | |
| --- | --- |
| Jordan Williams sets final visit, knows which school he's choosing | |
---
| | | |
| --- | --- | --- |
| Tuesday, June 28, 2016, 9:58 AM | | |
Jordan Williams has made up his mind about where he will spend his college career, but there's one more visit on tap before he publically announces his decision in early August.
The 4-star Virginia Beach (VA) Cox strong side defensive end holds nearly 30 offers and has pared his list down to Clemson, Tennessee, Virginia, Virginia Tech and Ohio State, according to his top five released in early July.
Williams (6-5, 245) told TigerNet Monday evening that he has set an announcement date, but will contact the coaches at the school of his choice well before the August 6th ceremony at his school.
"I pretty much already know where I'm going. I'm calling the school next week to let them know what I'm thinking," Williams told TigerNet. "I still have one more visit left in late July to clarify all of that with them, so I'm definitely going to call the school next week and then August 6th is when I'm going to have my ceremony at the school."
The final visit will be to Clemson for head coach Dabo Swinney's annual All In Cookout.
"I'm definitely going to make it to the All In Cookout. That's the last visit I have planned and I'm going to let the school that I'm going to know that it will be my last visit." Williams said. "I'd like to see where I would be staying my freshman year if I went there. That's what I've been doing lately is comparing dorms. I want to sit down with academics and discuss my major and to see if they have it and what classes I would have to take and all of my credits I would need, in case I do go there because different schools have different standards for different majors, so I definitely want to discuss that and see where that all plays out."
When Williams – the No. 251 in the ESPN 300 – initially released his top schools back in the spring, Clemson didn't make the cut, however, a heart-to-heart with defensive coordinator Brent Venables changed his mind about the Tigers.
"Since then it's just been how much of a need they have at defensive end. When I didn't have them in there, he (Venables) kept sending me a DM on Twitter to tell me to call him," Williams said. "I gave him a call and he was asking why they weren't in there and what did I not like that I saw. I let him know that I thought they had a lot of defensive ends, but apparently, I pulled up the wrong roster. He told me all of the defensive ends that they actually have and he told me which roster was the most recent. I looked at it and that was what really set me off with Clemson. I really did like school, but it was just the fact that they had all of those defensive ends and when I realized they didn't, we started rebuilding the relationship. He just told me how much of a priority I am to them and how much they love me as a kid, as a player and as a student. They think I'm the perfect Clemson player and that I'm a typical Clemson player."
Clemson was one Williams first offers, so what has kept the Tigers in it for the duration?
"Just how real Coach Swinney, Coach Venables and Coach (Marion) Hobby have been with me," he said. "They've never really sugarcoated anything. Every coach is going to tell you they love you, but which coaches really do mean that you're a priority to them. I've just been getting that great feel from Clemson. It definitely does feel right whenever they talk to me because it's always a real conversation. It's never really sugarcoating anything. They let me know what I need to work on and how they feel about me and my family and when they want me to come visit. It's always a real conversation whenever I talk to them."
As a junior, Williams had 39 tackles, 13 tackles for loss, five sacks, two interceptions, seven pass deflections, a forced fumble and recovered two fumbles including one returned for a touchdown.
All Glory To God???? #Top5 pic.twitter.com/x4luYDnge6

— Jordan Williams (@_blessed_23) June 1, 2016