| | |
| --- | --- |
| It's Elementary My Dear Watson | |
---
| | |
| --- | --- |
| Wednesday, November 19, 2014 3:01 PM | |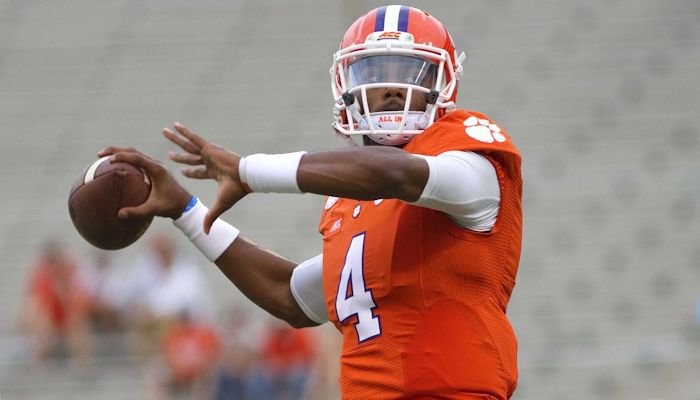 Deshaun Watson

Deshaun Watson
Fr. Quarterback
#4 6-3, 204
Gainesville, GA
View Full Profile and his availability for the rivalry game against South Carolina in ten days.

Clemson fans got a glimpse of what Watson brings to the offense during his limited snaps Saturday at Georgia Tech and a win over South Carolina began to look a little more plausible. Once Watson was injured, the doubts began to creep back in – no matter how bad South Carolina is on defense, Clemson's offense is just as bad without Watson.

Let's just imagine for a second, however, that Watson is able to go on November 29th against South Carolina. Head coach Dabo Swinney

Dabo Swinney
Head Coach
View Full Profile said during his press conference Tuesday that it would be a situation where you brace it up and you go play. So let's assume Watson has a brace on his left knee and is able to play, then I turn him into Peyton Manning or Tom Brady or any other pocket quarterback you want to name.
I know that a lot of people – including Clemson's coaching staff – harp on Watson's running ability and how that changes the offense and brings an extra dimension. I get it, I really do. We saw during his limited action last Saturday that Watson's ability to run – between the tackles and outside – can move the chains and keep the offense moving.
But I really love Deshaun Watson the passer, and in my opinion that is what sets him apart from any other quarterback. Not only on the roster, but in the country. A few weeks ago, before the game at Wake Forest, I talked to an NFL executive for a team that runs a shotgun offense. I asked him why he was so interested in Watson, and it wasn't because he can run even though that is one of the things that makes him special. No, the exec mentioned pocket awareness, the ability to throw while moving to his right or his left, his accuracy on the deep ball, his touch on the short routes, his ability to make something on happen third down, etc. The exec said Watson will be one of the three best PASSERS in the country next season.
All of the things he listed were in the passing game. And that's enough to beat South Carolina.
I asked Chad Morris

Chad Morris
Offensive Coordinator / QBs
View Full Profile this week about running Watson so much early on against Tech, and Morris said that those plays were run/pass options and Watson would read the defense and make the decision. Against South Carolina, I would use the running backs the way they were meant to be used, use Artavis Scott

Artavis Scott
Fr. Wide Receiver
#3 5-11, 190
Oldsmar, FL
View Full Profile on those quick flips to add to the running game and tell Watson to stay in the pocket as much as possible. In other words, let him manage the game as a passer.
Marcus Mariota of Oregon leads the nation quarterback rating at 184.56. Garrett Grayson of Colorado St. is next at 171.64. Watson's rating this season is 182.07. and the only reason he isn't listed among the national leaders is due to his lack of playing time. His yards per attempt is 10.1, and that would lead the nation (ahead of Mariota's 10.0), and his completion percentage of 67.2 would rank right inside the top 10 nationally.
If he can play – and we don't know the answer to that question yet – let the kid become a passer for a night. I know coaches are famous for "we do what we do and we won't change" but the coaches would need to make an adjustment on this night. If you turn him loose to play, really turn him loose and give his arm and not his legs the workout.