| | |
| --- | --- |
| Isaiah Battle and Kalon Davis complete Pro Day for NFL scouts | |
---
| | |
| --- | --- |
| Wednesday, July 8, 2015 2:01 PM | |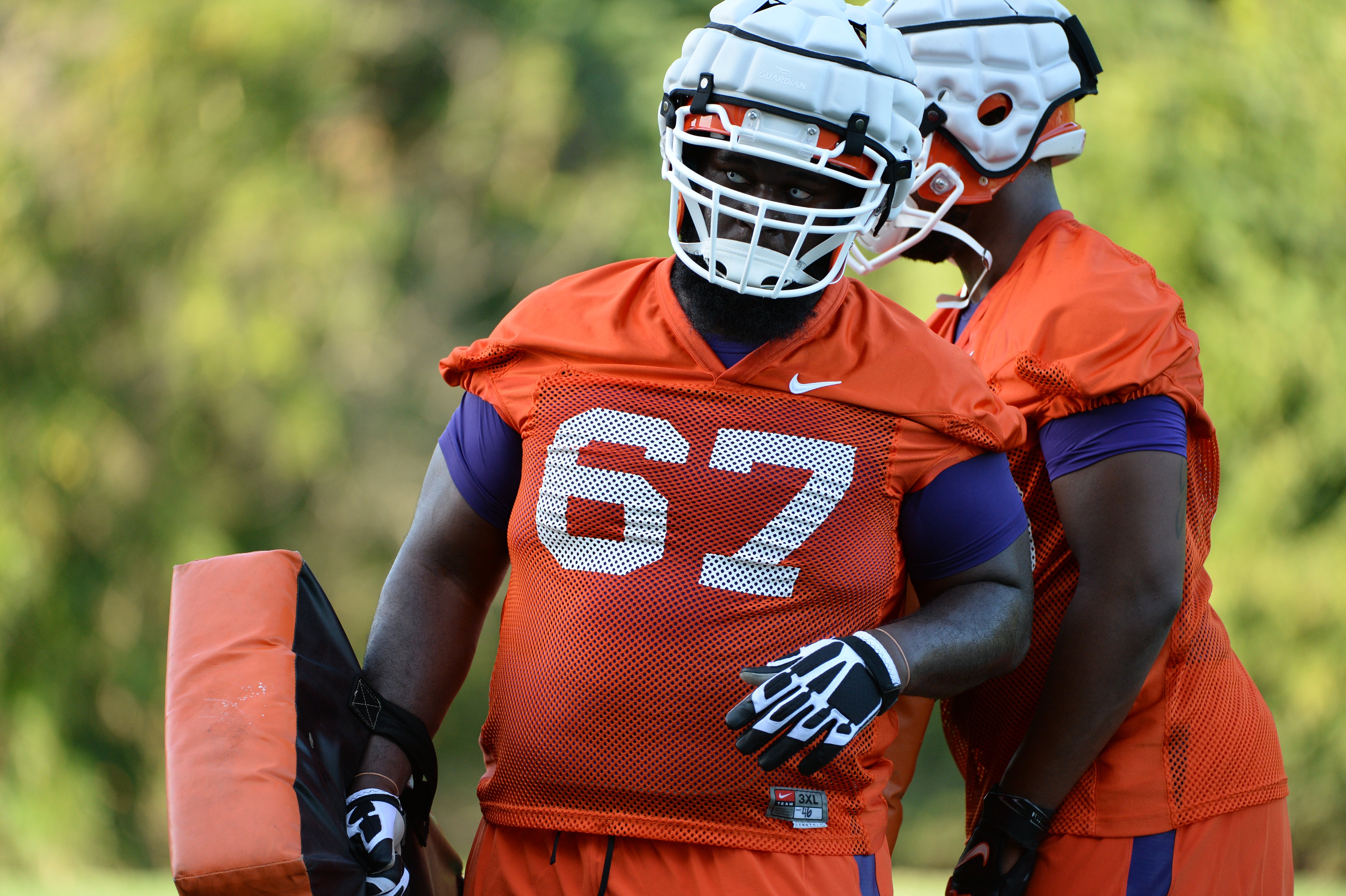 Kalon Davis

Kalon Davis
Offensive Guard (2010 - 2014)
#67 6-5, 340
Chester, SC
View Full Profile and Isaiah Battle

Isaiah Battle
Offensive Tackle (2012 - 2015)
#79 6-7, 290
Brooklyn, NY
View Full Profile - the bookends on Clemson's 2015 offensive line - held a pro day inside Clemson's indoor practice facility Tuesday afternoon and much like Clemson's February pro day, a plethora of NFL scouts were on hand.
Scouts representing 26 teams attended the workout for Battle - who recently decided to enter the NFL supplemental draft - and Davis - who is recovering from a back injury.
Davis was picked up by the Denver Broncos as a free agent following April's NFL Draft, but was released after failing the required physical. However, after surgery and rehabilitation to alleviate a herniated disc, Davis told TigerNet he was close to be completely healthy and was able to complete almost all of the drills.
"It went really good. We had like 26 scouts here. I was able to do all of the workouts," Davis told TigerNet. "I felt good and looked good, so now we just play the waiting game. I'd say I'm at probably 90-percent as of now. I was able to do everything and I felt good doing it. I was able to run a 40 and I was able to do all of the drills. The only thing I didn't do was the jump - I didn't do broad or vertical - but other than that I did everything else. Me and Isaiah hit. Hopefully I'll get called by somebody."
The Chester (SC) native said that he hopes the workout will help garner some attention from teams looking to add depth on the offensive line.
"Honestly, with teams doing OTA's and rookie minicamps, I haven't really heard anything, but when I got there today I had about three or four teams talk to me," he said. "After the workout, a lot of people ended up talking to my agent, so hopefully something comes along."
However, if he is unable to play in 2015, Davis said he won't give up on his dream to play in the NFL.
"Hopefully, if the back feels good in the morning, I'll continue to train to play this year," he said. "I'm going to back down to Atlanta to train and hopefully get into a camp. If I wake up and the back isn't doing as well, then I'll take a year off and do something and then come back and workout again in a year. I'm hoping the workout was enough to garner some attention."
As for Battle, he ran the 40-yard dash in 5.29 and 5.21 seconds. He had a 24 1/2-inch vertical jump and an 8-foot-5 broad jump. He performed 12 reps of 225 pounds on the bench press, but had this exercise cut short because of a cramp in his arm.
Davis said that the former Clemson left tackle proved what everyone already knew - he has the talent to be an NFL offensive lineman.
"He [Battle] did good. He showed them what they expected," Davis said. "He has all of the tools and all of the talent of the world. He's going to get picked up, without a doubt. It's just a question of where he goes."