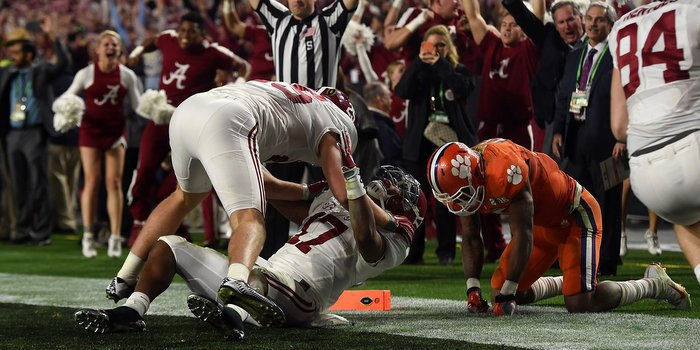 | | |
| --- | --- |
| Inside the Numbers: Kickoff coverage teams have to improve | |
---
| | | |
| --- | --- | --- |
| Monday, February 22, 2016, 7:01 AM | | |
Spring practice at Clemson starts a week from today, and it's the first time I can remember practices starting so close to the end of the season. In fact, spring practice begins exactly seven weeks to the day (49 days) since the title game against Alabama in the College Football Playoff National Championship in Glendale, AZ.
This Clemson team is talented across the board and there are very few burning questions about the offense. Defensively, the Tigers are young and inexperienced but have the talent to be another Top 25 defense. The biggest question surrounding this team entering the spring – and will still be a question entering fall camp – centers on special teams. Specifically – what can be done to fix kickoff coverage and return teams?
Is it fair to say the special teams miscues cost Clemson the national title? Yes. I get it, it's a team game. Linemen missed blocks. The secondary was porous at times. There were a lot of factors that went into the loss, but it was the onside kick recovery by the Crimson Tide that turned the momentum of the game. Another key moment was Kenyan Drake's 95-yard kickoff return for a touchdown. The Tigers had just kicked a field goal that made the score 31-27 in favor of Alabama when Drake ran to pay dirt. The lead swelled to 11 at 38-27 with just over seven minutes to play. It was a freebie for 'Bama on a night when Clemson couldn't afford freebies.
During the 2015 season, only nine teams (out of 127) allowed more than one touchdown and Clemson was one of those teams. Only two of those teams allowed three touchdowns, and Clemson was one of those two (along with Louisiana Tech). The Tigers were 125th nationally in allowing 117.6 return yards per game.
It's interesting to note that before the three allowed this season (against Louisville, NC State and Bama), the last kickoff return for a touchdown was Todd Gurley's 100-yard ramble in the 2014 season opener in Athens. Prior to that? TJ. Thorpe had a 100-yarder for North Carolina in 2011. Before that was another 100-yarder, for Victor Harris of Virginia Tech in 2007. That's right – the Tigers allowed three kickoff returns for touchdowns in an eight-year span from 2007-14 and allowed three in 15 games last season.
However, something that head coach Dabo Swinney said earlier this year prompted me into doing some research – he said that Clemson's kickoff coverage issues could be traced to the fact that Clemson's offense was pretty good and scored a lot of points. And, the Tigers played 15 games, one of only two teams to do so. Only 14 teams played 14 games. So did the Tigers kick it off more than anybody else in the nation?
Yes. The Tigers kicked it off a whopping 112 times in 2015, four more than Western Kentucky (108), five more than Texas Tech (107) and six more (106) than Baylor. Alabama kicked it off 101 times, good for eighth. One opponent that played just 12 games – South Carolina – kicked it off just 59 times all season.
Only 38 of Clemson's kickoffs were touchbacks (33.93%), which was 76th nationally. Going with the 2015 opponent theme, Alabama was 27th (55 of 101 or 54.46%), while UNC was 31st (55 of 103 for 53.40%). South Carolina? Fourth nationally (42 of 59 for 71.19 percent).
As far as returns go, Alabama and North Carolina allowed zero returns for scores. So, it helps to have a bad offense (South Carolina scored just 29 touchdowns last season, good for 113th nationally) and a kicker who can get the ball into the endzone. If you have a high-profile offense like Clemson (71 touchdowns, good for ninth), North Carolina (73 touchdowns) or Alabama (65 touchdowns) you better be able to cover and find a kicker who can cause touchbacks at least half the time. Clemson did neither well in 2015.
Swinney has proven he will fix the problems that have ailed his program, and he isn't afraid to make the personnel moves that allow for those fixes, whether it's coaches or on-field personnel. With the current coaching set-up he can't go out and hire a dedicated special teams coach and none of the current coaches are going anywhere.
That leaves on-field personnel and maybe a tweak to how special teams are handled. Under former special teams coach Andre Powell the Tigers were among the best in the country, but the Tigers haven't returned a kickoff for a touchdown since 2011 (Sammy Watkins at Maryland). Andre Ellington had one in 2010 and C.J. Spiller had a six - that's right six – from 2007-2009.
As of 2014 only 20 schools had dedicated special teams coaches and even Powell coached the running backs while at Clemson, so this might be the time where Swinney follows in the tracks of other head coaches and makes special teams his pet project, like Frank Beamer at Virginia Tech.
Clemson's offense – as scary as it sounds – could be even better in 2016 but if the Tigers are dreaming of Tampa work has to start this spring on making the kickoff and kickoff coverage teams fundamentally sound.