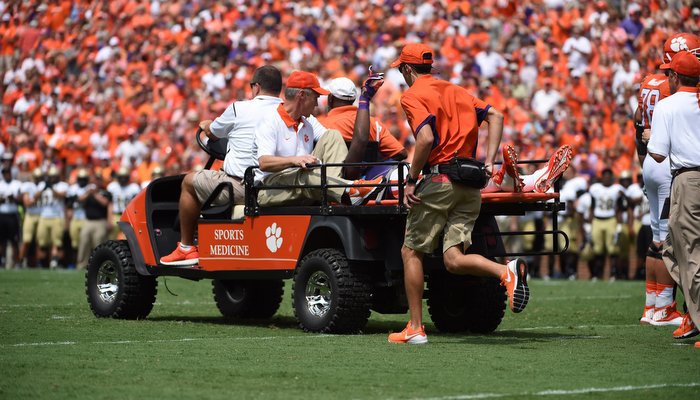 | | |
| --- | --- |
| Injury helped push Mike Williams' game to the next level | |
---
| | | |
| --- | --- | --- |
| Saturday, April 29, 2017, 12:04 PM | | |
From Holly Hill to Hollywood, Mike Williams is ready to take his game to the Los Angeles Chargers.
The former Clemson wide receiver watched the NFL Draft with all of his friends and family by his side Thursday, and when his name was announced as the seventh overall pick, Williams was overcome with emotion.
"It's still kind of a dream come true," Williams told the media at his introductory press conference on Friday. "It's everything I've dreamed of. With my mom last night and the rest of my family, it felt like a dream come true. Just for everybody to come there who helped me get to this moment – my family and my friends – just to celebrate with those guys was fun."
Williams' path to the NFL Draft hasn't been an easy one or gone as planned and was a year later than expected after he suffered a broken bone in his neck in 2015. However, without the setback, he wouldn't be a national champion or have a college degree.
"I felt like everything happens for a reason," Williams said. "I came back to Clemson and got my degree and came out with a National Championship. The injury just put my game to the next level because it just showed me that I couldn't take anything for granted. The game can be taken from me at any time. I just used that injury for a lot of motivation."
Williams worked out with the Chargers earlier this month and when he saw them go on the clock, he said he had a pretty good feeling it might his time.
"We had a bit (of conversations)," he said. "I was confident they might pick me after they worked me out. I had a great workout with them, so I had confidence they'd take me after that."
Now that his dream is realized, Williams said he's ready to get to work with new teammates Philip Rivers, Keenan Allen and Antonio Gates.
"He (Rivers) actually texted me last night after the LA Chargers selected me," he said. "It was pretty good just to see him text me. He just congratulated me and said he's ready to work. I just hit him back like, 'Let's get it! I need to learn this playbook so we can catch a few balls and have some fun.' The passion that Philip has for the game, you can just see it on TV every Sunday. Just watching him play, he's going to be a future Hall of Famer. Just for me to catch passes from him is going to be an amazing feeling."
Not only will Williams be starting a journey with a new team, but he's also tasked with carrying the torch of 'Wide Receiver U.'
"Those guys set the platform. Guys like Jacoby Ford, Sammy Watkins, (DeAndre) Hopkins, Martavis Bryant (and) Charone Peake," he said. "They set the standard, so I'm just keeping it going and passing the torch to the younger guys coming in after me. We just wanted to keep the 'Wide Receiver U' thing going, and I felt like I did a good job."