| | |
| --- | --- |
| In case you haven't heard, Clemson's offense is playing at a high level | |
---
| | |
| --- | --- |
| Monday, November 18, 2013 5:31 PM | |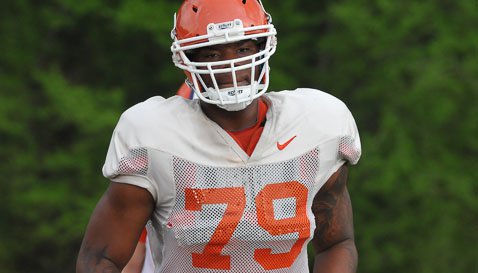 CLEMSON - Chad Morris

Chad Morris
Offensive Coordinator / QBs
View Full Profile likes what he is seeing out of his offense heading into the last two weeks of the season.
Since the 51-14 loss to Florida St. back in October, Morris' offense has been on a steady and sometimes spectacular upward trend. Despite the 14 points scored against the Seminoles, the Tigers had 26 first downs and had chances in Florida St. territory, but turnovers and a lack of execution stalled potential scoring drives.
The message by Morris to his offense was clear – clean up the mistakes and everything else will take care of itself. Since that loss to the 'Noles, Clemson has averaged 51.3 points per game and 567 yards per game in blowouts of Maryland, Virginia and Georgia Tech.
As a result, the Tigers are right in line with where they were a year ago, averaging 511.9 yards per game and 41.3 points per game. In 2012, the Tigers averaged 512.7 yards per game and 41 points per game.
Morris told the media Monday that he thinks the offense is finally beginning to hit its stride.
"This is an offensive football team over the last three, three and a half games that's kind of getting better every week," Morris said Monday. "And we're playing our best offensive football right now at the right time. We've got some things we've got to clean up, got to get better but that's every week. I think you're seeing guys play with a lot of confidence. I think Tajh (Boyd) is really playing with some great confidence, and his receivers, Martavis Bryant

Martavis Bryant
Jr. Wide Receiver
#1 6-5, 200
Calhoun Falls, SC
View Full Profile 's another one playing really well right now. I feel like he and Tajh have great chemistry, something that was missing earlier in the year."
That execution all starts up front, where Clemson fans saw Isaiah Battle get his first career start at right tackle last Thursday night against Georgia Tech.
"We're executing up front," he said. " Brandon Thomas

Brandon Thomas
Gr. Offensive Line
#63 6-3, 305
Spartanburg, SC
View Full Profile is playing well, Ryan Norton

Ryan Norton
RS So. Offensive Line
#58 6-3, 270
Simpsonville, SC
View Full Profile continues to play well, (Tyler) Shatley is playing well, I was very pleased with Isaiah Battle

Isaiah Battle
So. Offensive Tackle
#79 6-6, 280
Brooklyn, NY
View Full Profile being in there (at right tackle). He kind of got his shoulder banged up a little bit but came back in and played. I was glad to see him in there, definitely gave us a lot of athleticism, very physical up front with him, and so it was good to see. It's what we've been waiting on. We've got to be consistent with it."
Morris said that Battle has finally shown the coaches they can trust him in game situations.
"Sometimes, we wanted it to happen more than he did. Isaiah is a guy who's really starting to figure it out," Morris said. "Especially over the last two weeks, when we said, look this is the move we're going to make. At some point we've got to push and say, 'Here it is.' We have to see where we stand at the end of this open week and if we feel confident you can do it, we're going to let you have it. If not, we haven't lost anything.
"The thing with Isaiah is, the confidence we have in him, to just get out there and go execute the plan, I think that only helps him out. He did well, very well, so it'll be interesting to see how he continues to grow. He's got to play. He's got to get reps, this week is very important to him in practice and the game."
Another key component of Clemson's offensive surge has been wide receiver Martavis Bryant, who had five catches for 176 yards last week.
"He made some really good catches, some really good plays," Morris said. "I think he's playing with some great confidence in himself. I think more than anything where it's turned for him, he sees and recognizes that Tajh has confidence in him. I think that's really helped him out. His catch at Virginia, I think in that opening drive of the game, where he had to kind of make a basket catch, I think that did nothing but great things for his confidence, he made some great catches in the Maryland game. He too, much like a lot of the younger players who haven't played, you go through that.
"Going through the course of the season, you hope at some point in time, the lightbulb will click on. It's going to. It will for every player. Some sooner than others. You hope when it does click on, it's at that point and time in the season when you need it. Obviously Martavis has and that's good to see."
Other notes
On the seniors
"Well, I think you look at it, they have one home game left. That's the only thing they're focused on right now is this senior week and senior day, on Saturday, just the realization that there is a light at the end of the tunnel. For some of those freshmen and guys we talked about earlier, they don't understand that light is in the distant future. As a senior, you start seeing there's a big bright light in front of you.
"For some it'll be the end of football. It'll be the start of a new career for them, a new journey in their life. For others it'll be the opportunity to move up to the next level and go play. I think it's a surreal type of emotion they'll be going through that they have three games left, and this being the last one at home. It'll be a special time; this senior class has done a lot of things for this university, this program. One of the things they want is to finish strong."
Boyd's shoulder injury
"He was wanting to go back in and could've gone back in and there was no need, we all know what he's done. He's going to play till he can't play anymore. I'm excited for him and the records he's broken, he wants to finish. That's where he wants to leave his legacy, finishing strong."
On Roderick McDowell

Roderick McDowell
Gr. Running Back
#25 5-9, 195
Sumter, SC
View Full Profile being an every-down back
"There's no doubt. He is our every-down back right now. It is what it is,we obviously have got some really talented guys that we've redshirted, and Zac (Brooks) has been banged up, which has had to force Hot Rod into more of an every-down role, and D.J. (Howard) with his ankle, being limited in what he can do, I've been pleased with Hot Rod, his ability to welcome his role. He gets better with the more carries he gets. We know what Hot Rod is capable of doing. Sometimes he's in a position, being asked to do some things, he's not comfortable with doing. But because of the injuries, the way things have shaken themselves out, that's what he's comfortable with."