| | |
| --- | --- |
| Heightened Sense of Urgency | |
---
| | |
| --- | --- |
| Thursday, August 27, 2015 6:24 PM | |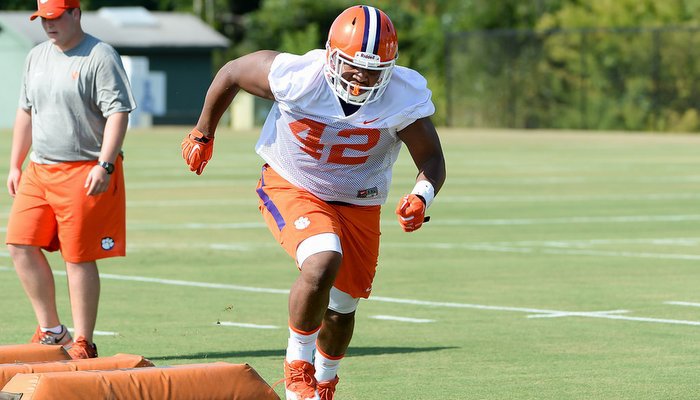 CLEMSON – Brent Venables

Brent Venables
Def. Coordinator / Linebackers
View Full Profile doesn't see the departure of defensive tackle D.J. Reader

D.J. Reader
Defensive Tackle (2012 - 2015)
#48 6-2, 325
Greensboro, NC
View Full Profile as a challenge. He sees it as an opportunity for younger players to get a chance to play.
The school announced earlier this week that Reader was taking a break from football to deal with personal issues. His absence leaves little experience at the tackle spot, and Venables was asked following Thursday's practice what kind of challenge it brings.
"I don't think there is a challenge. Guys are probably excited," Venables said. "If you ask them, they (the defensive tackles) will tell you they are excited because that is one less guy they have to compete with. Thank goodness we've got some numbers there, and we've got some quality players. Guys that we know we have that we are capable of winning with and have won with. Is there a heightened sense of urgency with those guys? Probably so. Everybody kind of moves up one spot and they move closer to the front of the line."
So who is in line to be the starters?
"We are working through that right now. We want everybody to feel like they have a real chance to be a starter," Venables said. "So it's between Carlos (Watkins) and Scott (Pagano) and Christian (Wilkins) and Rod (Byers) and Albert (Huggins) and Jabril (Robinson), it's those guys."
Wilkins is a true freshman, a former 5-star that has drawn rave reviews during camp with his size, strength and athleticism. With that in mind, Venables was asked where Wilkins "falls" on the depth chart. The relaxed Venables responded with a small joke.
"I hope he doesn't fall very far. I hope he's climbing. Climbing that depth chart," he said. "He will be playing. Christian is mature beyond his years. He will be just fine."
Huggins is another freshman that could see playing time, and Venables said Huggins has shown marked improvement this week.
"I would say in the last week we've seen some noticeable improvement," he said. "He's getting a little more comfortable, playing a little faster and making a few more plays. That has been very encouraging. Albert is going to be just fine. He is going to be a good player."
Cemson LB to go full speed Thursday
Venables told the media that linebacker Kendall Joseph

Kendall Joseph
RS Fr. Linebacker
#34 5-11, 225
Belton, SC
View Full Profile (Knee, shoulder) was practicing at almost full speed Thursday.
Venables joked when he was asked about Joseph's injury, saying, "Which one? His knee or his shoulder?"
He then added that Joseph should be full speed during Friday's practice.
"He's good. He was out there running around today. We didn't have him out there tackling anybody, but he moved around pretty well today. So I think he will be full speed tomorrow."
On if he is worried about the youth on the depth chart
"I don't worry a whole lot. I am focused and trying to help them be successful and put them in a position to be successful. Really trying to stress them now and trying to find out what they can and can't execute. Maybe find some areas that are problem areas and finding ways to help them transition. We have them littered throughout our two-deep, and that is well documented. The way they improve and get better is through experience. Along with that comes some failure along the way. That is part of their growth. Hopefully, it's when they have those moments it's not so bad we are putting a game in doubt and playing bad defense. "
On Adrian Baker

Adrian Baker
RS So. Cornerback
#21 5-11, 180
Hallandale, FL
View Full Profile and Ryan Carter

Ryan Carter
RS So. Cornerback
#31 5-9, 180
Grayson, GA
View Full Profile
"We feel very comfortable with both of those guys right now. They've both had an excellent camp and they've been very consistent. That's what you love. It's one thing to show a flash, but it's another to be consistent. Something that you can trust and that you know what they are going to do. They are both another year mature, and they know the focus that it takes. They are both right there." we