| | |
| --- | --- |
| Guillermo understands the hate: "I could never be a Gamecock" | |
---
| | |
| --- | --- |
| Monday, November 23, 2015 2:55 PM | |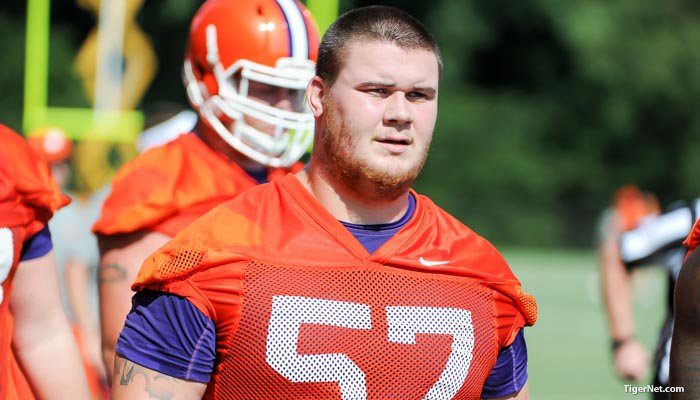 CLEMSON – Jay Guillermo understands how the fans feel about South Carolina because he feels the same way. Welcome to rivalry week.
Clemson's junior starting center grew up a Clemson fan, and he fondly remembers the days when he would sit in his grandparents' living room and watch Clemson face off against South Carolina, dreaming of the chance to play in the game.
Once the game was over, Guillermo would don his tattered and frayed James Davis jersey and take his younger cousin out in the yard for a game of 1-on-1 football. Guillermo would be Clemson and his cousin would be South Carolina and Guillermo would – in his own words – beat the crap out of his cousin because he hated South Carolina so much.
Again, welcome to rivalry week.
"I think it means a little extra to everyone, but especially for me. It is a big time rivalry and is one of the longest running in the country," Guillermo said Monday in the WestZone. "It's something that is special to be a part of. I know it's a cliché, but records really do go out of the window whenever you play in a rivalry game. Everyone knows in the back of their mind that it is one of the biggest games in the year, but we always try to keep it as every other game."
Guillermo will have a front row seat for Saturday's action, getting his first-ever start in the rivalry.
"It will be a little surreal. Watching it since I was a little kid and getting to go out there first is really special," he said, "It's something that I've always worked towards and aspired to be a part of and I'm just really, really, really happy that I have a chance to do that."
He said he also knows what to expect.
"They are going to approach this game harder than any other game. It is a rivalry game, and they are a team that can beat you," he said. "They have athletes and a good coaching staff. You have to come out guns hot and really stay focused and not let anything be a distraction. We know what we want - we know where we want to be - so anyone that is in our path we can't let that stop us."
Once he takes the field Saturday, Guillermo will remember the afternoons spent watching the game with his grandparents.
"I remember being a little kid sitting in the living room of my grandparents' house," he said. "They had this big TV, and I was watching it and thinking, 'Man. That would be so awesome to be a part of.' Me and one of my cousins, going outside and playing football, but I would always make him be South Carolina. Jason Davis - he grew up with me like a little brother. I went ahead and beat up on him. I had it instilled in me that we didn't like South Carolina too much. I could never be a Gamecock, so I had to make him do it."
He said he also understands the hate.
"I think sometimes our fans want it as much as we do. You walk around town and before last year and no one was very happy with you because you hadn't beaten South Carolina in a few years," Guillermo said. "It's like a hatred. It's something that's hard to describe because I've never seen two groups of people hate each other so much over a football game. So, that makes it more special to us because our fans are so great. We want to do it for them as well. This game makes or breaks people's year. There are some people that will be upset until next year if we don't win this game. I really want to do it for them."
Guillermo finished by saying he knows the team will be focused for the state championship, including the younger players.
"Even if we didn't have the great leadership that we do, everyone understands what this rivalry is about," he said. "I don't think there is any problem with our younger guys. They are all pretty mature for their age too. They do a really good job because they have pride too. We want to go out and do our very best every single game. That is one thing that Coach Swinney has done a really good job with us - you are what you are on film. We want to put on film what we think we are. Every game is like a championship game and this is a state championship game. There will be no problem getting us focused."