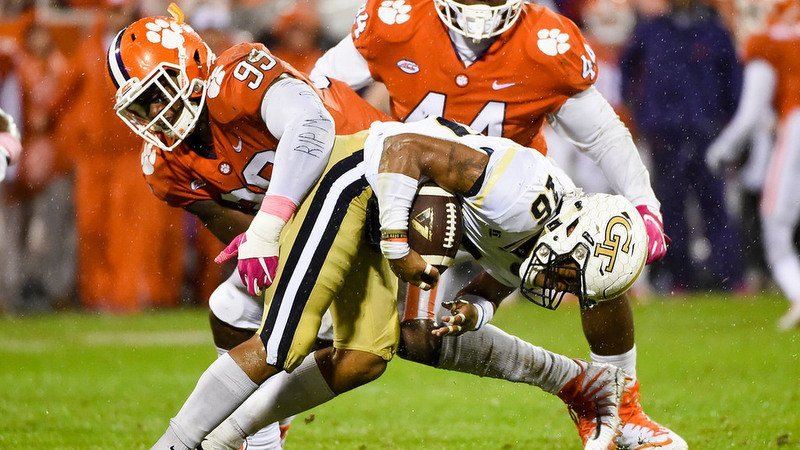 | | |
| --- | --- |
| Georgia Tech QB says Tigers' defensive line best in "college football, ever" | |
---
CHARLOTTE, NC – Georgia Tech quarterback Tayquon Marshall has high praise for Clemson's defensive line, saying the Tigers have what might be the best group of defensive linemen in college football history.
That doesn't mean he's intimidated, however. It's just the opposite. Marshall can't wait to take on Clemson in Bobby Dodd Stadium in late September.
Marshall got his first taste of the Clemson/Georgia Tech rivalry in late October of 2017, a 24-10 Clemson victory that wasn't as close as the score indicates. The Yellow Jackets managed just 230 yards of total offense, and Marshall was just 3-of-13 through the air for 32 yards. He also carried the ball 15 times for a meager 23 yards.
"It's a crazy experience. Death Valley is a great place to play. You get to go to a place where you know the fans are going to be crazy, whether it's rain or shine," Marshall told TigerNet last week at the ACC Kickoff. "It was pouring that game from the time we got there to the time we left. Just going out for pregame warmups, I'm like, 'Yeah, this is going to be crazy.' The fans were going crazy in the student section with the pouring rain.
"You could see some of the fans and they didn't have any ponchos on or anything. They were just out there. It's a crazy rivalry. It's always been a good game. Of course, the past couple of years, we've struggled a little bit, but sometimes it's like that in rivalry games, where the other team has a little edge on you. You've just got to move on past it and work to improve on it."
The teams renew acquaintances September 22nd in Atlanta.
"I'm definitely looking forward to it. I know last season after the Clemson game, Coach (Paul) Johnson came up to me on the plane and he was showing me some film, some little things that probably could've been different and stuff we could work on," Marshall said. "He told me at that moment, 'I really hope that we play those guys again.' I said, 'Coach, I honestly hope we play them again, too.' I'm really looking forward to playing them the fourth game of the season at home. I'm hoping it will be a 7:00 game in primetime because a night game in Bobby Dodd is one you cannot beat.
"I have a special feeling that this will be a 'White Out' game, especially with Adidas."
He is most looking forward to competing against a defensive line that he respects.
"I love to compete. In my opinion, that's the best d-line you'll see in college football, ever, at least right now. There might be a group that comes through in the future, but as of right now that's the best group you'll see now and from the past," Marshall said. "I'm really excited to be able to line up against those guys, just knowing that next year they will be first-round draft picks. I'm really excited to play against those guys. They're some of the best of the best and Iove playing against the best."

Upgrade Your Account
Unlock premium boards and exclusive features (e.g. ad-free) by upgrading your account today.
Upgrade Now