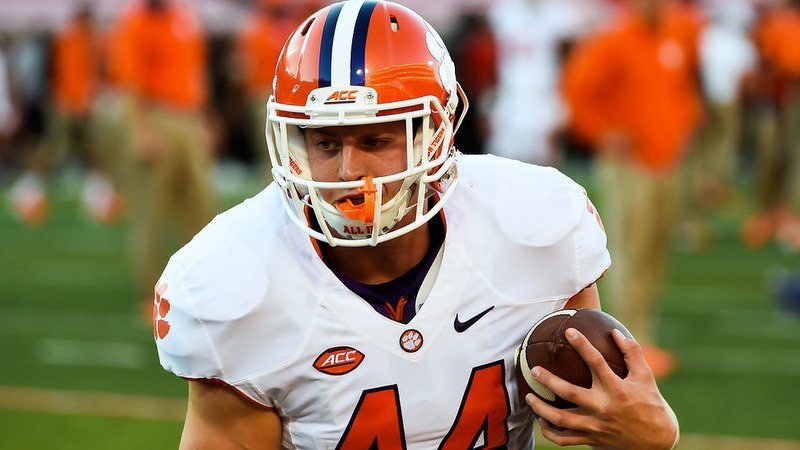 | | |
| --- | --- |
| Garrett Williams opens up about military family, decision on whether to leave or stay | |
---
| | | |
| --- | --- | --- |
| Tuesday, November 13, 2018, 4:01 PM | | |
CLEMSON – Garrett Williams comes from a long line of military veterans so it's no surprise he wants to follow in their footsteps and pursue a commission in the Marine Corps. However, at the end of the 2018 season, he'll have to make one of his most difficult decisions yet.
The junior tight end will graduate in December and will then decide whether to forego his final season of eligibility to enter the service or come back for one last tour with his teammates.
Williams told the media Tuesday that he's been thinking about joining the Marine Corps for quite some time.
"It's something I've been thinking about for a while. I came in here and didn't redshirt originally. I played my first two years and tore my ACL so I sat out my third year, so in a sense, I've always felt like a senior," Williams said. "I'm thankful for the opportunity to potentially play another year but right now I'm just going back and forth on what I want to do. At this point, I'm not 100-percent sure on what I want to do but after talking with Coach (Dabo) Swinney, he told me that even if it was a consideration of mine to leave that he wanted to give me the opportunity to walk on senior day and experience that just in case. I'm thankful for that and it just shows you how great coach Swinney is honestly. He cares about us and wants us to experience everything. I love this place with all my heart and if I did make the decision to leave that would be very difficult to do. I'm going to follow God's plan for me and listen to him."
With Saturday being Military Appreciation Day, Williams is looking forward to honoring his grandfathers, who both served, but also thinks about the chance he'll one day have to serve his country.
"My grandfathers both served, one was in the Navy, and one was in the Marine Corps," he said. "I've had the opportunity to meet a number of Marine Corps veterans through Clemson football and also through my dad. At this time, I want to go into the Marine Corps and if I could be an infantry officer in the Marine Corps that would be an awesome career and honor to serve."
While Williams doesn't get to see many of the ceremonies, he's very aware of all that Clemson does to honor those who have served and those who have made the ultimate sacrifice.
"It's a tremendous honor to play in the game, I think that Clemson does it so well, I've never gotten to see all of the ceremonies but my parents talk about how great it is," Williams said. "It's such an honor to play in the game, I have so much admiration for the people who serve and have served and if we can honor them for just one game that's the least we could do.
"I'm sure some guys are more aware than others but Clemson football does a great job of teaching us that stuff. I love the history of this school and I love hearing the stories from grads who were here when it was a military school. I think an entire class served during World War II; like how cool is that? That's just amazing to be a part of a school where an entire senior class went and served and I'm so proud to be a part of the history and tradition that we have."