| | |
| --- | --- |
| From "face beat in" to All-American, Hyatt savoring freshman campaign | |
---
| | |
| --- | --- |
| Thursday, December 17, 2015 11:20 AM | |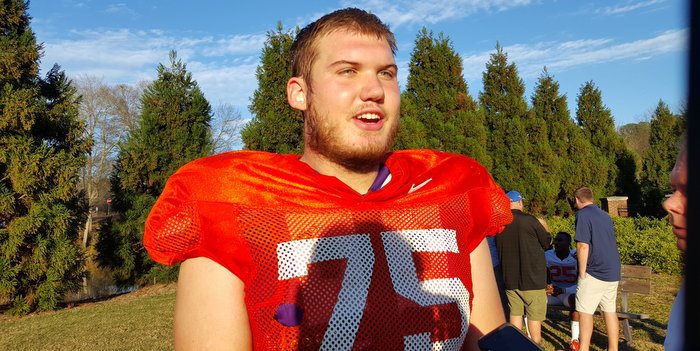 CLEMSON – Mitch Hyatt has come a long way since spring practice. Just ask Dabo Swinney.
Clemson's left tackle earned First Team Freshman All-American honors from The Sporting News and USA Today Wednesday, a well-deserved honor for the freshman that started every game for Clemson's 13-0 team that is ranked No. 1 in the nation in all three polls.
Hyatt played 895 snaps in those starts and had an average film grade of 88 percent. He was named ACC Offensive Lineman of the Week in Clemson's win over Florida State, the first true freshman in Clemson history to win offensive lineman of the week.
Swinney said Wednesday that he knew Hyatt was a special talent in the spring, even after watching the Georgia native get his "face beat in" by junior defensive end Shaq Lawson day in and day out.
"I really thought he would play a lot and play early. Watching him this spring and watching how he responded to getting his face beat in by Shaq Lawson and watching the pride he had to just keep coming. I was like this kid is really going to help us this year," Swinney said. "There is no doubt he can play. I didn't know [Isaiah] Battle was going to be gone, but when I got into camp and saw that the game had slowed down. He had been through spring, summer and now he's going through fall camp, you're just like, 'Wow!' Maybe a little surprised that he was so ready right out of the gate, but not surprised that he's had a great freshman year."
Hyatt said he simply accepted the challenge that was presented after incumbent starter Isaiah Battle decided to leave for the NFL during the summer.
"When they first told me that they were going to give me the opportunity and put it on my shoulders, I immediately accepted the challenge and started working hard and grinding," Hyatt said Wednesday. "I found out that I would get the chance before the summer one session. At first I didn't know what to expect. The game was a lot faster. Getting here is whole other ordeal. Everybody is faster. Everybody is stronger. Everybody is more mature. It was a big challenge."
Swinney said that Hyatt doesn't get enough credit for the season he's had.
"Here's the amazing thing about Mitch Hyatt - nobody ever asks me about Mitch Hyatt. This is a true freshman left tackle and we've had 13 games, 13 game plans and not one game the entire year have we helped him at all, meaning slide the protection to him, chip protection, stacking a tight end where the tight end is chipping his way out. Not one time," Swinney said. "Not all year. He's played left tackle like he's a senior over there. He's just been amazing.
"The kid - he and (Jake) Fruhmorgen - are going to be big time special. Now that they have another offseason and have some experience. It's near impossible to do what Mitch has done. It's a rare thing. It's the first time since 1944 we've had a freshman start at left tackle. I've never been around it, ever. We never even worried about it. Never even thought twice about him all year. There were a lot of games that we came out of it and nobody said anything about Mitch. He was lineman of the week inside our meeting rooms. He's a special talent."
Hyatt said he's only been nervous a few times this year, belying his age.
"I keep forgetting that I'm only 18. It's hard to believe still, and to know that I've almost been through one year, it feels like it's been so long. This has been the best year I've had in my life," Hyatt said. "At the ACC Championship Game I was really nervous. Going against new teams, I don't know what to expect while everyone else has played against a guy or two or knows a guy or two, but I have no clue what to expect. I still have some nerves at the beginning of the games, but after that I'm good."
Swinney said the scary part is that Hyatt has plenty of room to improve. And get bigger.
"He's just strong and athletic and has great feet. He's a great technician at the position," Swinney said. "He knows how to use his body. He's stronger than you might think he is for the weight that he's at right now. He's long. He's got great raw power, but he's going to get in the weight room this offseason. He's a kid that's going to be a 305 or 310 guy by the time it's all said and done. He's going to lock down because he's very, very smart and athletic. He studies the opponent relentlessly so he knows their tips. He's an anticipator. He's able to anticipate things because he puts the time in in preparation and that helps him."
Hyatt smiled Wednesday when he was reminded of what it was like to get beat up by Lawson in the early days of the spring and said the best teacher is simply experience.
"It helps so much being able to go on to the next play and pick yourself up. It helped a lot," he said. "I would say experience is the big thing that I've picked up this year. I know I haven't done a lot of things perfect. I've just gotten stuff done, but experience is something I've gained throughout this season. It will be a big help in the future."