| | |
| --- | --- |
| Friday report: Blanks redshirt, Peake update and looking ahead to Georgia | |
---
| | |
| --- | --- |
| Friday, August 15, 2014 2:13 PM | |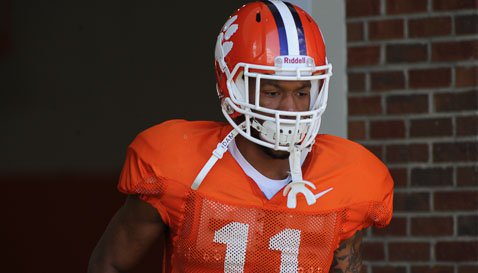 CLEMSON – The Clemson Tigers have spent the first two weeks of fall camp focusing on themselves, but as the start of school and football season draw closer they will quickly turn their attention to the Georgia Bulldogs.
Head coach Dabo Swinney

Dabo Swinney
Head Coach
View Full Profile said the team had a mental day Thursday, a spirited practice Friday morning and will spend the evening at a team bonding function before scrimmaging Saturday morning.
"We're kind of at that point where you can start seeing a little bit of the light at the end of the tunnel," Swinney said after Friday morning's practice. "Yesterday was good for them to get of the field for a day, although mentally we are still very much dialed in. We were on the field for about 40 minutes yesterday, but it was more of a meeting, walkthrough type of deal. They had a good spirit today. We had a lot of situation stuff today – covered a lot of checklist things that you've got to make sure you get through, teach and cover. We worked a lot of special teams, milk the clock situations both offensive and defensively. Backed up, tight goal line not only on the punt team, but the punt return team, too. A lot of good work done.
"I'm excited for our guys to get to spend the day together. We actually went to a movie last night. We got a special viewing of When the Game Stands Tall about the high school team out in California. It was great movie and a great message that's perfect timing for our team to see that. Team bonding this afternoon and well finish up with a really good scrimmage tomorrow."
However when the calendar turns to next week, the Tigers will be focused solely on the Bulldogs.
"We're getting settled in personnel wise," Swinney said. "We've been spending all of camp working on ourselves, going against Clemson, but we'll start transitioning the first of the week – certainly by Tuesday – to working on Georgia."
With the transition to game prep, comes deciding who will play and Swinney's biggest decisions will be who will start along the offensive line.
"We'll get dialed in on that next week, probably once school starts on Wednesday," he said. "We won't have practice on Wednesday, so that will be a big personnel day. Tuesday we'll start focusing on Georgia. When they come back out on Thursday, we'll have the five that we'll start out with and we'll have our rotation set. I know Kalon Davis

Kalon Davis
RS Sr. Offensive Guard
#67 6-5, 340
Chester, SC
View Full Profile is going to be in there. I know Ryan Norton

Ryan Norton
RS Jr. Offensive Line
#58 6-3, 292
Simpsonville, SC
View Full Profile is going to be in there. We'll see who is going to get the nod for those other spots."
Other notes
On Deshaun Watson

Deshaun Watson
Fr. Quarterback
#4 6-3, 204
Gainesville, GA
View Full Profile playing at Georgia
"We know he's going to play. We haven't sat down and penciled that in yet. We're going to play him and he'll play whenever. He's not going to be just a situational guy. When he plays, we can call anything. There is nothing that we feel he can't do. He's not a package guy. He's not a short yardage guy. He's not a bring him in only on this side of the field. He's a guy that we have to get some experience."
On the possibility of Travis Blanks

Travis Blanks
Jr. Safety
#11 6-0, 210
Tallahassee, FL
View Full Profile redshirting
"He came and visited with me the other day - and this is just the kind of kid he is and this is just his mentality because he is a giver - and he came in and in his mind he is really struggling because he feels like he hasn't paid the price. He feels like he wasn't able to go through spring and he wasn't able to grind like the other guys this summer. And that bothers him. And he isn't quite 100 percent being back to Travis like he wants. So he actually came to see maybe Monday or Tuesday and we had a good talk. The way we left it - we are going to try and hold him initially and maybe re-evaluate him in five or six weeks.
"We are in a good situation - we have Dorian O'Daniel

Dorian O'Daniel
RS Fr. Linebacker
#6 6-1, 217
Olney, MD
View Full Profile and we have (T.J.) Burrell who is playing really good and we have Korrin Wiggins

Korrin Wiggins
So. Defensive Back
#12 5-11, 190
Durham, NC
View Full Profile there. We have three really good players there at that position. Travis knows that and he feels good about that and he sees an opportunity to redshirt possibly. Again that is 100 percent coming from him. It isn't even anything we've thought about. We need him and we were getting him ready to go play. He is just a kid that thinks that way. Instead of getting him ready and going into it and us playing him and then trying to make a decision there and losing a year, we want him to feel a hundred percent. We aren't saying we are redshirting him, but we are gonna go into it trying to hold him and in five or six or seven weeks re-evaluate where he is physically and where we are as a team.
"All of a sudden if you get a couple of guys hurt that is a luxury. He could play, he can definitely play against Georgia but he isn't quite where those other guys are right now. He wants to, if it works out, to take a year to really pay the price and get back to where he wants to be and I am all for that. I would love to have him here 10 years. We will see how it goes - it isn't anything that has been decided but we will get in three or four games and see where we are. "
Charone Peake

Charone Peake
RS Jr. Wide Receiver
#19 6-3, 204
Moore, SC
View Full Profile 's progress
"He worked today. He worked a little bit yesterday as far as getting back into the rotation and the walk through stuff and he was back at it today doing all of the individual stuff. We don't want him to scrimmage tomorrow, but he could. We're pretty confident in Charone Peake. We're going to get through the scrimmage and let him have a fresh start on Monday. He had a wide-open summer and had a great summer until the day before we opened cam and he came down on his knee funny and we had to repair his meniscus."
Kellen Jones

Kellen Jones
RS Jr. Linebacker
#52 6-1, 233
Houston, TX
View Full Profile
"Today was the first day he was cut loose. We don't know that much about Kellen Jones right now. He has moved around well. He has been in a green jersey the whole time. He has worked hard on the rehab and today was the first day he was cut loose. He can play both MIKE and WILL and we will push him tomorrow and see where he is physically and then where he is mentally. "
On special teams
"We worked hard on it today. We worked on the technique and fundamentals. We've spent a lot of time on that, but at the end of the day, you've got to have the right guys back there that will hit it. I've really liked what I've seen out of T.J. Green

T.J. Green
So. Safety
#15 6-3, 205
Sylacauga, AL
View Full Profile and C.J. Davidson

C.J. Davidson
RS Jr. Running Back
#32 5-10, 203
Clemson, SC
View Full Profile . We have some guys that are good candidates – Artavis Scott

Artavis Scott
Fr. Wide Receiver
#3 5-11, 190
Oldsmar, FL
View Full Profile is one – but we'll start out with those two."
Redshirt decisions
"Nothing that we're going to share right now, but we've made a few decisions. We'll see a little bit more tomorrow. We've got a group that we think we can hold them. We've got some guys that have play. Then, we have three or four guys that are on the bubble, and with them it depends on this, this, and this. We'll sort all of that out over the next several days. There are some guys that we will go into it thinking that we'll hold them, but they will be ready."
On second line receivers
"They have done well. I have heard them say a lot of positive things about (Kyrin) Priester and Demarre (Kitt) and Tay (Artavis Scott). Those three guys are way, way, way better than they were in the spring as you would expect. Trevion Thompson

Trevion Thompson
Fr. Wide Receiver
#1 6-3, 191
Durham, NC
View Full Profile is a special talent and you can just see it. Talent oozes out of him, but you can tell he just got here. The other guys are further along and are playing faster. He kind of hit the wall but I thought he had a great day today and he will get a lot of work tomorrow. They have done a really good job. And G-Hop [ Germone Hopper

Germone Hopper
RS So. Wide Receiver
#5 6-0, 175
Charlotte, NC
View Full Profile ] has had a good camp. He has done a good job of doing it the Clemson way. He has had a great camp. He has grown up a lot through discipline and he has proved that he wants it. I am proud of him. He was just a little immature but needed to grow up and focus on the team."

Tags:
Kalon Davis
,
Ryan Norton
,
Charone Peake
,
Travis Blanks
,
Germone Hopper
,
Kellen Jones
,
Dorian O'Daniel
,
Korrin Wiggins
,
T.J. Green
,
C.J. Davidson
,
Deshaun Watson
,
Trevion Thompson
,
Artavis Scott