| | |
| --- | --- |
| Four-star Georgia defensive end talks weekend Clemson visit | |
---
| | |
| --- | --- |
| Monday, March 30, 2015 10:00 AM | |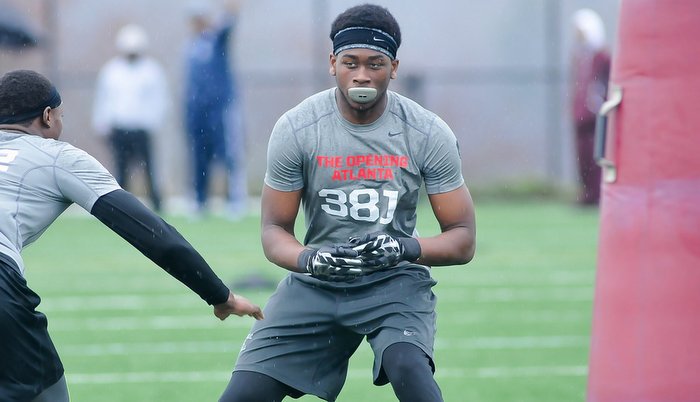 After a weekend visit to Clemson, one of Georgia's top 2016 prospects has the Tigers in his top 10.
Riverdale (GA) defensive end Chidi Okonya

Chidi Okonya
Defensive End
6-5, 225
Riverdale, GA
View Full Profile said last week at Nike's The Opening Atlanta that he wanted to open communication with Clemson and get the recruiting process started with the Tigers' coaching staff.
That process began this past weekend with a Saturday visit, in which Okonya told TigerNet he spent just learning about Clemson's program.
"It went pretty well. I was with Coach [Mike] Reed for the most part. It went well," Okonya told TigerNet Sunday afternoon. "We just toured around the place and got to see a little bit more about the program and everything. Everything stood out, because the last time I was there was for a camp and at the camp I only saw their indoor facility. It gave me a chance to see all of the facilities and how they run the program a little bit more. I talked to Coach Reed. I talked to an academic advisor and the trainer."
Okonya also spent time building his relationship with Reed - his recruiter of record - as well as Clemson's defensive line coach.
"I understand why a lot of people like him [Reed]. He's a great guy for the most part. I have a great relationship with him and Coach [Marion] Hobby," he said.
The 4-star prospect claims 24 offers from schools such as Clemson, Duke, Florida, Georgia, LSU, Miami (FL), Ole Miss, Mississippi St., Notre Dame and Oregon among others. With a wide array of schools to choose from, Okonya said the Tigers are amongst his 10 favorites after the visit.
"They are definitely in my top 10. I will choose a school based on how comfortable I am with them and how I feel that I'll be able to further myself," he said. "Academics also plays a big role. I will probably major in something to do with business management or business administration."
Okonya said his plans for the rest of the spring and summer aren't set yet, but one SEC school will definitely get a visit.
"I ended up not going to Georgia because my plans got canceled," he said. "I was planning to go before going to Clemson, but now I plan to get there sometime either this spring or in the summer. I know my team is going to Georgia for a camp this summer."
At, 6-5, 225, Okonya said that his size gives him a unique skill set.
"I am a longer, more versatile defensive end and I believe I'm getting more athletic with my body type and I'm a speed rusher," he said.
Okanya has 51 tackles and two sacks during the early portion of his high school career.