| | |
| --- | --- |
| Former Clemson LB spun path from football to early retirement using real estate | |
---
| | | |
| --- | --- | --- |
| Thursday, October 25, 2018, 8:01 AM | | |
Chad Carson didn't end up with a career in sewing, but he did weave a plan for a lifetime of success that allowed him to retire early. Instead of keeping that hard-earned knowledge to himself, Carson has written a book he hopes will lead others down the same path.
Carson grew up in Newnan, Georgia, dreaming of a career in college football. That dream was realized at Clemson, where he starred at middle linebacker from 1998-2001. He was a two-year defensive captain, and earned a bevy of accolades and awards along the way.
Carson impressed Bill DAndrea, the former director of student-athlete enrichment.
"When I hear the name Chad Carson I think of someone who is very mature, responsible, and disciplined," D'Andrea said. "He always demonstrates a seriousness about his academics, weightlifting and football. Whatever Chad Carson undertakes, he puts his all into it. If he decided to take up the art of sewing, he would create a masterpiece."
Carson graduated from Clemson and set out to create that masterpiece, and he recently wrote a book about his experiences as an entrepreneur and investor titled "Retire Early With Real Estate."
"I first started in real estate sort of on accident. I had just finished playing football at Clemson, and an NFL career didn't work out for me," Carson said. "At that time, all I knew was that I didn't want to start working in the normal 9-to-5 grind for a big company. And I also wasn't yet ready to commit the time or money to attend graduate school.
"So, I started reading some books and I found one about real estate investing. It talked about flipping houses and creating rental income. But it also talked about eventually having flexibility and freedom with your personal time. THAT caught my attention, because more time was what I really wanted."
Carson said he made a plan and stayed the course.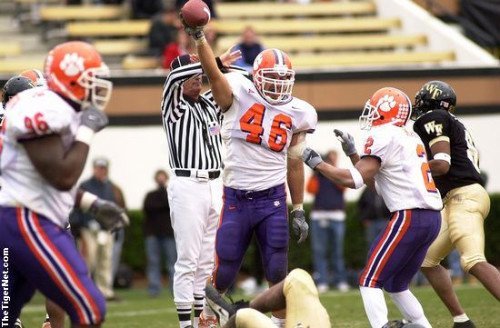 "I didn't have any student debt thanks to my football scholarship. Plus I had about $1,000 in the bank and I owned my car free and clear," he said. "So, I figured, 'why not see if this can work. What's there to lose?' It wasn't always easy. And I went plenty of years without a lot of cash flow. But the flexibility and freedom got better and better. I decided the other career paths would have to wait permanently."
An easy place to invest in was Clemson, a place Carson had grown to love.
"Clemson is a special place. I fell in love with it on a recruiting visit when I first saw an incredible purple and orange sunset sinking behind Lake Hartwell and the rolling green hills," he said. "I decided to live here first and foremost, and as a real estate investor, that also meant I decided to buy properties here.
"The stability of Clemson University and now it's growing student population have helped our rental properties. I also like that we're a small town that has many amenities of a big city - like sporting events, a public bus system, great schools, a growing restaurant and beer scene, and eventually a pedestrian and bike trail system called the Green Crescent Trails. People want to live here, go to school here, and retire here. And they all need a place to live, which means we'll continue to have customers to serve."
The financial freedom Carson earned from his real estate investments allowed his growing family to see other parts of the world and experience different cultures.
"Ever since I met my wife, we've talked about travel. She studied abroad in college, and she became a Spanish professor," Carson said. "And I always wanted to travel more when I played football, but it wasn't always possible. So, as my real estate investing career progressed, we started traveling more. Like, in 2009 we took a 4-month "mini-retirement" to South America. I learned to speak Spanish, and we hiked to ancient ruins and beautiful national parks.
"Then when we had our two kids, we knew we also wanted to travel with them. So, in 2017 when our real estate investments were more stable, we decided to take a longer retirement and live in Cuenca, Ecuador for a year or more. We just got back in 2018 after being there for 17 months."
It didn't take long for Carson to realize he wanted to share his plan – and his dreams – with others. He began writing a blog at CoachCarson.com. And that eventually led to a book publishing offer, which he hopes can help others who'd like to pursue a similar path.
"I was fortunate to have mentors that taught me how to invest in real estate. But not everyone is so lucky," he said. "So, I wanted to write my book Retire Early With Real Estate to show people that it's possible to achieve big financial goals like retiring early in your 30s, 40s, or 50s. And I wanted to give them the exact steps in a simple, practical format.
I also loved interviewing 24 other real estate investors - from age 29 to age 72 - who shared their story of using real estate to retire early. It showed me that people from many different backgrounds and locations could also succeed.
But more than real estate, I wanted to share a philosophy of life. Retirement where you stop working isn't my goal. The goal is to get money out of the way so that you can do more of what matters."
After all, whether you are sewing, investing in real estate, or traveling the world, what matters most is having the freedom to make those choices.
"What matters could be travel, watching the Clemson Tigers play, volunteering with important causes, or spending more time with your loved ones," Carson said. "Or it might be doing work you love. But instead of HAVING to do that work, you can choose when and how you do it. And that makes a big difference!"
You can get Chad's new book Retire Early With Real Estate on Amazon. Chad writes about real estate investing, early retirement, and doing what matters at CoachCarson.com.
Click below to check out Carson's book. Currently it is the #1 Best Seller in Real Estate Investments on Amazon.com.