| | |
| --- | --- |
| For Stoudt, the devil is in the details | |
---
| | |
| --- | --- |
| Thursday, February 27, 2014 2:41 PM | |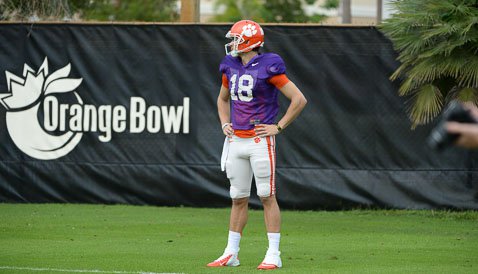 All eyes will be on Clemson's quarterback battle this spring and senior signal caller Cole Stoudt

Cole Stoudt
Sr. Quarterback
#18 6-4, 205
Dublin, OH
View Full Profile will be at the center of that focus, but it's something he will be prepared for according to his father.
Cliff Stoudt knows a little about playing quarterback, serving two stints in the NFL and playing two seasons in the USFL with the Birmingham Stallions. He also knows a little about being patient while waiting his turn – he was the backup to Terry Bradshaw with the Pittsburgh Steelers from 1977-1982 before taking over as starter during Bradshaw's injury-plagued and final season in 1983.
He has watched his son spend three years backing up Tajh Boyd

Tajh Boyd
Quarterback (2009 - 2013)
#10 6-1, 225
Hampton, VA
View Full Profile at Clemson, but now thinks his youngest is ready for the limelight.
"I have been very pleased with what he has done," Cliff told TigerNet recently. "It's very tough for any quarterback to sit the bench for three years, but he has made the most of it. I have to give a lot of credit to Tajh – he was good to Cole and he taught him a lot. They are good friends and are very close, and I talked to Tajh after the Orange Bowl and I thanked him for everything he has done for Cole.
"And Cole has never wavered about being at Clemson. It's where he wants to be. He is going to give everything he has to get ready for this year. I am happy at the way he has progressed. He has been consistent and he has been throwing the ball really well, and when he's had a chance to run the ball he has been better than everybody thinks. He has developed really well, and I think he is ready for the challenge."
Cole completed 47-of-59 passes last season, something that even his own parent found impressive.
"It's hard to complete 80 percent of your passes in warm-ups," he said. "I know I never came close to that, but even for his career he is around 72 or 73 percent and he was around that in high school. He just performs well and he prepares well. And I've heard Coach (Dabo) Swinney say that Cole prepares to be the guy, even when Tajh was there. I had to do that for 12 of my 15 years in the pros, and he has done a good job of that. He has kept his head on straight, he is very calm. And when he has gone in he has produced. He has a very good grasp of the offense."
During preparation for the Orange Bowl, Swinney said that he would look to Cole to take on more of a leadership role, and Cliff said don't look for his son to be the vocal, rah-rah type. Look for him to lead by example.
"I have a different theory on leadership. Leadership just happens – you can't just say, 'I am a leader' and be one," Cliff said. "You can be vocal, but that doesn't mean you are a leader. Cole has always worked very hard and very quietly. He isn't a Tim Tebow, pump your fist in the air kind of guy. You can lead the team by working hard in everything you do, whether it's in mat drills or the weight room. You go 100 percent all the time and your teammates are going to see that.
"With the Steelers, I played with 10 guys who wound up in the Hall of Fame, and they weren't guys that went around screaming. They were superstars, and they set the example for everybody else by working harder than anybody else, day in and day out. Leadership comes from working hard and doing your job the right way. Just be a good teammate and you will have their support. Set the example by working hard and being prepared on Saturday. "
The Stoudt's moved back to Greenville in late 2012, and the close proximity to Clemson has enabled Cliff to help out Cole during the times when the coaches are off-limits to the players.
"We've been going out there every Saturday," he said. "I am not giving him lessons, because he doesn't need that. But I can tweak some little things I see. We've been going out and he's been throwing to his receivers in the indoor practice facility, working on the timing and chemistry with his receivers. He just soaks it all up. He is like an elephant and remembers everything. It's the little things that help you win games, and I'm always telling him that the devil is in the details. Cole works on the details."