| | |
| --- | --- |
| For Beasley, It Was All About the Degree | |
---
| | |
| --- | --- |
| Friday, January 17, 2014 2:35 PM | |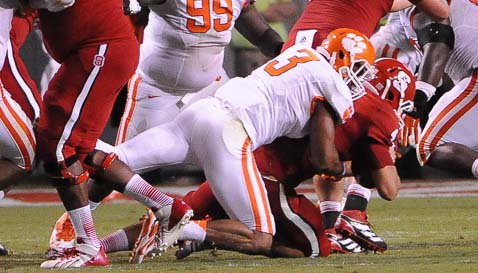 CLEMSON – It was all about the degree.
Junior defensive end Vic Beasley

Vic Beasley
RS Jr. Defensive End
#3 6-3, 225
Adairsville, GA
View Full Profile announced earlier this week that he would return to Clemson for his senior season, and he told the media Friday afternoon that the decision wasn't based on his NFL Draft position, sack records or the advice of his family – he just wanted to complete his education.
Beasley spoke to the media in the media room at Littlejohn Coliseum Friday, and said that he was 24 semester hours short of a degree in Sociology, something that sits first and foremost in his mind.
"The most important thing was getting my education, and secondly, just maximizing my opportunity as a player," Beasley said. "Just wanting the experience of playing in the NFL [really pulled me toward leaving], but it was hard for me to leave Clemson University without my degree and not being the best player that I know I can be."
Leading up the Orange Bowl, it seemed like a forgone conclusion that Beasley would leave Clemson to enter the NFL Draft, but despite popular belief, he said that he didn't make his decision until late on January 15th, the deadline for juniors to declare.
"Nothing really changed. I was still really 50-50 before and after the bowl game," Beasley said. "I just didn't really make my mind up. I just listed the pros and the cons and I based my decision on getting my degree and being a better player here at Clemson University. I literally made my decision Wednesday night."
It wasn't until after have a discussion with Clemson head coach Dabo Swinney

Dabo Swinney
Head Coach
View Full Profile and listening to C.J. Spiller

C.J. Spiller
Pro Running Back
#28 5-11, 195
Lake Butler, FL
View Full Profile 's story that Beasley made is mind up.
"I talked to Coach Swinney and he gave me a familiar story that is similar to mine about C.J. Spiller," Beasley said. "It kind of influenced me a little bit, but at the end of the day I made my decision on get my degree and what is best for me and my family."
As a first-year starter, Beasley led the ACC in sacks with 13 and finished second in tackles for loss with 23. His sack figure on a per game basis was third best in the nation and his tackle for loss figure on a per game basis ranked second. He led the nation in tackles for loss per game against teams that finished the season with a winning record (19 in eight games). He was also 10th in the nation in caused fumbles with four.
Despite his success in 2013, Beasley said that he feels like he can have an even bigger season as senior.
"I can be even more special. I know they are probably going to double team me a lot, but I feel like with the guys that I have on my side of the ball – Corey [Crawford], Grady [Jarrett] and those guy – they will draw attention too," Beasley said.
Beasley has 21 career sacks and needs just eight in 2014 to break the school record of 28 held by Michael Dean Perry and Gaines Adams

Gaines Adams
Defensive End
# 6-5, 260
Greenwood, SC
View Full Profile , and leaving at last legacy at Clemson was also a deciding factor.
"Leaving a great legacy here at Clemson University is one of my goals," Beasley said.
Beasley can cement that legacy by leading one of the best defensive lines to play at Clemson in two decades or more.
"I feel like the whole defensive line will have a leadership role because I feel like the spotlight will be on the defensive line because we are returning all starters," Beasley said. "That's are goal is to be the best in the country. We led the country in tackles for loss and our goal is to do that again next year."
With his decision behind him, all that is left for Beasley to do is go back to work, add about 15 pounds and prepare for the 2014 season.
"Just go to work in the offseason and work on my weaknesses, run technique and playing against the run, and getting bigger, faster and stronger," Beasley said. "Playing at 240 or 245 would be fine with me."