| | |
| --- | --- |
| Finally at peace with football and life | |
---
| | |
| --- | --- |
| Monday, August 31, 2015 1:20 PM | |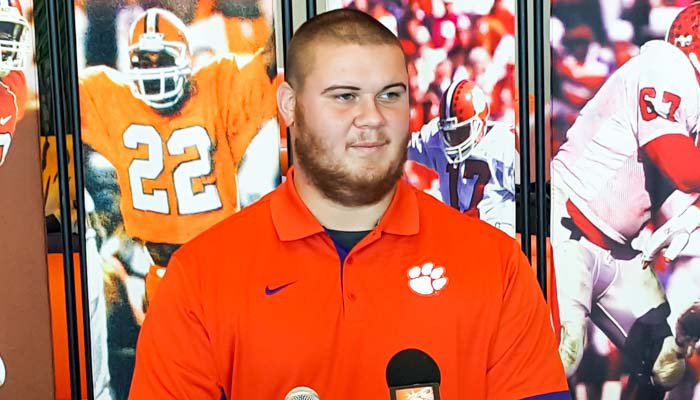 CLEMSON – It was mid-February, and Jay Guillermo

Jay Guillermo
RS Jr. Center
#57 6-3, 324
Maryville, TN
View Full Profile didn't feel right. He knew something was wrong, so he turned to Clemson head coach Dabo Swinney

Dabo Swinney
Head Coach
View Full Profile for advice. His head coach's message was simple: Go home and find your joy.
The redshirt junior center dealt with a foot injury during the 2014 season, and in the six weeks after the Tigers' win over Oklahoma in the Russell Athletic Bowl Guillermo realized he wasn't happy with the game he loved. So he went home and found his joy.
The Maryville (TN) native spoke with the media Monday morning in the WestZone, and for the first time since rejoining the team for summer workouts and fall camp opened up about that journey, his reasons for leaving school in February and coming back to Clemson to regain a spot on Swinney's team.
Guillermo said it was hard leaving football behind, but it was a necessary step.
"I've been playing football since the second grade," Guillermo said Monday. "And my grandfather was a high school coach in North Carolina for a long time. So I've always been around football. It's been a big part of my life. It wasn't just football. It was a culmination of a lot of different things that hit at once. I love football. I love everything about it. I love the workouts, and I love practice and I love the whole process of it all and everything that goes into being a good player. I wouldn't necessarily say I got burned out or anything because I really love football. Everyone goes through something, and it's not an easy process."
Guillermo said he couldn't detail one reason why he was unhappy. He just knew he was and Swinney gave his center the chance to vent.
"I don't know. Once again, I couldn't pinpoint one particular thing," he said. "He was just so good with the advice because I was pretty lost in what I wanted to do and he was great with the advice and the one on one talks. I don't think I could pinpoint one exact thing. To be honest, I was kind of thinking about that whenever we were going through camp and everything. It's just kind of one day I just woke up and just looked in the mirror and said 'man what are you doing.' I knew I wasn't doing very well in school then.
"I had talked with Coach Swinney and I said, 'Man I don't know if I want to play football anymore.' So he just kind of didn't give me a whole lot of football responsibility and started talking to different doctors and everything. Yeah, it really was just one morning I kind of woke up and 'Man what am I doing?' I kind of sat down, sat on my bed and really looked at everything and prayed over it a lot. That's when I was like 'Man I need to talk to someone. I need to do this. I need to do that.' That's when I talked Coach Swinney about going and finding someone back home and really getting some help with that. Towards the middle of February is when I really kind of woke up one morning and knew I needed to do something."
Guillermo's weight had ballooned to 364 pounds and he said he wanted to use his time to get back in playing shape.
"I kind of made a decision while I was home to keep my body right," he said. "I had gained a good amount of weight after getting hurt and everything, but I wanted to get back in shape even if I didn't play football again. I wanted to improve my body. When you get that big, you don't feel good all the time. It's not very fun. That's something that was a goal of mine no matter what happened. It was tough. But I worked and worked and worked. You learn to appreciate working with your brothers here when you are home doing it alone. In the long run it was good for me because it really showed my mental strength. I was waking up and cutting down trees in my grandfather's backyard."
Guillermo's grandfather is long-time North Carolina high school coach Ron Greene, and Guillermo said he spent as much time as he could with the coach.
"I was over at his house about every day. He is getting a little older and has bad knees and I would go over and work with him," Guillermo said."He is a workhorse, and I asked him to let me do all the heavy work. And he had gone through a similar thing, so he would go and watch me work out, and he was that motivator and he would hold me accountable. There were days when I would wake up and take my little brother to school and would want to go back to bed. Here we are structured but at home he would hold me accountable. He was definitely a person that really helped me."
Guillermo returned to Clemson in late June and now weighs in at 321 pounds. His return also meant a new relationship with offensive coordinator Tony Elliott

Tony Elliott
Co-OC / Running Backs
View Full Profile .
"I don't really know what kind of started it, but he has just been a coach that I've really been able to connect with. Not really goof around with, but the kind of guy you want hang with when it gets to be one of those days during camp where you are like 'Man, I do not want to be out here right now.' It's one of those things where he is a guy who would look at me and be like 'Ok. We got to go.' And then in your head you are like I got to do it for him. I got to do it for all my brothers out here. It's kind of like that. We like to joke around and everything when we are not out on the practice fields so he has definitely been a coach I kind of bonded with since I have come back."
Finally happy and at peace, Guillermo's heart is back into the game he loves.
"Your heart has to be into it. Everything we do is so go, go, go, grind, grind, grind," he said. "Your heart has to be in it. That's one thing that I really found out during this process is it will consume you if you don't absolutely 100% love it and aren't 100% committed to it."
When did he know he was back? It was when strength and conditioning coach Joey Batson got in his face for his first six a.m. workout.
"I knew that I was going to have to come back and earn my spot and I knew that was the one opportunity I was going to have so I needed to make the best of it," Guillermo said. "I've really learned as well with being gone to not overthink things because I did that a lot. But I have done that since high school. It's just go out there with a cool head and give it everything I got. I knew I was back whenever I was in here in the morning with Coach Batson. That's when I was like 'Man I'm back.' "
He's back and he's happy.