| | |
| --- | --- |
| Feaster opens up, says "I know where I want to go" | |
---
| | |
| --- | --- |
| Monday, February 2, 2015 9:28 PM | |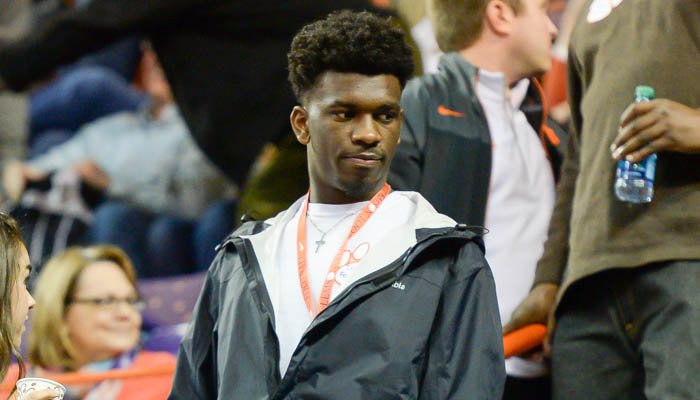 Wednesday's National Signing Day festivities will be all about the 2015 prospects inking their names, but with Clemson's class already intact, Tiger fans' attention will be on Spartanburg High School at 6 p.m. as elite 2016 running back Tavien Feaster

Tavien Feaster
Running Back
6-0, 190
Spartanburg, SC
ESPN:


View Full Profile announces his commitment.
The nation's top running back is ready to end the recruiting process and he has no doubts about where he wants to play collegiate football.
Feaster told TigerNet Monday night that he has seen and done everything he needs to do to make an informed commitment.
"I think I'm ready. I know where I want to go and where I want to be," Feaster told TigerNet. "I think that I've seen enough to know what's real and what's not and things like that. I took a few trips. I've seen some places. I've met some people - some really good people. I just think this is the right time. I know I'm ready for sure. If I go ahead and do it now, I can focus getting out on the field and being me and being prepared for the next level."
Not only is Feaster a star on the gridiron, he is also a model pupil in the classroom and said that academics also played a major role in his decision.
"It's really important. My over all GPA is a three-something," Feaster said. "I've really turned things around this year. I knew I had to get focused and settle down, because opportunity only knocks once. I have to take this opportunity and grasp it. Academics are very important, so wherever I choose to go just know that I think it was the most academically stable place that I can be and it can help me in future."
Feaster has had a lot of supportive people in his life over the last three years that want to see him succeed in the classroom and on the field, but none more important than his parents – Terrance Feaster and Latasha McCree Mcelrath
"It helps a lot - people just staying on me. They want me to succeed in life," Feaster said. "There are a lot of people who don't want people to succeed but I think there are more people who want to see the positive side of things and see a young guy make his dreams come true.
"My parents have been really helpful. My dad is kind of like the dictator. He doesn't let anyone pull anything over on me. He's so protective and even when he's overprotective I know he's just doing to do what's best for me. My mom has been calm. She's been asking a lot of questions. She doesn't really know too much about football and recruiting."
Many of those people that have helped Feaster on and off the field are members of the Spartanburg High School community, so when the 6-0, 193-pound prospect decided to announce his decision, he knew he wanted it to be in front of friends, family, teammates and coaches.
"It's really important. I wouldn't want to do in any other place than where it all started," he said. "I know those are my brothers and they've got my back. Anything that I do or any place that I choose to go, they've got my back. They've been supportive ever since it came out that I was going to make announcement."
Where will I go??? Find out Wendsday @6 ?? pic.twitter.com/UGnZmdxKg4

— Tavien Feaster (@Fast_lane28) February 3, 2015