---
| | |
| --- | --- |
| Tuesday, December 30, 2014 11:36 AM | |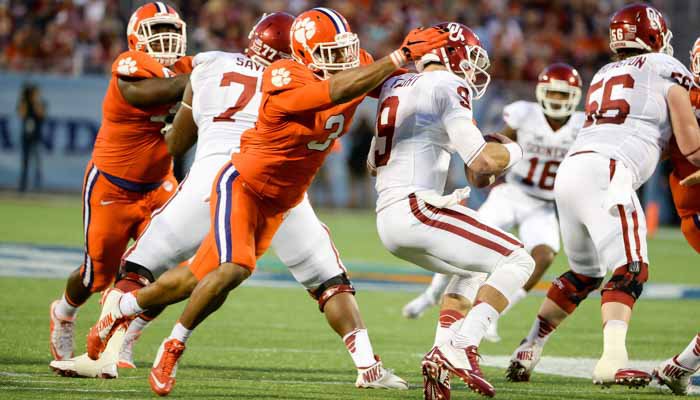 ORLANDO, FL – Clemson's defense got off to a rocky start in 2014, but the players and coaches banded together and refused to give up on their goal of being the best defense in the country.
Fast forward 12 games later and Brent Venables

Brent Venables
Def. Coordinator / Linebackers
View Full Profile ' unit sits at number one in the country in total defense and put an exclamation point on the season with a 40-6 victory over Oklahoma in the Russell Athletic Bowl Monday night.
The lone Oklahoma touchdown was scored late in the fourth quarter and although many people might think that Venables' familiarity with the Oklahoma program – a place he worked for 13 years – had a lot to do with his unit's success, Venables said it was more about how his players played the game.
"All of those schemes, we didn't do anything that anyone else wouldn't do against them," Venables told the media after the game. "Our guys just went out and they executed. We had some things go our way. They put the ball on the ground. We had a couple of breaks there and took advantage of them. Guys played hard. Those guys went out there and earned it and they took the victory regardless of my familiarity. I can't go out there and tackle or cover anybody. They've got to be the ones that put their hand in the dirt and fight the fight. That had everything to do with the win."
Venables has only been Clemson's defensive coordinator for three seasons, but he has watched the defensive players grow into NFL caliber players and he said that his guys deserve the number one ranking because of the time and effort they've put in over the course of the season.
"Sometimes stats are whatever, but there can't be a better group in America," Venables said. "To watch them continue to fight through adversity, that's Life 101. To watch them continue to believe and continue to support one another and grow and keep fighting the different battles week to week and at the end of the year to be able to say statistically speaking that we're the number one group, that's pretty cool. To watch them be able to say it matter-of-factly, they deserve that exclamation point they put on there tonight. That was a very good offense that they took control of from the beginning."
However, more important than what they've accomplished on the field, Venables said that he's the most proud of the young men they've become and how they represent themselves and the Clemson program.
"It really had more to do with us than anything," he said. "To watch that group of seniors and that defense earn the right to be called the number one defense in the country and have a culture of toughness and discipline and pride. To watch that group of guys grow up from three years ago when most of them were newbies with me into the men that they are and representers of this program and put an exclamation point on an incredible year as well as careers.
"As good a chemistry as we've had, they were an even better bunch of young people. They stand for everything that's right in this profession. We hit it just right this year with that group of guys. That just doesn't happen with the way they carry themselves and the character that they have and the hunger that they possessed all year. Even tonight, they weren't easily satisfied. I'm real proud of those guys and to have the association with them and their legacy is pretty special in Clemson history."
One player that Venables is the most proud of is a guy that he's never even coached – quarterback Cole Stoudt

Cole Stoudt
Sr. Quarterback
#18 6-4, 231
Dublin, OH
View Full Profile . Venables said that Stoudt – and his struggles throughout the season – represent everything a team should be about.
"I think it's a statement for this group of seniors and this football team," he said. "I love that Cole Stoudt got the MVP. We were talking a few weeks ago sharing a story about a quarterback at Oklahoma named Nate Hybl that was occasionally booed out of a stadium and he kept fighting and he ended up being the Rose Bowl MVP his senior year. I shared that with Cole a few weeks back and just let him know that he didn't have to do it by himself.
"There's a team here around it that's got your back and to see him go out and have that kind of performance and all of those guys. The exclamation point is for that team. Just a note to everybody that we won nine of our last 10 games, you can't listen to the negativity that's out there. You just have to keep fighting and believing in one another. Stick together, support each other and good things will happen."
With a complete team effort and a third consecutive bowl victory over a traditional college football power, Venables said that the Clemson Tigers deserve to be mentioned amongst the nation's top programs.
"We didn't win the national championship but we got everything out of our guys that we could under the circumstances," he said. "Our guys fought tooth and nail and to see them go out as winners and finish a year against the winningest program in the modern era in Oklahoma and three straight bowl games against LSU, Ohio State and Oklahoma, that says as much as anything that Clemson definitely belongs. That's something that we all know and we believe. Whether or not that sends a statement or message, I don't know. I know this, inside the confines of our football building, we know our guys are pretty big time."